Ah, the Swedish meatball recipe. This comfort food has been set before families for generations. Warm, savory, and hearty this dish will grace the table on every holiday and celebration, as well as on any weekday. That's because the dish is easy to make and requires little time or kitchen talent to create.
Most Swedish families serve the flavorful, juicy meatballs with lingonberry jam. However, the savory gravy that makes this dish so beloved in America is actually not served with the meatballs in traditional Swedish homes. No matter, though. You can enjoy this recipe whether you are Swedish or not. Be sure to have some warm, buttery bread on hand to soak up all of that rich gravy.
Filling ground beef and pork meatballs are served up in a creamy gravy. This recipe is sure to please your family.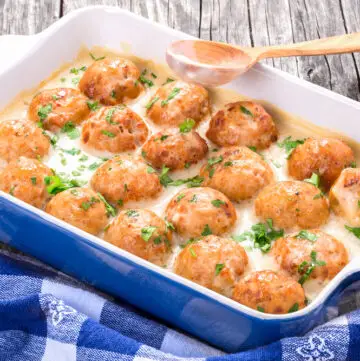 Swedish Meatballs Recipe
Ah, the Swedish meatball recipe. This comfort food has been set before families for generations. Warm, savory, and hearty this dish will grace the table on every holiday and celebration, as well as on any weekday in Ikea.
Ingredients  
Meatballs
½

lbs

ground beef

½

lbs

ground pork

¼

cup

bread crumbs

1

tablespoon

parsley

¼

teaspoon

nutmeg

¼

teaspoon

allspice

½

teaspoon

garlic powder

⅛

teaspoon

pepper

½

teaspoon

salt

1

large

egg

¼

cup

onion, finely chopped

1

tablespoon

olive oil

1

tablespoon

butter
Gravy Sauce
4

tablespoons

butter

3

tablespoons

flour

2

cups

beef broth

1

cup

heavy cream

1

teaspoon

dijon Mustard

1

tablespoon

worcestershire sauce

salt and pepper to taste
Instructions 
Meatballs
In a medium size bowl you will need to combine ground beef, ground pork, bread crumbs, parsley, allspice, nutmeg, onion, garlic powder, salt and pepper, and the egg. Mix until everything is combined. Be sure there are no large lumps of beef or ground pork left in the mix.

Roll the meatballs. For large meatballs you will roll out 12 evenly-sized meatballs. For smaller meatballs, roll the meat mixture into 20 equal-sized portions.

In a large skillet heat the olive oil and 1 tablespoon of butter on medium heat.Place the meatballs in the skillet and cook until they are cooked through. Brown on both sides. Transfer the meatballs to a plate. Cover them with foil.
Gravy Sauce
In the same skillet add the remaining butter and the flour. Whisk until it turns a golden brown. Slowly add in the beef broth and heavy cream, stirring constantly.

Add in the Worcestershire sauce and mustard.

Simmer the gravy until it starts to thicken. Add salt and pepper to taste.

Add the meatballs back into the skillet and simmer for 1-2 minutes.

Serve the meatballs over butter noodles or serve along with boiled potatoes.
Swedish Meatballs FAQ
Can you substitute ground chicken or turkey instead of beef and pork?
You can substitute leaner meats such as ground chicken or turkey. However, Swedish meatballs are supposed to be juicy and flavorful. Using lean meats like ground chicken and ground turkey will result in meatballs that are dry. To make the recipe a bit leaner you can substitute the ground chicken or ground turkey for ONE of the fattier meats - either the beef or the pork.
How do I get my meatballs to a uniform size?
It is important that your meatballs are the same size. This ensures that all of the meatballs will cook at the same time. To easily get uniformly-sized meatballs use a cookie or ice cream scoop. This will help you to make perfect meatballs every time.
What kind of breadcrumbs should I use?
Using plain breadcrumbs will ensure that the taste of the spices comes through. It is not advisable to use flavored breadcrumbs. You could also use panko breadcrumbs or even panade. Panade is made by processing two slices of bread until they are crumbs. Add in 1/4 cup of milk. Next, add in your egg. Mix together. This will create a paste. Add the paste to your meat mixture for juicier meatballs.
Can I freeze Swedish meatballs?
You can freeze Swedish meatballs, but do not freeze the gravy. To freeze the meatballs, simply spread them out on a cookie sheet, making sure they do not touch each other. Freeze for 2-4 hours. Remove the meatballs from the pan and place them in a freezer bag. Simply thaw them in the microwave and heat them in the gravy when you are ready. These meatballs will keep up to 3 months in the freezer. You could also choose to make your Swedish meatballs and freeze them raw. Use the cookie sheet method mentioned above. When you are ready to use them you will cook them thoroughly. This method takes a little longer to cook. The benefit is that your meatballs will hold their shape beautifully.
What good side-dishes go with Swedish meatballs?
True Swedes usually serve boiled potatoes as a side-dish with their Swedish meatballs. However, in America, many people serve the meatballs over buttered noodles or over mashed potatoes. Side dishes like Ceasar salad, fruit salad, and hot dinner rolls or garlic breadsticks are perfect accompaniments to the meatballs. You can take the Swedish meatball leftovers (if there are leftovers!) for lunch the next day. Simply make a bed of rice and pour the gravy and meatballs over it. Heat it in the microwave and enjoy!
Swedish Meatballs side-dishes
Less traditional, but still tasty side-dishes, can include:
steamed broccolli
asparagus
couscous
grilled beets
baked eggplant
apple strudel
Swedes also love lingonberry jam with their meatballs. Simply spear a meatball with a toothpick and dunk it into an individual serving bowl of the delicious jam for a tasty Swedish twist. Add some pickled cucumbers and you have authentic side dishes for the popular Swedish meatballs.
Fun facts about Swedish meatballs
1. It is commonly believed that Swedish meatballs originated in Turkey. It's said that King Charles XII brought the recipe from Turkey to Sweden. However, this is false. Turkey is a Muslim country. In the Muslim religion, people are forbidden to eat pork. Pork is a staple in Swedish meatballs to ensure juiciness.
2. Swedish meatballs are smaller than the American counterparts. In Scandinavian and Italian countries meatballs are about the size of a grape, verses American meatballs which are about the size of a golf ball. This is due to the prices of meat in each country. Meats are much higher in other countries than in America.
3. Just about every country in the world makes some type of meatball. The main differences are the meats and spices used and how they are served. For instance, American meatballs are simply ground beef, salt and pepper. They are served in tomato-based sauces over pasta or on a hoagie roll as a meatball sub.
In Italy, meatballs are beef and pork and are served in tomato-based sauces. They are not served over pasta as here in the USA.
In Britain, meatballs are called 'Faggots' and are made from liver, bacon or other fatty meats, and pig heart.
4. Meatballs can be a stand-alone main dish. They can also be served on breads like pizza or sub buns. Meatballs can be a meat addition in soups or chili.
These meatballs can be served with a variety of sauces including sweet and sour sauce, cabbage and cream, or caper sauce.
5. Meatballs can even be made with seafood like anchovy, salted herring, prawns, and other varieties. Ground fish meatballs are popular in Asian countries.