Cauliflower rice is a healthy alternative to regular white rice. There is much discussion among doctors, nutritionists and other professionals, about starches in food. Most people agree that it is better to avoid it than to go for it. Cauliflower contains almost no starches (0.01%), whereas white rice contains about 70%. Therefore, cauliflower rice is healthy, at the same time as they look like rice and taste delicious.
Stores often sell "riced" cauliflower in bags, but they are not as fresh as if you make them yourself.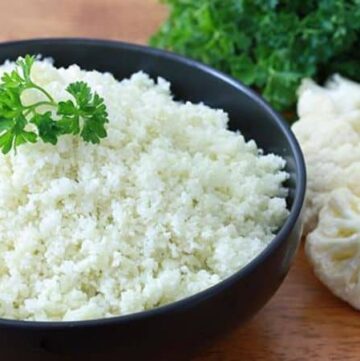 Cauliflower Rice Recipe
Cauliflower rice is a healthy and delicious alternative to regular white rice.
Ingredients  
2

heads

cauliflower, medium size

boiling water

salt

optional
Instructions 
Remove the green leaves and rinse the cauliflower heads.

Grate the cauliflower on a grater. This provides the right structure. If you want to go fast, you can use a blender, but it does not give the feeling of rice when you eat them.

Once you have grated your cauliflower rice, pour boiling water over them so that they are covered. Let them stand for 3-5 minutes before pouring the water off into a sieve.

They are now ready for serving.
Nutrition
Can you freeze cauliflower rice?
Yes, you can do that without any problems. I would recommend that you pack and freeze them in smaller portions BEFORE you cook them. If you cook them before you freeze them, they may well become mashed when reheated.