The Korean hot dog, also known as Gamja hotdog, is an intriguing and tasty cuisine with the all-American taste of frankfurters. I can't help but crave one after a, particularly tough workout. Korean hot dogs are a unique and delicious choice for those who want something different than traditional American beef or pork. A Korean hot dog is a delightful treat. It has been said to be one of the best foods in Korea, and it's easy enough that even you could make them. Here is a recipe that will help you prepare a mouth-watering unique Korean corn dog at the comfort of your kitchen and enjoy it at any time for lunch, dinner or as an appetizer.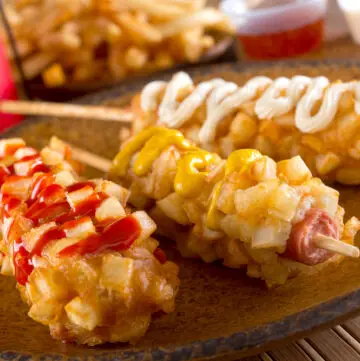 Korean Corn Dog Recipe
The Gamja hot dog is the most popular Korean corn dog, dates back to the 1990s, and has since been given several names; Dokkebi, which means goblin. Simply yetnal, meaning old-fashioned, it was also named after a famous doll in the 1960s called Mandeukee.
Ingredients  
3

pcs

of precooked hotdogs (cut them in half)

mozzarella cheese block (cut six sizes equal to the hotdog halves)

¼

cup

of granulated sugar to be used for coating

1

cup

of panko breadcrumbs

ketchup

mustard

oil for frying

3

pairs of disposable wooden chopsticks
For the batter
2

cups

of all-purpose flour

3

tablespoons

of granulated white sugar

½

teaspoon

of kosher salt

125

ml.

cold milk

2

teaspoons

of baking powder

1

egg

1

large potato
Instructions 
Break the wooden chopsticks and skew the hotdogs and the cheese. Pat them dry and place them in a fridge to keep the cold as you make the batter. Cut the cheese into blocks about the size of the hotdogs.

Place diced potatoes in a pot of cold water, boil it and cook for two minutes. Drain them into a colander, rinse with cold water and set it aside to drain.

Now make the batter. Using a large bowl, add flour, baking powder, sugar, and salt. Whisk until the ingredients blend evenly. Add cold milk and the egg. Together whisk all these ingredients until smooth (no lumps) to ensure that the batter is thick and sticky. This process takes about three to five minutes.

Pour the batter into a loaf pan. Hold the sticks and dip the hot dogs, one after the other, make sure the batter fully coats the hot dogs. Make sure your batter coating is not too thick since it will expand once your fry them, you can use your fingers to evenly spread the batter or remove the excess batter when the coating is too thick. To make dipping in the batter easier, you can use a deep cylindrical container that will ensure the hot dog is fully dipped in the batter.

Roll the hot dogs (batter-coated) in the potato cubes putting a little pressure so that the cubes will stick. With the panko bread crumbs in a baking pan or on a separate plate, roll the batter-coated hot dogs pressing gently, and make sure that they are completely coated in panko. You can also sprinkle more panko to make sure they are completely covered.

Add oil into a deep frying pan and make sure this oil is deep enough to cover the hot dog entirely once dipped in. Heat the oil to about 350 degrees Fahrenheit.

Dip the coated hot dogs in the hot oil and cook on both sides until the batter is fully cooked and turns dark golden brown. Scoop them from the hot oil using a spatula or a slotted spoon and place them on a wire rack for them to drain.

Dust the fried hot dogs with sugar, then drizzle them with mustard and ketchup. Sugar is meant to enhance sweetness and crunchiness.
The Korean hot dog is a fusion of Western and Eastern cuisine. It's typically served on bread with lettuce, slaw, or Kimchi (a spicy fermented vegetable side dish), chili sauce for those who like spice, ssamjang mayo (fermented bean paste mixed with eggs) as well vinegar-based "mustard." This hot dog got a Korean twist. It's crispy outside and juicy in the middle, just like your favorite fast-food joint.
Korean Corn Dog FAQ
What kind of Hot dogs do I use?
While making Korean Hot dogs, you can use any hot dog you like, depending on your taste. I recommend an all-beef hot dog, but you can use the hotdog you can afford.
Can I use an Air Fryer for the Korean Hotdogs?
Yes, you can use an Air flyer but make sure to set it at 180 degrees within a period of eight to ten minutes to complete the outer panko layer as crisp as desired.
Can I keep it in the freezer to cook it another day?
You can keep the hotdog in the freezer if you intend to cook it another day. It can store for longer days. You can also freeze a cooked Korean Hotdog for up to two months. After this, you can make it ready for consumption by placing it in the oven at 190 degrees for ten minutes. You can as well use an air fryer or a microwave.
Why should I keep the batter cold?
If you fail to keep your batter, hot dogs, and cheese cold, the cheese tends to ooze out while frying; keeping it cold helps hold it together.
Can I use Cheese sticks for this recipe?
Cheese sticks are soft and will melt while frying. Make sure to use the Mozzarella cheese as described in this recipe.
Can I use Yeast in the Korean Hot dog recipe?
Yes, you can use Yeast instead of baking flour; using Yeast includes more work since you have to give the dough time to prove and rise.
Tips for your Gamja Hotdog
Make sure your batter chills for about ten minutes before using it (keep it cold before use).
Make your batter as thicker and stickier as possible so that it sticks on the hot dog as desired and does not drip off.
Use low moisture Mozzarella; this is because it does not melt too much when fried; when the cheese used melts too much, it leaks/oozes off the coating, thus not desirable.
Ensure your oil temperature is as desired; you can use an oil thermometer to ensure it's at the desired temperature. You can also use a chopstick to test the hotness of the oil. By this, you dip a chopstick in the oil; if the oil bubbles gently around the chopstick, then it is hot enough, but if it bubbles vigorously around the stick, then it is too hot for use. If the oil is too hot, the corndogs fail to be cooked inside and burn outside. If the oil is too cold, they can absorb it, making them heavy.
Use disposable chopsticks for your corn dogs because they become heavy when prepared; thus, small thin sticks may not be convenient.
To keep the corn dogs crispy and warm while serving, first, keep them in the oven and set it to the lowest temperature.
You can use your choice of sauces apart from the basic ketchup and mustard.
Korean Corn Dog variations
The Korean hot dog is a deep-fried, long sausage that varies in flavor depending on the toppings. It has been called "the world's greatest street food." Some of the different types include;
Korean corn dog with Mozzarella cheese uses a Mozzarella stick as described above.
Gamja Hotdog. It is the most popular Korean corn dog; it is covered with French fries.
Cornflake dog. Here corn flakes are crushed and used instead of panko bread crumbs.
You can also change the panko or flies with ramen noodles or crispy rice noodles to add crunchiness to your piece.
You can also your dog for rice cake, squid or fish cake.
There are varieties of toppings and seasonings that you can use on your dog apart from those described above. These include; Sweet chili, garlic sauce, honey mustard, cheese mustard, honey butter, coconut, herby cheddar cheese, Parmesan Cheese, and Onion sprinkle.
What to drink or serve with the Korean Corn dogs
The Korean corn dog is often enjoyed as an appetizer at any meat-filled meal, but it's also great on its own despite being street food. With all the ingredients, toppings, and condiments of your choice, you can make a perfect meal on a stick for yourself. You can add on a drink to your feed; a soda would be perfect for this. If you want to create a Korean feast, you can prepare some hot Korean dishes such as crunchy Korean fried chicken, ginseng chicken soup, fermented vegetables (Kimchi), Stir-fried noodles, and potato balls. There is a wide variety of dishes to serve, along with the Korean corn dogs.
In Korea, these fried doughnuts or "doughnut sticks" are often served at festivals and other special occasions like birthdays to celebrate the season change from summertime heat into fall harvest time.
Korean Corn dogs Nutrition
The nutrition varies depending on the amount of batter used, the hot dog or sausage used, and the cheese. The perfect corn dog is a must for any child or animal lover; it also offers health benefits due to its high protein content and calcium presence in the recipe. The crunchy exterior with a flavourful interior makes eating this treat satisfying enough that people can enjoy more than one bite without feeling guilty about their overeating habits.
You can also create a vegan corn dog for the vegetarians, which is achieved by substituting a few ingredients with vegan favorable. For the batter, you can replace the eggs with flax seeds or chia seeds. You can replace the milk with plant-based milk such as oat milk, soya milk, or Almond milk. Oat milk is the preference here since it is thicker. For the cheese, you can use vegan cheese or vegan sausage. The vegan Korean corn dog is crispy and full of flavor, just like an actual hotdog. It has a similar taste to fried chicken with vegetables mixed for flavor, making it filling enough as an appetizer or light meal by itself.
History of the Korean Hot dogs
The Korean hot dog has been around for centuries. They are believed to have reached the Korean shores in the 1980s. The Gamja hot dog is the most popular Korean corn dog, dates back to the 1990s, and has since been given several names; Dokkebi, which means goblin. Simply yetnal, meaning old-fashioned, it was also named after a famous doll in the 1960s called Mandeukee.
The Korean corn dog is a unique food item that you can find all across the world. It's usually served up in some form or another. Still, its popularity took off when this dish became internationally known as "K-style" cuisine instead of Korean rice cakes (Hobe).
It might seem like an unlikely choice at first: fried dough covered with sugar and vanilla ice cream? But these sweet treats come from Korea, where they've been enjoyed for centuries by locals who value simplicity over tonetic luxuries.
The Korean hot dog is not your average frank. It's bite-sized and can be served on a bun with kimchi slaw, raw vegetables, dried chili sauce, and gochujang mayonnaise. This piece of Korean Cuisine is not for the faint of heart, but it will make your taste buds sing with joy on an otherwise bland day. One bite into this juicy treat will have you reaching for another.
There's no need to miss out on this mouth-watering dish. Try grabbing one from the frying pan or takeout cart outside any grocery store near you; With the recipe, you can also prepare one for yourself and your family.