In Denmark, Risalamande is equal to christmas eve. It is a Danish christmas dessert that you serve after the main meal – Roast duck with white potatoes and danish sugar browned potatoes.
Risalamande is made from delicious rice pudding, which is mixed with whipped cream, vanilla and chopped almonds, and served with cherry sauce.
Although it is a classic Christmas dessert, it does not mean that you can not eat it at other times of the year. You are allowed to practice a little before Christmas Eve 🙂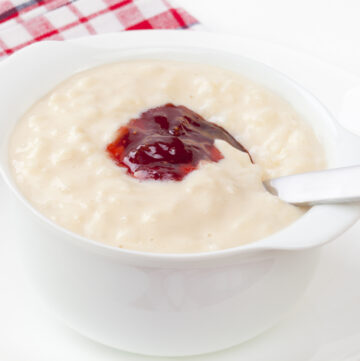 Risalamande
Ingredients  
1

cup

of water

200

g.

pudding rice

3

cups

of whole milk

70

g.

sugar

1

pcs.

vanilla bean

50-100

g.

almonds

2

cups

of whipping cream
Instructions 
Start by making the pudding by pouring water and rice into a thick-bottomed saucepan.

Bring the rice to a rapid boil and pour the milk into the pan.

Bring to a slow boil, stirring constantly. When it is about to boil, turn down the heat so that it is at the next lowest step.

Divide the vanilla bean lengthwise and scrape the grains out of it. Mix the grains together with the sugar, and pour both the vanilla sugar and the empty vanilla bean into the pan.

Let the rice pudding stand and simmer for 45-50 minutes, stirring regularly, until the rice is delicious and tender.

Put the almonds in a bowl and pour boiling water over them so that the peel is easier to get off. Then chop them roughly.

Take the vanilla bean out of the pudding, mix in the almonds and put it in the fridge.

Just before the risalamande is to be served, whip the cream to a fluffy foam and mix it into the pudding.

Serve your risalamande with cherry sauce.
WHERE DOES RISALAMANDE COME FROM?
Many people mistakenly believe that Risalamande is a French dish – probably because of the name. But in fact the dish is 100% Danish and was invented in the 19th century by chef Christian Jensen. Back then, you still got rice pudding for dessert on Christmas Eve. But in the 20th century, risalamandan became more widespread and replaced the traditional rice pudding in many places.