Everyone has a favorite meal from their childhood that brings up the memories of home flooding back, the moment the smell hits their nose. For me, that meal would be Beef Stroganoff. My mom used to make the BEST beef stroganoff your taste buds can't help but love. Now I get to make it for my family, and I am now here to share it with you and your family. Beef Stroganoff is a traditional meal, where a little bit goes along way. Beef stroganoff is very filling and usually cheap to make if you have the right recipe. The rich taste of stroganoff has been a staple in peoples houses for over a century, and there are so many variations to the original recipe that you could make it every night with different ingredients and it'll never taste like you ate the same thing twice. Some add a sprinkle of mozzarella, while others may add Velveeta to make it cheesier. There is no end to what you can do to this recipe and that's what makes it so good!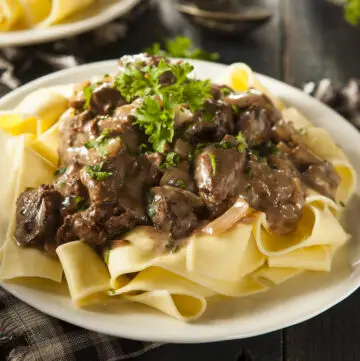 Beef Stroganoff Recipe
Beef Stroganoff is a traditional meal, where a little bit goes along way. Beef stroganoff is very filling and usually cheap to make if you have the right recipe.
Ingredients  
3

tablespoons

all-purpose flour

1½

teaspoons

salt

¼

teaspoon

ground black pepper

1

pound

beef tenderloin

¼

cup

butter

½

cup

water

½

cup

chopped onion

1

clove

garlic, cut in half

1

pound

mushrooms

1

can

condensed cream of chicken soup (10.75 ounce)

1

cup

sour cream. Add more to your liking.

3

cups

cooked egg noodles (or whatever pasta you prefer)
Instructions 
Mix the flour, salt, and pepper together and pound the mixture into the sirloin. then cut into 1/2-inch strips.

Melt the butter in a pan over medium heat than add your beef; cook until it is browned, which will be about 10 minutes. Remove the meat with a slotted spoon, and transfer to a covered container to the refrigerator while you make the gravy. Do not wash the pan, instead you should start on step 3.

Stir water, onion, and garlic into the pan and stir over medium heat until all of the brown pieces left from cooking the meat have been scraped from the bottom of the pan, which will be about 5 minutes.

Add mushrooms and cream of chicken soup. Cook until mushrooms are soft, which will take about 20 minutes.

Mix beef and gravy in a pot over medium heat until hot but not boiling, if you boil it, you be eating burnt gravy. Heat for about 5 minutes.

Add sour cream and serve over your favorite type of noodle. In my house we use egg noodles, so mix it up with some bow ties every once in a while. In Denmark it is very popular to serve with rice or mashed potatoes.
Notes
You can easily double or triple this recipe to accommodate more people but do not freeze it, it will not be good anymore.
Pairing Beef Stroganoff with Wine
Finding the right wine to go with Beef Stroganoff is tricky. When you have contrasting flavors like cream, mushroom and beef, you need the perfect wine that goes with all the flavors of this amazing dish. Wines that are heavier and have a smoky and earthy hint like Nero d'Avola, Bordeaux and Brunello di Motalcino. Normally, you would pair a dish that has mushrooms with a lighter red wine, such as Pinot Noir, but with stroganoff the cream and beef would overpower and clog up your taste buds leaving the wine to taste flat and unappealing.
Borolo
After trying many different wines with this dish, I have come to the conclusion that the high acidity of a young Barolo is what tastes best with Beef Stroganoff. When you take a sip of Borolo in between bites, the acidity of the wine cleanses your pallet to make room on your taste buds for a better tasting wine. The tannin in the stroganoff pairs so well with Borolo that it makes the hearty and savory taste of the beef and sauce stand out more, instead of overpowering the stroganoff.
Barolo is a red wine from Italy with flavors of cherries, blackberries, cherries, chocolate, leather, tar, smoke, violets and tobacco- Which to be honest doesn't sound like it would taste good at all. Alas, don't judge a wine by it's description and give it a try, because many experts and critics claim that it pairs so well with Beef Stroganoff, that it is the only wine they will drink with this amazing dish. Borolo is not light on the wallet, and demands a certain level of respect. It smells of roses and violets and has a lighter shade of red than most red wines.
Old World Syrah
A French Syrah is ideal to pair with Beef Stroganoff due to its hints of black pepper, with cherry and blackberry, but also meaty flavors such as bacon that compliment the mushrooms spices and beef flavors. Read on to learn of the history of Beef Stroganoff and why pairing this French wine with it, will be culturally rewarding.
Bordeaux
Bordeaux is another French Red Wine that has five different grapes in it. More often than not, the Merlot or Cabernet Sauvignon grapes will stand out more than the others. This wine has the flavors of berries, smoke, earth, vanilla, herbs and black pepper matching it perfectly to the Beef Stroganoff.
Any one of these three wines will make your meal the best it can be. For the little ones eating Beef Stroganoff any kind of grape juice should match perfectly for their little taste buds.
Beef Stroganoff FAQ
What are some substitutes for the sour cream in Beef Stroganoff?
Greek Yogurt makes a wonderful substitute substitute for sour cream. It's consistency is perfect for what you need in Beef stroganoff. While regular yogurt contains a higher percentage of whey, Greek yogurt has been strained to remove most of the whey in it. This leaves the yogurt thicker and tangier, much like sour cream. You can also use heavy cream, cottage cheese, or buttermilk.
Can I make homemade brown gravy for my Stroganoff instead?
Yes, You can do that but be sure to omit the cream of mushroom sauce. If you don't it will throw off the taste of your gravy, you will need to recalculate your ingredients to make this possible.
Can I use ground beef instead of sirloin steak in Beef Stroganoff?
Yes, you can use ground hamburger meat, personally I choose the hamburger meat with the lowest ratio of fat. If you choose the hamburger meat with a higher percentage of fat, you risk grease from the hamburger meat becoming too much for your Beef Stroganoff. For a faster route, you can also use Philly Cheesesteak meat. It is already cut thin so, that takes out some of your prep work.
If my family aren't big pasta eaters, can I use something other than noodles for my Beef Stroganoff?
Yes! The amazing thing about stroganoff, is the fact that it can be prepared and placed on a bed of rice, potatoes, mashed potatoes or any type of pasta. It is even good with veggie noodles. Even better? Try stroganoff over biscuits and make an amazing biscuits and gravy.
What sides would go good with Beef Stroganoff?
Possible sides that pair well with Stroganoff are as follows but are not limited to: French Bread; Roasted Potatoes; Baked Sweet Potatoes; Braised Red Cabbage; Green Beans with Bacon; Asparagus; Roasted Garlic Parmesan Cauliflower; Broccoli; and Chef Salad.
Stroganoff – An Upscale Dish
In the 1890's under the rule of the Tsars, the upper class Russians were very well off. They had to have the very best of everything. It was known that the wealthy loved Paris so much, that they hired French maids, their children went to French school and yes, they had a French chef. They spoke both Russian in the public eye, but when they were home they were in their element speaking French to their maids and chefs. In fact, Count Tolstoy wrote War and Peace in alternating between the French and Russian.
From Stroganov to Stroganoff
The Stroganovs were a very wealthy family, well known for generations upon generations. In the Stroganovs home they had a French chef named Briere who entered his dish Beef Stroganoff in a 1891 cooking contest. Browning the meat perfectly to make the sauce and adding mustard- which was part of the French cuisine back then, while beef in sour cream was a Russian delicacy. Briere won the contest with first place, making him quite the social celebrity in his community.
Beef Stroganoff in America
Beef Stroganoff quickly caught on in Russia, then made it's way to China. It soon became popular in Shanghai around the 1920's, which was known as Paris of the East to many people. In 1927 the second round of Russian immigrants came to the United States, escaping from Tsar's abuses. One of these wealthy families opened the famous Russian Tea Room located in New York, where Beef Stroganoff made it's debut in America. It wasn't until 1932, that it was translated to the English language and printed in an American cookbook. Beef Stroganoff didn't really become popular in the U.S. until after World War 2. While soldiers were overseas they tasted foods from many different cultures and grew to like more types of food, so when they came back Beef Stroganoff was a taste that they were used to. From then on out it was the main dish at most dinner parties all across America as well as most upscale restaurants.
Over the last century Beef Stroganoff lovers have remade the recipe using different ingredients to make it their own like tomato paste, Worcestershire, and condensed cream of mushroom soup. When you get comfortable with the process of making stroganoff, mess around with the ingredients a bit to see what you and your family may or may not like! There are so many ways to put your signature and make it your own.