Chicken Florentine is a chicken dish that has been cooked in the style of the Italian city of Florence.
While Chicken Florentine is perhaps short for chicken cooked in butter and then covered with Mornay sauce (a classic Gruyère cheese and sometimes Parmesan sauce,) Chicken Florentine is most noted for the bed of spinach underneath.
But this is not just a simple bed of steamed spinach, but rather it is spinach that is cooked thoroughly in decadent butter.
Chicken Florentine is a decadent feast and is found in practically every quality restaurant in Florence, and in fact, throughout Italy, and it is a favor to French Restaurants everywhere as well.
But although Chicken Florentine is very popular in restaurants, with a little careful prep, you can easily prepare Chicken Florentine at home, and save a ton of money in the process.
All it takes for great Chicken Florentine is the right ingredients and 30 minutes of your time.
Do note that you do not want to eat Chicken Florentine every day as it is a calorie-heavy meal. But for an occasional treat, nothing could be better.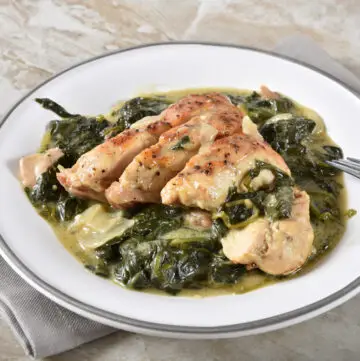 Chicken Florentine Recipe
While Chicken Florentine is perhaps short for chicken cooked in butter and then covered with Mornay sauce (a classic Gruyère cheese and sometimes Parmesan sauce,) Chicken Florentine is most noted for the bed of spinach underneath.
Ingredients  
2

pcs

large chicken breasts cut in half lengthwise

½

teaspoon

garlic powder

salt and pepper to your personal taste

flour for dredging your chicken

1

tablespoon

olive oil

2

tablespoons

butter divided into smaller pieces

3

cloves

of minced garlic

½

cup

dry white wine

¼

cup

chicken broth

1

pinch

italian seasoning

1

cup

of heavy whipping cream

2

cups

of spinach, loosely packed. Baby Spinach is best, as is fresh spinach, but frozen then thawed will work.

½

cup

freshly grated parmesan cheese, or if available and preferred, 1/2 cup of Gruyère cheese.
Instructions 
Cut the chicken lengthwise to make 4 thinner pieces for the best Chicken Florentine.

Cutting the chicken into thinner pieces helps make sure that the chicken is cooked all the way through very quickly, and that you don't wind up with a golden brown skin but raw chicken inside.

Season each side of the chicken pieces with salt and pepper and garlic powder. Then to prepare your Chicken Florentine, coat the chicken pieces in flour.

Add the olive oil and 1 tablespoon of the butter and cook over a medium-high heat.

As stated earlier, you want the chicken to be in thin slices to facilitate the cooking for your Chicken Florentine. Generally, you want to cook the chicken for around 4 or 5 minutes on each side, with the chicken turning a golden brown, then remove the pan from the heat.

After the chicken is cooked, use some tongs and place the chicken separately on a plate until the next steps are complete.

Return the pan to the heat, being careful it is not too hot, then add the rest of the butter and the garlic. Let it simmer for only a short time. Around 30 seconds or so.

Next add the wine, the chicken broth, and the Italian seasoning and let the wine and the broth reduce, which should take about 3 to 5 minutes.

Add the cream to the mix. It should take around 2 minutes for the cream to bubble.

Again a note of caution, you do not want the heat too high.

Now slowly add the spinach to the cream. If you prefer your spinach to be less wilted, delay adding until the last one or two minutes.

Now, add your cooked chicken on the plate to the mix.

At medium heat, you will want to cook the chicken for another 4 to five minutes, with the key being to notice the sauce thickening.

After everything is cooked, serve with warm Mornay sauce, and if you prefer, add some additional salt and pepper for flavor.
Nutrition
Chicken Florentine FAQ
Must I only use parmesan or Gruyère cheese for the Sauce?
Here we'll hedge a little and answer yes and no. While traditional Chicken Florentine uses these cheeses, you are perfectly welcome to use the cheese of your choice. Gruyère cheese is a traditional Swiss cheese with a mild and a sweet flavor but mildly salty. Parmesan cheese is added from skimmed milk and is a substitute for the more expensive Gruyère cheese. You are certainly welcome to substitute other cheeses as you wish, however, we cannot vouch for the flavor. As Chief Dan George mimicked in the classic 1970 movie, Little Big Man, - Sometimes the magic works, and sometimes it doesn't. -
Must I only use chicken breasts?
Of course not. Chicken breasts are by far the easiest to cook Chicken Florentine, but you can fill the pot with drumsticks or things and be just as content. But of course, chicken breasts have no bones. At home though, as long as the chicken is cooked thoroughly, we don't see any problem. Just remember though, that if you add more chicken, you'll need to increase the volume of the oil, the butter, and the whipping cream and that in and of itself requires some experimentation. You can also use cubed chicken or even cubed turkey. But the object is to have a mild manner dish accented by the flavors. Therefore, stick with either chicken or turkey. Beef or pork is likely too strong and will counteract much of the flavors.
Can I add or substitute vegetables or add mushrooms?
Be our guess, although if you eliminate the spinach and instead add something like asparagus, it technically won't be Chicken Florentine, but it's your diet, not anyone else's. As to mushrooms, they go very well with this dish, but again, just as you don't want to use beef or pork because of the strong flavor, if you add mushrooms, then make sure they are of a mild variety.
Can I shave some of the calories by substituting half and half or skim milk or something rather than heavy whipped cream?
Here is where we do draw the line. We haven't deviated from the classic recipe but if you use a substitute for heavy whipped cream plan on it curdling or being way too thin. The heavy whipped cream is here for a reason.
Tips & Tricks to serve with Chicken Florentine
Consider using a splatter guard for easy cleanup.
You can use any white wine you wish, but our preference is for pinot grigio or sauvignon blanc. And if you want to go winless, then add a bit more broth together with 1/2 teaspoon of dijon mustard.
Some people prefer to substitute the Italian seasoning with Herbs de Provence.
Do consider experimentation, but our suggestion is to try the original recipe first.
Again, easy on the heat. The object is to let all of the ingredients simmer rather than burn. In particular, the whipping cream can boil over if the heat is too high.
As for add ons, both pasta and potatoes are naturals, as they also have a mild flavor. You can also consider some nice, fresh bread.
Many people also like to add a glass of white wine to their meal and the great benefit of our Chicken Florentine Recipe is that if you are making it at home you won't pay outrageous restaurant prices for wine.
Just realize that Chicken Florentine is quite a meal in itself, so if you add too many add ons, 509 calories can soon turn into 750 or even 1,000 in a hurry.