There's nothing more comforting than a fresh bowl of mashed potatoes to compliment a delicious and warm meal, and there are many new recipes to try. Potatoes have been one of the staples of our diet since the olden days and they have stood the test of time. However, there are always new ways to invigorate the dish and this mashed potato recipe leaves nothing to be desired! You will get many compliments when you prepare this particular variation of the dish as you send their taste buds on a familiar journey with an added flare.
There were hundreds of recipes that were meticulously tested by the experts to come up with this exciting and quick recipe for any occasion. This recipe features 3 easy steps that will make preparation easy to manage and frees you up for more complicated tasks. One distinguishing factor that elevates this mashed potatoes recipe is you will be cooking in a crockpot. This is a favorite method of many and this case is no exception providing you with smooth and tasteful potatoes in their most delicate and decadent form.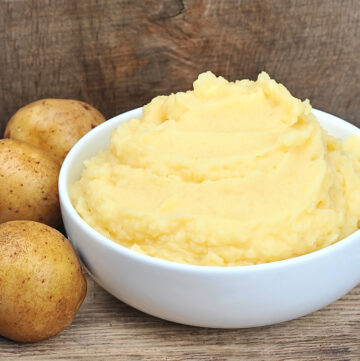 Mashed Potatoes Recipe
This recipe features 3 easy steps that will make preparation easy to manage and frees you up for more complicated tasks.
Ingredients  
2

lbs

baking peeled potatoes quartered

1

cup

of milk

2

tablespoons

of butter

Salt and pepper
Instructions 
The first step includes peeling the potatoes unless your recipe calls for potato skins. In this case, it doesn't so simply peel them by hand, or if you have a machine it can streamline the process of preparation. Keep them submerged in cold water until they are ready to cook. Next, you cut them into one-inch chunks. After prepping the taters, make sure to start a boiling gallon pot of water and two tablespoons over salt over high heat.

It's recommended to use filtered water over tap during the process for a cleaner taste. The potatoes should then be added to the water and cooked until tender but still retain an adequate level of firmness. Drain the water and then promptly return the potatoes to the hot stockpot. It's very important that you don't overcook them or let them stagnate between pot transitions. Accuracy and time management is important during this step to maintain the same continuity in taste over time.

During the boiling process, it gives you some time to prepare other aspects of the recipe such as melting the butter. Find a small saucepan and heat the butter and milk on low until it's completely melted and is steaming. The added butter ingredient is what really makes this recipe come alive so it's important to use enough and properly prepare it as an additive for silky smooth potatoes. As far as the type of milk used in this process it can vary. You can use thicker options like whole milk or even dairy alternatives such as almond milk for different results.

This particular recipe calls for dairy milk so any percent should work fine, but whole milk is a richer option that may yield subtlety better results. The type of butter used can vary as well since there are multiple varieties. This can be a subject of debate but you generally want to go with a reliable brand with good consistency and thickness in bar form. Organic butter made with the right ingredients is ideal if you're not sure.

With an extruding masher tool or a high-quality ricer go to town and mash those spuds until no solid clumps of the potato remain in the bowl. Take half of the butter mixture prepared earlier and slowly pour it into the potatoes. Continue this while blending until they are blended. Over blending is a common mistake to avoid as it can make the potatoes soupy and less desirable. It's now time to add the seasoning of salt and pepper by mixing it lightly into the bowl.

Add the rest of the butter mixture and season again accordingly based on individual taste. Some may need more pepper and others more salt but it's necessary to season at least two times while adding the buttermilk mixture for the perfect consistency. Continue mixing until thick and dense, but if the potatoes start to get light and creamy then stop. Leave them to rest for a minute or so and then serve warm!
Nutrition
How long to cook
Cold salted water is necessary to start with before bringing it to a boil as this ensures they will be cooked evenly. As far as the cooking time it depends on how big you cut the pieces. If you followed the recommendations then they will be complete in an average of fifteen minutes. One can add a couple of minutes to this but subtracting may be unwise for the best results. Thankfully, there is a great way to test if the potatoes are ready, and that is simply sticking a fork in the side.
If there is little resistance and it slides right through then you're in business. There may still be some hardness when you apply this method and that is valuable information that they aren't fully cooked. After the fifteen minutes, you should apply this method every couple of minutes to avoid over or under-cooking them. This step is critical in attaining the sought after results, and paying attention to the cooking process will show in the final result.
Dish history and delicious food pairings
There is something special and iconic about mashed potatoes that have its root in human history for as long as we can remember. Thanksgiving inevitably comes to mind as the main event that featured an appealing side dish. On that note, a common food that goes well with them is any meat dish, and the first one that should come to mind is Turkey. It just can't get more classic than this dynamic duo as we see from each year as they are paired ritualistically together as a perfect compliment. It also goes very well with beef, fried chicken, and barbecue ribs.
Mashed potatoes can pair nicely with white or red wines, and this can be especially true when the cheese is added because you can pair the cheese effectively with wine. A Graves Bordeaux white wine is an excellent option when pairing with potatoes. Needless to say, there are overwhelming possibilities when working with this adaptable food. It has a rich history and serves as the basis for celebratory meals around the world. Many cultures use potatoes in cooking, and there's nothing wrong with adding a little spice for an added flare! They are much more than simple food, they're a tradition shared by many and are symbolic of coming together in peace and unity to enjoy a delicious new recipe!
Mashed Potatoes FAQ
Do I have to wash the potatoes beforehand?
A common concern is that the potatoes might be dirty and affect the final dish. The last thing you want is a gritty or undesirable texture. It's recommended that you wash the potatoes before and after you skin them to ensure there is no debris or dirt present. Potatoes are already washed before selling at the store and most of the soil has been stripped from them, but natural elements such as dust come into play depending on how long they've been shelved.
In a nutshell, always be meticulous regarding clean fruits and vegetables in general and think of it as a precautionary practice. It may seem like a chore at first but brings peace of mind knowing there aren't any foreign substances sneaking into your meal. There are special rinsing and cleaning tools for this very purpose that would be worth considering if you prepare fresh ingredients on a frequent basis.
Is it okay to use mixed brands of potatoes?
Many people wonder which brand of potatoes to use when preparing their mashed recipes, and it's a valid question giving the daunting selection on the market. It's hard to go wrong but search for higher quality like russet that is reliable and avoid lower-priced brands. There is absolutely nothing wrong with combining high-quality brands together to create your own unique blend. In fact, this can be an opportunity to experiment and find out what's best for this recipe.
This particular recipe calls for baking potatoes so make sure to distinguish that type so they are mashed easier as they are grown for this purpose. Sometimes there are different hues in mashed potatoes and exploring this can also add to the aesthetic of the final dish. You can effectively alter it to the yellowish side if you desire and test out different combinations. Examining the final consistency and taking notes is the best way to mix potatoes, but always use the same amount and prepare them quartered as the recipe calls for.
What distinguishes homemade from store-bought mashed potatoes?
The main advantage to preparing potatoes at home using this recipe and method is that you simply get a fresher and tastier experience. Pre-prepared mashed potatoes have their place, but they simply can't compete with fresh-cut potatoes. Another element you avoid when preparing your mashed from fresh ingredients is the absence of added preservatives. An interesting exercise to understand the difference is to perform a taste test with a side by side comparison.
This will give you a better understanding of analyzing the immediate difference between the two, and you'll be shocked how much better homemade potatoes are, especially when executed in this fashion. Making your own potatoes with a reliable recipe allows you to have more power over the recipe and actively taste as you're adding ingredients. There are so many possibilities for different occasions, and mashed potatoes are tastier than ever before! This recipe has mastered the art of cooking them with simple fresh ingredients that tower over the quality of sub-par frozen mashed options.
Can you make a larger batch by doubling the recipe?
It is certainly possible to double up on the recipe to accommodate a larger gathering, but making sure you have adequate amounts is critical. It's not a problem to make more, but it might be more manageable to make a few batches of the base ingredients. The more potatoes there are the hard it may be to mix, and we are aiming for continuity in every serving. If you have proper mixing utensils and a larger bowl for cooking and storing then it's fine to increase the amount made.
One should always have a large enough cooking pot for higher volumes of potatoes to ensure they are cooked evenly. The more the merrier when it comes to potatoes, and it's important to have enough for everyone. Another way to carry it out would be to prepare two standard batches with separate pots and skillets for the butter. This may require some finesse, but preparing mashed potatoes is very simple and quick with this recipe and still retains an amazing flavor profile!
Should I experiment with different taste adjustments?
This recipe has been tested a lot against other ones and is very reliable in its approach to the classic side dish. However, there is some room for experimentation in the recipe if you desire. For instance, if you really like bacon then consider adding that for a delicious result. The quality of the bacon will have a bearing on the taste in the end so choose wisely. You could add extra elements such as a particular type of cheese or maybe heavier on the garlic.
Some people even add sour cream to the mix and that tends to give it some tartness. Overall there is nothing wrong with adding other ingredients to suit your taste, but be careful to add it in the correct amounts or risk altering the quality of the base recipe. It's easy to overdo something you love without weighing out the proper amount. Some people prefer to use more pepper than salt or just salt alone. You can even get more selective and choose more elegant options such as crack pepper or sea salt options.
What is the nutritional information for this recipe?
One of the most common questions about mashed potato recipes is the calories and nutritional information. This particular recipe has 257 calories per serving with seven grams of fat, four grams of saturated fat, 20mg of cholesterol, 76 mg sodium, 43 grams of carbs, 5 grams of sugar, 4 of fiber, and 6 of protein. Now, this is a rough estimate as the products you purchase to combine can have differing results. If you have a certain health concern then you can opt for accommodations such as skim milk to reduce calorie intake.
Potatoes are a high carbohydrate food and help to give the body very usable energy as an added benefit to their delicious place in food. They have been a staple for many meals throughout history and continues to evolve in recipes. This is one of the more moderate portions available with substitutions available to alter the nutritional profile. Mashed potatoes are a highly nutritious addition to any meal and are versatile in their possibilities!