The making of couscous symbolizes "happiness and abundance" according to one culinary anthropologist. The first couscous recipe that was written is in the anonymous thirteenth-century Hispano-Muslim cookbook called Kitāb al-tabīkh fī al-Maghrib wa'l-Āndalus. This couscous recipe is called alcuzcuz fitīyānī, is made for kids and described as "known all over the world." This recipe is believed to be of Berber origin. Throughout history, couscous spread to different regions of the world. One thing that remains the same with most accounts is that is the enslaved Berber women that make the couscous for the families that ate it.
A durum wheat-based; granular starch is couscous, even though it is also can be made from other grains. Couscous is a coarsely ground grain, usually durum wheat, unlike flour which is finely ground. Durum wheat is used to make semolina and semolina flour, which is commonly to make pasta. This leads to a controversial question, which is whether couscous is a grain or pasta. To make it harder to determine which one is the correct answer is the fact that couscous is made from semolina and water just like pasta. But is also made from coarse wheat durum.
Couscous is made from semolina. The traditional method of hand making couscous is to first sprinkle the raw semolina with saltwater and some flour. Roll the grains with your palms to turn the slightly damp semolina into round little couscous grains as the flour binds to the outside of each grain of semolina. The little grains of semolina with flour is steamed for about 30 minutes at a time. Between the times of steaming, it is rinsed with cold water and then you use your hands through it to break up the lumps and to keep the grains separated. This process is then repeated until the grains are fully soft. It is then dehydrated to make the instant couscous that is sold in stores.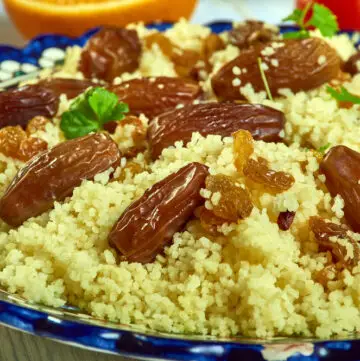 Easy Moroccan Couscous Recipe
This couscous recipe will pair up nicely with Greek meatballs, Grilled chicken breasts, salmon, or a wheat berry salad.
Ingredients  
2

tablespoons

pure olive oil

½

cup

onion, chopped

2

minced

garlic cloves

½

teaspoon

ground cumin

¼

teaspoon

cinnamon

3

cups

vegetable broth

1½

cups

couscous

½

teaspoon

coarse salt

¼

teaspoon

ground pepper

¼

cup

raisins, regular or yellow

½

cup

toasted, almonds, sliced

1

tablespoon

fresh parsley, chopped
Instructions 
Heat to medium-high a large saucepan. Add olive oil, garlic, spices, and onions. Cook the onions until clear, occasionally stirring them – about 5 minutes.

Add the broth. Cover saucepan and let come to a boil.

Remove from the heat, stir in the couscous. Let stand for 10 minutes, or until the broth has been absorbed by the couscous.

Before serving stir in almonds, parsley, and raisins.
Nutrition
Moroccan Couscous FAQ
How can I add some different flavors to the couscous?
Think about the flavors in the main dish that you are making and try to find flavors that will complement the flavors of the main dish. Some things that you can use to complement the flavors are similar spices and chicken or beef broth. You can also use items such as nuts, fruits, or vegetables.
Do I need to rinse the couscous before cooking it?
No. Even though it can be considered a grain or pasta, you don't have to rinse it as it has a flour coating to it. Rinsing it would take the flour off the grain and make it taste different.
What is the best way to keep couscous moist?
A touch of fat helps greatly in keeping couscous moist. Try adding a dab of butter or a little bit of oil, such as olive oil.
Is couscous a carb or a protein?
Couscous is thought of as a carb since it is made of wheat. It does have some protein to it, although it has more carbohydrates to a serving than it does protein.
Nutrition Facts
Amount Per Servings
Calories 230
%Daily Value*
Total Fat 8.2g 11%
Saturated Fat 0.9g
Cholesterol 0mg 0%
Sodium 356.5mg 15%
Total Carbohydrates 33.6g 12%
Dietary Fiber 3.2g 11%
Sugars 4.6g
Protein 6.4g 13%
Calcium 41.1mg 3%