One chef described lace cookies as like a candied sugar brown potato chip. Once you start eating them, you can't stop with one. In fact, 4 or five is the norm.
So we thought what not share this British, Irish, or possibly French or Swedish cookie. Because regardless of where their origin, they are pure deliciousness. And for you Scrabble players and grammar Nazis, yes deliciousness is a word.
Lace cookies are very thin, and very crunchy cookies that are made with only 7 ingredients that can be whipped up in two shakes of a lamb's tail. They are cheap to make too? No expensive cookie dough recipe here.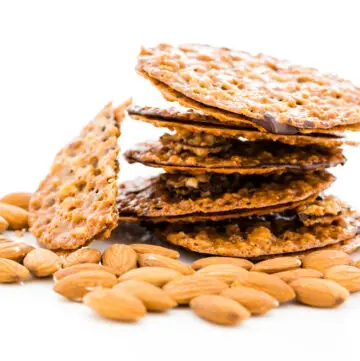 Lace Cookies Recipe
One chef described lace cookies as like a candied sugar brown potato chip. Once you start eating them, you can't stop with one. In fact, 4 or five is the norm.
Ingredients  
2

tablespoons

of unsalted butter

¼

cup

of granulated sugar

¼

cup

of light brown sugar

¼

cup

of light corn syrup

¼

cup

of all-purpose flour

½

cup

of chopped blanched almonds

a pinch of sea salt
Instructions 
Preheat your oven to around 375F.

Add the butter, granulated sugar, brown sugar, corn syrup, and salt in a saucepan and heat over medium-low heat until the butter melts. Then remove the pan from the heat.

Next add the flour and the almonds. The result will be a sticky dough.

Scoop about a level teaspoon full of dough on parchment paper atop a baking sheet.

As the cookies spread out a lot, allow at least 5 inches from one cookie to the next.

Most people will try a trial of maybe 3 cookies on a sheet in order to find out how much their lace cookies will spread and how long to cook them.

Generally, 5 minutes in the oven is enough but you want to watch your lace cookies carefully, particularly the first batch. Cook them too long and they will have an unreasonable burnt taste. However, if you do not cook them long enough, they will not be near crispy enough, and being crispy is the name of the game.

Cool for at least 10 or 15 minutes if you want your lace cookies to be crisp and ready to eat.

If your first batch turns out less than ideal, not to worry. Try turning down the oven to 350F, and then bake your cookies a little longer.

Although the cookies are quite edible as they are, most people love to experiment by making sandwiches out of lace cookies.

For interior ingredients, if you choose to make lace cookies, some people like chocolate, or marshmallow, Nutella, Carmel, or even peanut butter.

Really, there is no end to the number of ingredients that you can add to these delicious, sugary cookies. And you and even mix them up with less ordinary ingredients like tuna or salmon.
Lace Cookies FAQ
Do you need to have almods?
Some people note that they, or a family member, are allergic to almonds or almond flour. Do be cautious about this, as almonds or almond flour tends to be much milder than using all-purpose flour. Personally, I haven't noticed the difference, and find that the 1/2 cup of almonds are enough. If someone is allergic to almonds entirely, then I recommend you try oats. About 2/3 cup of old-fashioned oats work well with these cookies as an alternative to almonds. I would say that if you use almonds, the results are smoother and lighter tasting, but not so much that you would notice significantly if you use oats.
Can you eat them another way?
Although many people like to turn lace cookies into sandwiches, another way of eating them is dipping an individual cookie into a saucer. For example, you can dip your cookies into hot chocolate, ice cream, regular cream, or more.
How do you store them?
As to storing delicious lace cookies, we'll just say, good luck. It isn't easy to Store Lace Cookies because they are so fragile. The brilliance of these cookies is that they are not only sweet but very crunch. The downside, however, is that they can easily crack when transported to your family's house or to grandma's for the holidays to share with the kids. Of course, the kids could care less if the cookie crumbles so to speak, and will eat them out of storage tin, just as easily if they are broken. But most adults prefer a full-size cookie as they look more presentable. If you are going to store them, I'd say layer them with paper in a storage tin, one that is not too small, and try not to pack too many cookies in each layer.
A quick caution about the sugar content of these lace cookies
Two very big notes of caution. The first is that lace cookies are not for those that are diabetic or need to pay attention to the amount of sugar they eat.
If someone is diabetic, you can try cooking with sucralose and making your cookies without actual sugar, but I haven't seen a recipe for it, so you'll have to do quite a bit of experimentation to see how it all turns out.
Secondly, even if you are not diabetic, lace cookies, together with ingredients like chocolate or Nutella, has quite a lot of sugar in them.
Typically, 5 small, individual lace cookies (not sandwiched together) have around 150 calories. If you eat 5 (and trust me you'll be tempted to ) altogether when eaten as a sandwiched cookie, count on ingesting at least 400 calories.
S0 no, lace cookies are definitely not diet food, and the best way to handle them is to put a few on a plate and then completely remove any further temptation in another room.
The great thing, however, is that Lace Cookies are extremely easy to prepare, and after you've learned the ideal cooking temps, you can whip up a batch any time you want.
And when you consider that some other cookies have twice the calories and take three times the prep time to make, why not try to whip up a batch this weekend?