Did you know that Pears are fruits found almost everywhere globally, and Pear Pie Recipe is increasingly on-demand? Making this dessert is so simple yet, its nutritional benefits are unquestionable and worth your effort. The versatility of a Pear Pie depends on the flavor and overall nutrition that you desire from this desert.
A Pear Pie can bring the family closer to one another since no one wants to miss out on the dining table whenever it is served. The good news is, you can make it on your own and in the comfort of your kitchen.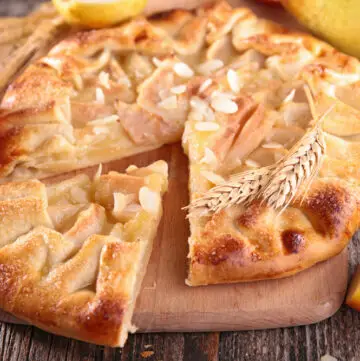 Pear Pie Recipe
Ingredients  
3

tablespoons

of all-purpose flour

½

cup

of white sugar

1

teaspoon

of lemon zest

1

teaspoon

of ground cinnamon

¼

teaspoon

of salt

1

tablespoon

of butter

1

tablespoon

of lemon juice

5

cups

of peeled and sliced Pears
Instructions 
Preheat the oven to 450 degrees F(230 degrees C). Put your baking sheet on the oven rack bottom.

Mix your flour, sugar, cinnamon, lemon zest, and salt in a mixing bowl. Spread or roll out half the pastry. Line your 9-inch size pie pan.

Place your pear slices in layers on the pastry-lined pan, and sprinkle the sugar mixture on every layer. Apply butter in a dotted format and sprinkle your lemon juice.

Roll out the remaining pastry half to make the top crust. Moisten the rim of the bottom crust using your finger dipped in a bowl of water. Lay your top crust on the filling. Use a sharp paring knife or kitchen shears to trim the edge. Under the bottom crust, fold the edge and seal by pressing. Flute the edge to allow steam to escape, cut slits on the top crust.

In the preheated oven, bake for 10 minutes on the baking sheet. Lower oven heat to 350 degrees F (175 degrees C). Bake for 35 to 40 minutes longer until filling is bubbly and crust is golden brown.

Allow it to cool for about 4 hours, then serve.
What to serve with a Pear Pie recipe
Pear pie is a refreshing dessert that you can take plain. As with the apple pie recipe, you may want to enhance its flavor by serving it with ice cream, whipped cream, yogurt, granola, oatmeal, sponge cake, and the fruit juice of your choice. Your pear pie recipe should set your table as a joyous and fulfilling place every day you serve it.
This dessert can be served at any time. It is your preferred recipe when you want a less acidic, tender, and milder flavor on your desert. This flavor, gentle and sweet, has guaranteed the pear a place of honor among the pantheon of fruit pies. The pear is a friendly fruit that aligns with other assertive flavors like lemon, ginger, pepper, and maple syrup. When selecting baking pears, go for the firm, sweet, crisp, and non-gritty texture varieties.
History of Pear Pie
Pears are members of the rose family and are among the world's oldest fruits. Chinese records dating 5000 years ago mention the cultivation of pears in Asia. Homer, the Greek poet, applauds pears as a "gift of the gods."
This fruit is thought to have originated from the Tian Shan Mountains of Central Asia. The pear spread into Europe and evolved into over Three thousand varieties and over 20 species. Pears were enjoyed by ancient Greeks, Chinese, and Romans, but the Stone Age generations knew and fed on them.
The Romans cultivated and ate Pears both cooked and raw. Pliny recommended simmering pears with honey in his Natural History. De re coquinaria, the famous Roman cookbook, offers a spiced pear souffle' as a recipe.
Modern pear varieties were cultivated in Europe by the 17thC. As the importance of pears as food grew, so did how man cooked them, thanks to advancements in food science and technology. The pear pie may have been enjoyed since early the 19th C as attested by the Frugal Housewife of 1803. This writing was a traditional English Recipe book, which has influenced many deserts and the pear pie recipe as we know it today.
Pear Pie FAQ
When making your Pear Pie dessert, several concerns cross your mind. Here are some of the common problems and their appropriate answers.
HOW RIPE SHOULD MY PIE PEARS BE?
Your goal is to have a pear pie that is baked up perfectly. It is, therefore, most appropriate to use pears that are still firm, not quite ripened, and solid though not hard. They should be soft and yet have a body to them.
MUST I PEEL THE PEARS FOR BAKING?
Yes. Pear's skin gets tough when baked and so peel them before cooking. It would be best if you prevented premature browning by soaking sliced pears in acidulated water (water mixed with vinegar or some lemon juice).
HOW SHOULD I SOFTEN PEARS FOR BAKING?
You should slice the pear into thick wedges or cut it into quarters and cook them in little water until the fruit softens. You may find it necessary to add some spices. Allow it to wait for some time to develop flavor. You can eat it over sponge cake, ice cream, yogurt, add it to granola or oatmeal, or eat it as is.
WHAT TYPE OF PEARS ARE THE MOST IDEAL FOR PIES?
The best pears for pies are Forelle, Concorde, Bosc, Bartletts (Red or Green), and Anjou ( Red or Green). These varieties are easy to find the world over since Pears is the world's oldest and most cultivated fruits.
CAN I FREEZE MY PEAR PIE?
Yes. But treat the fruit with ascorbic-acid color-keeper first. Wrap the pie in a duo-thickness of foil or put it in a plastic zip-lock bag. Then seal it, label, and freeze for not more than four months.
HOW LONG CAN I REFRIGERATE AN UNBAKED PEAR PIE?
You can refrigerate your unbaked pear pie for two days. Use plastic wrap or aluminum foil to cover it loosely. If you want it frozen, wrap it with aluminum foil; or put it in a freezer bag; or plastic freezer wrap and seal tightly.
Make Homemade Pear Pie
Do you love and find fun in cooking? Treat your loved ones with this desert by cooking it yourself at home for the following reasons:
It is healthy. Your family and friends should enjoy the health benefits of the pear pie in the comfort of their homes.
It is economical. You spent less baking your pie than buying one from the restaurant. Besides, you practice cooking and end up as an expert chef.
It is easy to cook. Cooking a pear pie recipe is not complicated and time-consuming. You can do it at home and spend the time socializing with your family.
It can be versatile. You can choose which flavors you want to enjoy every time you cook your pie. You have the power to enhance its nutritional value by filling your crust with food items and spices which enrich your pie.
This recipe is the easiest and best pear pie recipe you will ever find. It shares all you need to know about pear pies and their health benefits. Now that you are equipped with answers to your FAQ, you must scale the heights of quality deserts from your kitchen. The Pear Pie is undoubtedly top on the list.