Breakfast preparation should only take a few minutes before it's ready. No one likes waking up and spend a good part of their time cooking up breakfast meals. Today in this article, we will have a look at the apple pie. The dessert is one of the quickest-easy to-make meals on our menu. The meal is delicious, highly nutritious, and cherished across the world.
But before that, let's take a stroll down memory lane to understand the birth and history of the sumptuous apple pie. Alexander the great first mentioned apples in one of his letters way back in 328 BCE. It is mentioned that apples coming from Kazakhstan were much smaller compared to the standard size. He figured out the best way of having bigger and better-looking apples was only possible through cultivation and decided to take them to Macedonia.
Before the end of the 14th century, pies were part of the traditional meals in England. The pies were somehow different. The difference was caused by lack of the crust made of sugar as sugar was very costly in those days.
During the 15th century, Dutch pastry cooks decided to transform the looks of the apple pie. They managed to change it into what we usually enjoy to-date. Less than 100 years later, the tasty pie made its way across most of Europe's kitchens and food eateries.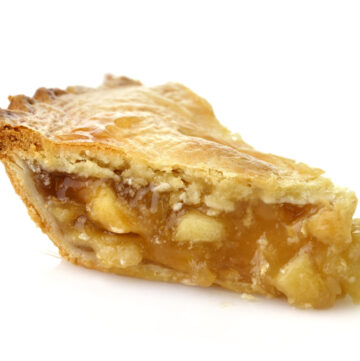 Apple Pie Recipe
This apple pie recipe is a delicious, highly nutritious, and cherished dessert across the world.
Ingredients  
Apple Pie Filling Recipe
½

cup

white sugar

½

cup

brown sugar

3

tablespoon

all-purpose flour

1

teaspoon

ground cinnamon

¼

teaspoon

ground ginger

¼

teaspoon

ground nutmeg

8

cups

of slim apple tart sliced and peeled

1

tablespoon

of lemon juice

1

tablespoon

of butter

1

egg white.
Instructions 
Have your oven preheated to temperatures of about 375°.

Mix up the sugar, flour, and the necessary spices inside a bowl and let it rest.

On a different container, mix the apple slices with lemon sugar. Put in the sugar mixture and flip the mixture for an even coating.

Properly dust your surface with flour before evenly rolling your dough into an 8-inch circle. Move the dough into a 9-inch pie pan and cut off any extra dough to have a uniform bake.

After adding the filling, put on some butter. Evenly roll out the remaining dough to make a uniform spread of about 8 inches.

Put the rolled flour on top of the filling. Evenly snip out any extra dough on the edges.

Vigorously whisk the egg white until foamy, then use a brush to spread it on top of the crust.

Dust it using some sugar before loosely wrapping it with a foil.

Let it bake for around 25 minutes before removing the foil. Allow it to bake to a golden brown cook on the crust.

Finally, place the bake on a wired rack and allow it to cool.
What are some of the best accompaniments to have with an apple pie?
It might get a little challenging on what to serve best with an apple pie. The meal pairs well with a nice cup of coffee and many other accompaniments the likes of:
Ice cream
Ice cream is one of our best picks to have with a pie, vanilla ice cream, to be specific. Vanilla flavored ice cream has a good history as a pie topper. However, some people prefer different ice cream flavors. Some might choose to have it with a scoop of strawberry ice cream while others chocolate.
Freshly whipped cream
Most folks experience challenges having a warm pie with ice-cold ice cream. However, freshly whipped cream will always be one of the best substitutes on the list. The light and smooth feel of a home-produced whipped cream give it the perfect balance to enjoy with a warm apple pie.
Cheddar cheese
Many cheese enthusiasts always take their homemade crusty apple pie with Vermont sharp Cheddar cheese pieces as a dressing. The cheese's salty taste combined with the buttery feel of the pie creates a unique food pairing sensation. Once you try having your apple pie with the cheese, you can never avoid the temptation of having more of the pie.
What are the health benefits of having an apple pie?
The apple pie is full of amino acids, nutrients, minerals, and vitamins, to mention a few. It aids in the generation of lipids found in the body and carbohydrates too. Some of the health benefits of this dessert include:
1. Regulation of body heat.
The presence of iron in the body helps regulate body temperature and aids in the absorption of nutrients.
2. controlling of chronic disease.
Iron in the body assists in treating renal failure, anemic diseases, and other intestinal conditions. It helps in the circulation process of the circulatory system.
3. Aids digestion.
Hydrochloric acid produced in the body through the assistance of thiamine is a crucial component for food digestion.
4. Higher memory gain.
Thiamine aids in the management of nervous diseases such as Bell's palsy and various sclerosis. This helps in memory boost and concentration levels.
5. Generation of RBCs
Riboflavin is a significant component for the generation of red blood cells. It also helps in the formation of antibodies that facilitate oxygenation, including organ circulation.
6. Improved body resistance to illnesses.
Vitamin B2 enhances the immune system's ability by creating antibodies necessary for defense against harmful pathogens.
7. Destruction of free radicals.
Free radicals in the human body are kept in check by antioxidants present in manganese. The radicals can be dangerous if not monitored hence leading to diseases such as cancer.
8. Treatment of diabetes.
Niacin present in vitamin B3 helps regulate HBA1C in diabetics and suppression of high blood sugar levels.
Apple Pie FAQ
What are some of the most recommended apples to use in apple pie filling?
Most bakers have a preference for Granny Smith apples. The fruit has a unique feature of holding up its shape and a distinct flavor. In case you like sweeter flavor, using fruits such as the Braeburn, Golden Delicious, or the more famous Jonagold can work perfectly for you.
How do I reheat my apple pie?
You can always microwave a pie for about 30 seconds. Another way to achieve this is by putting it in an oven at 200° for 20-30 minutes.
How does one prevent the underside of the pie from getting soggy?
No one likes having the underside of their pie getting soggy. To prevent this from happening, apply extra heat on the lower side of the crust. To achieve the best result, have a baking sheet preheated with the oven. You can then bake the pie on the pan after having the required temperature.
Should I bake my pie on a glass or metal surface?
You can bake your pie on either of the plates as they both work well for a double-crust pie. However, for the case of a single-crust pie, the metal plate is the best. Metal heats quicker and gives a crusty texture to the crust.
How do I ensure my filling does not get watery?
To prevent this from happening, prepare the crust before mixing the filling. When you allow your filling to sit for long, it tends to lose more moisture.
How long can I store pies at room temperature?
Pies can be stored at room temperature to a maximum of 7 days after baking.