Chicken is a staple food in almost every home around the world. While chicken is a delicious and nutritious dish, it can easily be ruined if not cooked properly. This decadent oven baked chicken breast recipe is something you will want to cook over and over again. It is a crowd pleaser sure to get compliments.
This oven baked chicken recipe uses boneless and skinless chicken breasts and cooks them until they are full of flavor and golden brown. The juices and flavor will leave you wanting more. Here is one of the top rated oven baked chicken breast recipes for all to love.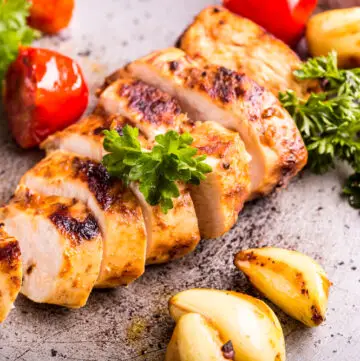 Oven Baked Chicken Breast
This oven baked chicken recipe uses boneless and skinless chicken breasts and cooks them until they are full of flavor and golden brown. The juices and flavor will leave you wanting more. Here is one of the top rated oven baked chicken breast recipes for all to love.
Ingredients  
1

tablespoon

brown sugar

1

teaspoon

paprika

1

teaspoon

oregano

½

teaspoon

parsley

1

teaspoon

salt

½

teaspoon

garlic powder

½

teaspoon

onion powder

¼

teaspoon

black pepper

1

teaspoon

chili powder (optional for those who like food a little spicy)

4

pcs

large boneless and skinless chicken breasts

1

tablespoon

olive oil

3

tablespoons

butter

2

cloves

minced garlic
Instructions 
Preheat oven to 425 degrees fahrenheit.

Combine brown sugar, paprika, oregano, parsley, salt, garlic powder, onion powder, pepper and chili powder (if desired) together into a small bowl.

Line a baking sheet with parchment paper. Toss chicken in the dry mixture and place onto the baking sheet. Drizzle the chicken with oil and spread extra dry mixture onto the tops of the chicken breasts.

Bake chicken for about 15 minutes or until the internal temperature reaches a minimum of 165 degrees fahrenheit.

Remove the parchment paper from the baking pan and broil the chicken on high heat for two minutes. This will give it a crisp outer coating that is sure to bake on the seasoning and keep the chicken moist inside.

While cooking the chicken in the oven, sauté butter and garlic cloves in a small skillet.

Remove chicken from oven and drizzle with juices from skillet. Serve while warm.
Baked Chicken Breast FAQ
How Can I Tell When the Chicken is Cooked?
To prevent drying out the chicken and ensuring that it is fully cooked, it is best to use a meat thermometer. A meat thermometer can be inserted into the center of the chicken to ensure that it is cooked properly. The temperature should read at least 165 degrees. If it is not at this temperature, you need to continue cooking it.
Can I Make This Recipe If I Am On a Keto Diet?
If you are on a keto diet, you will only need to make one small substitution. Instead of using brown sugar, try using a brown sugar substitute. This small replacement will make this recipe completely Keto friendly.
How To Make Chicken Tender and Moist?
Before cooking your chicken, you may want to pound the chicken with a mallet. This will help ensure that the chicken is tender and cooks evenly. Using a mallet to pound the chicken is one of the best ways to ensure a deliciously cooked chicken breast every time.
How To Pick the Right Chicken?
When choosing the chicken at the store, you want to make sure you are buying the freshest possible chicken. The chicken should have a yellowish tint and the meat should be slightly pink. This shows that the chicken is fresh. If the chicken smells bad, you should avoid buying it.
Can I Freeze Left Over Chicken?
The best way to store left over chicken is to store it before it is cooked. This will help preserve the longevity of the chicken. To store a chicken in the freezer, make sure you seal it tightly in a ziploc bag. You can freeze the chicken for several months.
Do I Need To Wash Chicken Before Cooking?
There are many people who believe that chicken should be washed before cooking. This however, is not true. Chicken does not need to be washed before it is cooked. In fact, washing chicken before cooking it will only spread the bacteria around your sink and on your counters. The best way to minimize your risk of salmonella and other bacteria is to not wash it before cooking.
Best Side Dishes For Oven Baked Chicken Breast
Chicken breast is typically a traditional dish and staple food that every family eats about once a week. You can completely transform the dish by adding new and flavorful sides with it. Here are some of the best side options that you can try to make this already delicious dish, truly unforgettable.
Mashed Potatoes
To make creamy mashed potatoes cut up and boil about 6 potatoes in water. Once you are able to stick a fork through the potatoes, drain them and transfer into a large bowl. Beat the potatoes with a mixer and add 1 teaspoon of salt and 1/2 teaspoon of pepper. Add in 1 stick of unsalted butter and 1/3 cup of whole milk. Mix all ingredients together until creamy and smooth. Taste before serving and add more salt, pepper and butter as needed.
Mac and Cheese
Mac and Cheese is a wonderful side dish to add to any chicken meal. To make mac and cheese, boil half a box of the noodles according to package instructions. In a medium sized pot mix together 1 cup of shredded cheese, 1/2 cup of milk and 3 tablespoons of butter. Bring to a simmer. Let simmer for one minute and add cooked pasta to the pot. Transfer to a baking sheet and let bake for 30 minutes on 350 degrees.
Grilled Asparagus
One of the best vegetables you can add with a chicken dish is asparagus. Try grilling the asparagus or sautéing them in a little bit of butter. Serve while warm on a dish with the chicken.
Cooked Baby Carrots with Butter
To enjoy a healthy and wonderful chicken meal, you should consider adding some cooked baby carrots. To make this flavorful and delicious side, add about 1/3 cup of water to a pot. Add in some carrots and let them steam for about 20 minutes on medium low heat. In the last five minutes add in 4 tablespoons of butter. Let warm until the carrots are tender and ready to enjoy.
Pasta of Choice
If you are looking to completely transform a traditional chicken dish to a pasta dish, try cooking your favorite pasta. Add the chicken to the top of the pasta and enjoy. You will likely only want to add a little oil and parmesan cheese to the pasta. Adding a red or white sauce may take away from the flavor of the delicious chicken you just cooked. This makes a great leftover dish idea if you happen to have leftover chicken.
Try adding a few of these sides together for a full and healthy meal that meets all food groups.
Best Drinks to Serve with baked chicken breast
If you are looking to entertain guests or make a formal dinner, this chicken recipe is a winner. Some of the best drinks that you may want to consider serving with this dish include a full bodied red wine or a dry bodied white wine. Both are great options and may change depending on the preference of your guests. If you are looking to make it a fancy and special occasion, try making any old fashioned drink. Some of the best mixed drinks to go with chicken include those made with whiskey. The whiskey flavor can help to highlight the flavors in the chicken and in the seasonings. If you want to have a more casual dinner, you can always serve the chicken with an Indian pale ale.