If you love chicken tenders, buy some and make them at home. You'll realize that they're more delicious and healthier than store-bought ones. Since they're tender, you won't spend much time cooking them. Also, their small size will give you easy work while marinating, making the process faster.
If you want a chicken tenders recipe that will leave your kitchen with minimal mess, choose this one. Also, the ingredients are easy to find. Read on and find out how we make our crispy fried chicken tenders soaked in lemon garlic flavors. We use golden parmesan panko crumb to coat the tenders, which makes them crunchy and mouthwatering.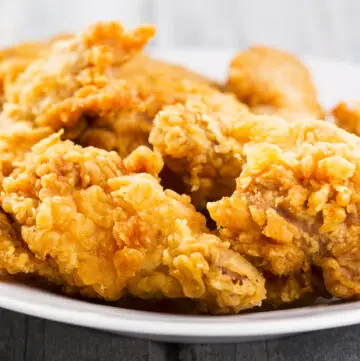 Chicken Tenders Recipe
If you want a chicken tenders recipe that will leave your kitchen with minimal mess, choose this one. Also, the ingredients are easy to find.
Ingredients  
1

egg

1

cup

of panko breadcrumbs

¼

cup

of all-purpose flour

½

cup

grated parmesan cheese

1½

lbs

chicken tenderloins

2

tablespoon

of lemon juice

¼

teaspoon

of garlic powder

½

teaspoon

of salt

¼

teaspoon

of pepper

cooking oil
Instructions 
Fill your cast iron with at least two inches of oil. Heat it over medium heat as you prepare the chicken.

Mix flour, pepper, garlic powder and salt in one bowl.

Using another bowl, mix the egg and lemon juice.

In a third bowl, mix the panke breadcrumbs with parmesan cheese.

Coat chicken with flour; dip into egg mixture, then coat with bread crumb mixture.

Drop some flour to help you know the temperature of the oil. If it sizzles immediately, you add the flour - go ahead and start putting in the chicken tenders.

Fry the chicken in small batches for 8-10 minutes or until golden brown.

After removing them from the fire, place them on a plate with paper towels and add more salt if you feel like it.
Tips on how to maintain crispy chicken tenders after frying
After frying your chicken tenders, place them on a baking sheet or a cookie sheet at a low temperature and put in the oven. Keep them there as you fry the remaining pieces. The temperature should be around 250 degrees fahrenheit. The low temperature will help you make the tenders juicier, too, since the oven isn't hot to dry them. But don't let the chicken tenders overstay in there.
Also, don't cover them to avoid interfering with their texture.
Can i make chicken tenders in an oven?
Yes, you can. You will not require a stove to cook it as it's oven-fried, reducing the mess of oil splashing all over your kitchen. To achieve that, do the following:
First, heat your oven to 425 degrees, line the cookie sheet using foil, and then spray with cooking oil.
After that, use a shallow bowl to put the flour. Get another one and beat egg and water. Using a third bowl, mix bread crumbs and cheese. Then coat the chicken with flour, dip them into an egg mixture. You can let the chicken tenders stay in the egg mixture for one hour or overnight if you'd wish to marinate. (optional)
Then coat them with a bread crumb mixture and season with garlic or onion powders. Doing this will make the outer layer tasty too.
Arrange them on a baking sheet and spray some cooking oil spray to make them crispy.
Bake them for 15 minutes but ensure you turn them once. When the tenders change from pink to golden brown coating, they're ready for serving.
What to serve with chicken tenders?
You can serve them with honey mustard sauce, consisting of whole egg mayo, honey, and Dijon mustard. Also, you can dip them in honey garlic butter sauce, fry sauce, buffalo sauce or ranch and enjoy your dish.
Alternatively, you can serve your chicken tenders with ultimate French mashed potatoes, brown butter green beans, and creamy garlic parmesan fettucine. Or honey butter roasted carrots.
Chicken tenders FAQ
Can I replace chicken tenders with chicken breasts for this recipe?
Yes, you can. Remember, chicken tenders are part of chicken breasts. But you can buy the tenders at the store or butcher separately. If you use chicken breasts for this recipe, do slice them into smaller pieces like tenders.
Are chicken tenders healthy?
Since chicken tenders are white meat with low-fat content, it's a healthy dish. They also have no skin or bones, making them low calories, which is good for your health.
Can I marinate chicken tenders in buttermilk?
Yes. Using buttermilk will make them softer and juicy. You can soak them within an hour. Doing this will help them absorb the flavor and also acts as a binding agent for the first coat of seasoned flour.
Understanding what chicken tenders are
Chicken tenders are the thin strips of meat under the chicken breast. The two have similar taste; however, chicken tenders are juicier and tender when cooked well. You can buy them from the store. Or if you have chicken breasts, you pull them underneath.
What's the difference between chicken tenders and chicken strips?
Chicken tenders are the outer muscles of breast meat. The strips are deep inside the chicken breasts; they're slightly tougher than tenders.
How to store leftovers
If you cook extra tenders, don't worry about storing them. Use a freezer or fridge to keep them until the day you're ready to use them. You'll only reheat once you remove it from the freezer.
In the fridge
After cooling your chicken tenders, put them in a freezer bag and seal tightly. Keep them for around 3 to 5 days. You can warm them in the oven or microwave.
In the freezer
If you want to freeze your leftover chicken tenders, allow them to cool. Then put them in a sheet pan to freeze for about thirty minutes. After that, put the chicken tenders in a freezer bag and freeze them for up to three months.