Sweet Potatoes fries are a healthier meal option as opposed to French fries. Are you having your friends over on a chill afternoon? Do you plan on healthy snacking? Are you looking for an alternative to add to your breakfast menu? The sweet potato fries are easy to prepare, either as a main meal, a side dish, or a quick fix snack. Depending on the occasion, sweet potatoes fries bring in the delicacy.
The sweet potato fries are some of the best, salty, crunchy and well spiced fast foods if prepared right. One of the pros of the sweet potato fries is that they are actually easy to prepare at your home compared to any other fast foods when perfectly cooked and properly seasoned. You can prepare these crispy fries in your kitchen by using this simple recipe. You can season them, prepare them flavored and make them as crispy as possible by adjusting the ingredients measurements. You can prepare sweet potato fries by either baking them in the oven, using a deep fryer or a stove top. Let us indulge and explore how you can use any of those methods to get crispy well-seasoned fries.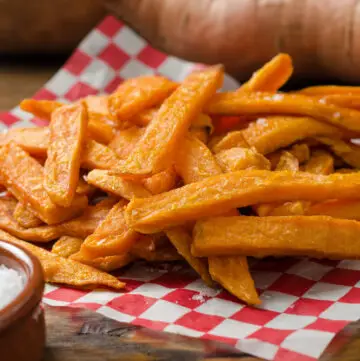 Sweet Potato Fries Recipe
Sweet Potatoes fries are a healthier meal option as opposed to French fries. They are easy to prepare, either as a main meal, a side dish, or a quick fix snack.
Ingredients  
2

lbs

sweet potatoes

2

tablespoons

of olive oil

1

tablespoon

of cornstarch

1

teaspoon

of garlic powder

teaspoon

of paprika

½

teaspoon

of black pepper

1

teaspoon

of kosher salt.

any other seasonings of your preference.
Instructions 
Dice your potatoes in equal sizes, could be wedges or jojos. The thinner the cuts the crispier the fries. Soak the diced potatoes in plain cold water for about thirty minutes to 12 hours. Soaking helps the fries to dissolve most of the starch. You can add ice to your water, this will help in maintaining the crispness of the potatoes. I recommend cold water because hot or warm water may reduce the crispness of the fries. Once they have soaked, tap them dry with a kitchen towel or a paper towel. It although is not mandatory for you to soak them.

Preheat the oven up to 400°F.

This step is actually the secret to crispiest outcomes for most baked recipes. Cornstarch will help in getting perfect crispy sweet potato fries. Oil your sweet potatoes in either a bowl or ziploc bag and make sure all of the potatoes are covered in oil. In a different bowl, mix the cornstarch and your preferred seasonings and coat your already oiled sweet potatoes. Remember to skip adding salt at this stage as it may make your fries soggy. We will add salt later in the preparation.

Put the fries on the baking tray. You can use parchment paper on the tray if you prefer. This way there will be less dishes to clean.

Bake for 15-25 minutes in total. Cook halfway and then turn the fries to evenly cook. The sweet potato fries should be ready when they are fork tender.

Once cooked, place them in a cooling tray for about 5 minutes, add salt to taste and serve them hot.
Tips to make your sweet potato fries more crispier
As soon as you are done coating your fries, you can use this guide to get your sweet potato fries crispier;
It is best preferred to use a parchment paper that can withstand high temperatures to have the fries crisped up perfectly. These are easily available in stores. If you prefer not to use the parchment paper, you can use a greased baking sheet to achieve the same results. Remember to preheat your oven up to 400°F.
When placing the fries on the baking tray in the oven, ensure they are all in a single layer and avoid any case of overlapping fries. If the fries are many, use a larger tray or divide them in smaller trays. Crowding your tray may result in unevenly cooked fries, or steamed fries which end up soggy.
Once you have baked the fries half way, use a spatula to turn them to cook on the other
side. This helps the fries not to fall apart and achieve whole fries.
As soon as your fries are cooked, remove them from the oven and place them in a
cooling tray. You can add the salt at this stage to your preference and let them
sit for about 7 minutes to crisp up.
Serve them right away after they have rested for a couple of minutes. They are best
enjoyed before they get all soggy.
For the other two methods of cooking the sweet potato fries, the preparation method remains the same and all you need to do is replace baking stage with frying method.
Cooking your sweet potato fries in the deep fryer
Whether the fries are freshly prepared or straight from the freezer, you can have them prepared in your deep fryer by following this guide.
You will need to turn on the fryer to 325°F. Before doing this, fill your fryer with enough oil to cover your potatoes and have them completely submerged. Then let them cook for about 3-5 minutes. If direct from frozen be careful because the oil may spit for a few seconds. Your fries are cooked when they turn golden brown and also are lighter. If you want to confirm if they are ready, you can use a fork to poke one of the fries, if tender, then they are ready. Turn off your fryer, remove them, drain them in a paper towel to soak off the oil and serve them hot.
Cooking your sweet potato fries on the stovetop
If the two methods discussed earlier are not applicable to you, you can try the stovetop method which requires a deep frying pan and your preferred oil. The important thing to note with this method, is that you will need to put a single small batch of fries to give them enough space to move when stirred. Begin by preheating the oil on medium-high temperature. Ensure you are at a safe distance before adding the frozen fries in the oil because the oil might splash everywhere. Add one small batch of the fries at a time. Make sure they are not clumping then cook for 3-5 minutes while stirring them until they are evenly cooked and are lighter.
Variations of sweet potato fries
In the course of my experimentation on how best I prefer the sweet potato fries, I have discovered these tricks that you can add to customize your fries.
Sprinkling some cheese on your sweet potato fries will reveal a whole new level of awesomeness that is irresistible. If you prefer it melted, you can add it on the last few minutes of baking.
You can sprinkle some cayenne to top up the heat of your fries. It is also a good seasoning spice as well.
You can also add other dry seasonings. Some of the most recommended include the curry powder, red pepper flakes, dried oregano, thyme, rosemary, sage and basil. You can explore different types of seasoning like the Cajun seasoning, Taco seasoning or the Caribbean jerk seasoning.
To have the inside of your sweet potato fries extra tender and yet crispy outside, you can blanche your fries. This is very key if you want to freeze some of your fries. This is how to blanche your sweet potato fries;
1. For about two minutes, put the fries into boiling water
2. Immediately after boiling them, drop them in ice-cold water for some time
up to about twenty minutes.
3. Place them on a kitchen towel to dry up until no water is visible.
4. Season your fries with the recommended spices or your preferred ones.
5. Proceed with cooking or storing the fries.
What to serve with sweet potato fries
The sweet potato fries are best accompanied with a dipping sauce. Some of the best dipping sauces may include creamy Greek yogurt sauce, homemade ketchup, barbecue sauce, four cheese sauce or tomato sauce. You can serve your baked sweet potatoes with either of the following so long as you try to serve a balanced diet. Remember you can be adventurous with the accompaniments; you don't have to strictly use what is indicated.
Roasted fish and a creamy cucumber salad.
You can serve them with maple syrup. You can thin the syrup using warm water.
Warm roasted cauliflower will complement your fried sweet potatoes and a glass of
chilled chardonnay.
Baked chicken breast and strawberry avocado salad.
Vegetarian chili soup, Quinoa tortilla soup
Baked beans or Green bean casserole
Fresh fruit juice, you may love it better chilled
How to store Sweet Potato Fries
When preparing your sweet potatoes fries, be sure to add a few extra that you can use on a later date. This turns out to be cheaper per serving compared with ordering from your local food spot. It is important to note that the fries meant for storage may follow a slightly different preparation procedure. I have highlighted the major steps for preparation and storage below:
After washing the sweet potatoes, divide them into two bowls; one bowl will be used for the same day preparation while the second bowl we will proceed with the preparation for storage.
You will need to blanch the fries as described earlier, to make them tender and fluffy inside while remaining crispy on the outside every time you cook them. Blanching is important here because it slows down the enzyme reactions that cause your fries to lose taste and texture.
Divide the sweet potato fries in small portions and put them in freezer bags.
Pop them into the freezer where they can stay up to six months. Be sure to indicate a
date on the bags for safety of consumption. When ready for consumption just pick up the resume from where you left.
Sweet Potato Fries FAQ
How can I make sweet potato fries gluten free?
It is very possible to have your fries gluten free, especially if you are doing so for health reasons. What you need to do is select only the spices that are gluten free and most importantly reduce the dairy products like cheese that may contain gluten or get gluten free cheese. Check the gluten status of the seasoning spices you have and if they contain gluten, check at your nearby local store for gluten free spices.
What to look for when buying sweet potatoes for preparation of fries
Sweet potatoes are readily available in most grocery stores throughout the year. The sweet potatoes come in a variety of shapes and sizes and whichever you choose should be able to match your intended recipe. Nevertheless, it's best if you choose the sweet potatoes that are firm, blemish free and do not exhibit signs of being affected by worms. Sweet potatoes meant for fries, pick the ones that are thick enough for you to derive the ideal sizes of your fries. This will give you room to dice them in the recommended 1⁄4 inch sizes easily.
Can I use refrigerated sweet potatoes to prepare the fries?
Refrigerated sweet potatoes are likely to be wet and this will affect how crispy they are. If that is what you have, you can wait for them to thaw before slicing them for preparation. It is best if you use fresh sweet potatoes since they have a fresh outcome rather than refrigerated ones which may lose their original flavor or become starchy. To ensure they thaw completely, dip the refrigerated sweet potatoes in water to release the ice.
Are sweet potato fries healthier than French fries?
Sweet potatoes are rich in both sugar and fiber. They are a great source of vitamin C, potassium, beta carotene that is transformed to vitamin A. Baked sweet potatoes contain less oil compared to all types of deep fried potatoes; they are considered healthier over French fries since they contain other minerals like manganese which produces collagen and potassium that regulates blood pressure and helps keep the excess sodium out of the body. Sweet potato fries contain strong antioxidants, especially the purple sweet ones which protect the body against aging and many kinds of diseases. Unlike potatoes, sweet potato fries are a strong anti- inflammatory snack recommended to curb the intensity of chronic illnesses like type 2 diabetes, cancer and heart disease.
Can sweet potatoes fries provoke blood sugar levels and cause weight increase?
Many people tend to think sweet potatoes are all sugar and starch bombs! Nevertheless, due to their high content of fiber, sweet potato fries do not cause instability in your blood sugar. Sweet potato fries have redeeming benefits on weight loss, especially because they involve less consumption of oil. Some studies have even shown that eating sweet potatoes regularly can aid in weight loss. They contain resistant starch which is not stored in the body and eventually prompts the body to pump inducing hormones.