The cauliflower is a very popular cruciferous vegetable with so many great health benefits. In addition to containing several very important vitamins it is also rich in both fiber and antioxidants. It is frequently served steamed with broccoli and other spring vegetables, and can easily be found fresh in the produce section. If you follow the science of nutrition, you probably already know that Cauliflower is a popular superfood that's rich in vitamin C, vitamin K, folate, pantothenic acid, and vitamin B6, just for starters. It is also a very good source of other nutrients such as omega-3 fatty acids, manganese, phosphorus, and biotin. Medical research has linked the nutrients in cauliflower to a reduced risk of cancer, as well as most common heart and brain disorders.
It is also a great natural dietary aid that can help with digestion, detoxification of the body, increased iron absorption, and even weight loss. A ½ cup (120 ml) serving of cooked cauliflower contains up to 90% of your daily value of vitamin C! It has so many antioxidants and other nutrients that can help to strengthen the immune system, improve physical health at the cellular level, and optimize electrolyte balance, and cholesterol.
Cauliflower is a member of the brassicaceae family of root vegetables, and its name is derived from the Latin words caulis (which means cabbage) and flōs (which means flower). "Cabbage flower" is very closely related to broccoli and cabbage. There are a number of regional nicknames for cruciferous vegetables, such as "cole crops" in North America, and "brassicas" in the UK and Australia. Cauliflower currently enjoys widespread popularity in a number of diets and eating plans, because it is a great (and all natural) low-calorie, low-carb, and gluten-free alternative to bread, pasta, and many other grains and legumes. In fact, the production of cauliflower is over 70% higher than it was a decade ago. Riced cauliflower is readily available pre-prepared at most grocery stores, and can be used in a very wide variety of food substitutions: Parents of finicky children love to sneak cauliflower into pizza crust, tortillas, and mashed potatoes. Cauliflower can also be used as a substitute for white rice and a way to add an interesting new texture to several hummus recipes.
Here at MyNordicRecipes.com, we absolutely love cauliflower! Most doctors will tell you that you can't get enough cauliflower in your diet, and we agree. And we also think that using cauliflower simply as a substitute is a big mistake! Cauliflower is great raw, and can also be roasted, grilled, boiled, fried, steamed, and pickled. It has a great crunch that sometimes gets lost when steamed, and a fantastic natural flavor when drizzled with olive oil and oven roasted. In this easy roasted cauliflower recipe, the carmelized florets will add some great color to your dinner plate. Roasted cauliflower couldn't be easier to prepare. Be sure to also try it as an easy antipasto to snack on while you prepare the rest of your meal!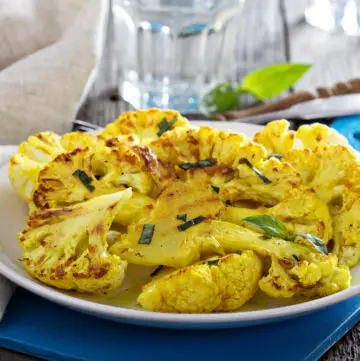 Roasted Cauliflower Recipe
Roasted cauliflower can be served warm as a side dish, or at room temperature as an appetizer. Many people enjoy sprinkling roasted garlic with a quality aged vinegar or Italian dressing. Leftover florets are also great pickled in brine or added to salads the following day.
Ingredients  
1

head

of fresh cauliflower, or bagged frozen cauliflower

4

tablespoons

of extra virgin olive oil

salt and pepper, to taste

Optional ingredients: Vinegar, Italian Dressing, fresh or dried herbs
Instructions 
Select a fresh head of cauliflower, looking for a clean crown and leaves. Estimate approximately ¼ pound (approximately 115 grams) per person.

Preheat your oven to 375 degrees F (190 degrees centigrade).

Wash the fresh cauliflower head thoroughly in cold water, and pat dry with paper towels or a clean tea towel. If using frozen cauliflower for the recipe, allow it to come to room temperature, or rinse with warm water (for best results, do not defrost frozen cauliflower in the microwave)

Slice the fresh cauliflower into approximately ¼" (.6 cm) slices, or break florets apart by hand to desired size and consistency.

Place cauliflower into a large mixing bowl, and coat with olive oil.Season with salt and pepper to taste until evenly coated. Feel free also to experiment by adding rosemary or your favorite herbs.

Arrange pieces evenly on a greased cookie sheet or roasting pan, and drizzle with the leftover oil and seasonings in the mixing bowl.

Bake for 25 to 30 minutes, turning once approximately halfway through cooking, until your cauliflower florets are caramelized around the edges and tender in the center.

Allow to rest for 2-5 minutes before serving.
Roasted Cauliflower FAQ
Do I need to adjust cooking time and temperature at high altitudes?
Chances are that you're already familiar with adjusting recipes for high altitudes, but the rule of thumb is to increase your temperature by 5-10% and decrease your cooking time by 20-30%. The good news is that there is no danger if your roasted cauliflower is cooked al dente, and many people like the crispy texture when the florets are dark brown. A few minutes under the broiler can't hurt at the end, but be sure to keep an eye on your cauliflower to make sure it doesn't burn.
Can I use Canned Cauliflower?
We don't recommend canned vegetables for this recipe or any others. Canned vegetables sit on the shelf at the store for a long time, and in people's pantries much longer. They also often have lots of sodium and extra preservatives. The cauliflower is fresh when it is canned, but loses most of its natural crunch as it sits soaking in a suspension of saltwater. Frozen vegetables, on the other hand, are usually the freshest vegetables in the store. They are often frozen almost immediately after their harvest and retain a consistent temperature until cooked and served. Fresh vegetables are subject to travel time from the farm to the store, and a lot of things can happen along the way. But they are still the best option for this recipe, and should only be substituted if you can't find a good looking fresh floret in the produce section during certain times of the year.
Is there a good wine pairing for roasted cauliflower?
A seasoned oenophile will probably recommend a chilled chardonnay or a white zinfandel, but here at MyNordicRecipes.com, we think the best wine is the one that you like! Roasted cauliflower is great tossed with spring vegetables or added to a pasta salad, and something light is always a good choice. We also like this recipe with a good Riesling or a light merlot. But if you think that this recipe will go well with that bottle of cabernet sauvignon you've been saving for a special occasion, you're right!
How many varieties of cauliflower are there?
Hundreds that we know of. Throughout the world, there are so many regional variations, and almost 80 documented varieties of cauliflower in North America alone!
Cauliflower is generally classified into four major groups:
Italian: The white Italian variety of cauliflower is the ancestral form which formed the basis of all other varieties from which the others were derived. The Italian group of cauliflower includes white, Romanesco, various brown, green, purple, and yellow varieties
Northern European annuals: Erfurt and Snowball cauliflower was developed in Germany in the 18th century and is a popular variety enjoyed during the summer and fall harvest seasons.
Northwest European biennial: Angers and Roscoff cauliflower varieties were developed in France in the 19th century. They are primarily cultivated and harvested in the winter and early spring in Europe.
Asian: The Asian cauliflower varieties were developed in India during the 19th century, and include Early Benaras and Early Patna.The Asian cauliflower thrives in a tropical climate, and is primarily used in China and India.
My kids are still being picky. Help!
We all love our children, and it's really frustrating to deal with their hangups about food. They love their fast food and their sugary cereal, even though they would probably be better off just eating the bows that they came in.They will one day thank you for making them eat well as much as you can, but for now we often have to resort to a certain amount of trickery.
Riced cauliflower is a great substitute for so many different ingredients, and most people can't even tell much of a difference. But sometimes our kids won't give something a chance at all, and you're asking for trouble when you try to sneak something past them. With an increased interest in getting young people excited about eating well, cauliflower is a great place to start. The texture of roasted garlic make it an interesting addition to a homemade trail mix or a hot bowl of popcorn and nuts. Most kids love spaghetti, and pureed cauliflower adds a great consistency to a pot of even the cheapest spaghetti sauce. In fact, sauce from a can or a jar tends to separate into a watery mess. Pureed cauliflower will thicken any pot of sauce or chili. And while you're at it, try it in a shake or a smoothie!
Cauliflower grows naturally in several different colors, and each has its own flavor profile. White and green cauliflower are pretty standard at most grocery stores, and you can also find orange and purple varieties at health food stores, and grocery stores with an expansive produce section. Orange cauliflower has a sweeter and more mild taste than white cauliflower, and a fun way to add a splash of color to a Halloween or fall harvest themed holiday dinner party!
A few more interesting facts about cauliflower
The cauliflower was first cultivated in the 1st century AD in Cyprus, and was discussed in writings of Arab botanists in the late 1300s. It wasn't widely known in the west until the early 18th century when "sprout cauliflower" and "Italian asparagus" became popular in England.
Even though we now consider cauliflower a standard comfort food, it has aristocratic roots. France's King Louis XIV was a big fan of cauliflower, and insisted that it be served at his palace in Versailles as part of numerous lavish dinner parties.
Iconic writer and quotesmith Mark Twain's is famously quoted as saying that "a cauliflower is nothing but a cabbage with a college education" in Pudd'nhead Wilson
Mathematicians discuss the cauliflower as one of the best examples of the famous "golden ratio" occurring organically. The golden ratio is present in nature and design if the ratio of two quantities to one another is the same as the ratio of their sum to the larger of the two quantities.