Keep up with the newest caffine trend by making your own whipped coffee, commonly referred to as, Dalgona Coffee. This drink will not only keep you energized and ready to take on the day, it's also social media worthy! Dalgona Coffee is known in South Korea, Greece, and India but has been making its way across the globe since going viral on Tik Tok. It looks fancy but is fairly simple. Instant coffee, granulated sugar, milk and water are all you need for this creation.
Not into all of the caffine? You can also utilize ingredients such as hot chocolate mix in place of the instant coffee for a similar drink without the buzz! There are other ways to get creative and expand upon the traditional Dalgona Coffee recipe. Try using strawberry or chocolate milk to add a new twist! If you're looking for a dairy free option, almond and oat milk are perfect substitutes. Switching up the milk used for this beverage will not impact any texture as it is separate from the whipped topping! The possiblities are endless but today, we're going to focus on the original Dalgona Coffee.
Dalgona Coffee is derived from Dalgona which is a Korean sugar sweet. A Korean sugar sweet is a honeycomb toffee. While you will not be finding any honeycomb toffee in your glass, similar flavor profiles will prevail. Dalgona candy gained popularity after the Korean War. During this time, parents were looking for a way to make sweets that were affordable for their children to enjoy. Dalgona is created by heating sugar and water and then just adding baking soda to the mixture. Once cooled, it became an air-filled candy that is bitter towards the end but is initially sweet, similar to the experience you will have when drinking a Dalgona Coffee. The whipped coffee started making its way into other areas of the world when Korean actor, Jung Il-woo, showed how to create it on social media. Once something so aesthetically pleasing starts hitting the feeds of our social media pages, it's only a matter of time before it starts taking over our kitchens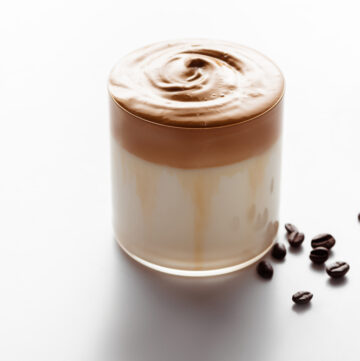 Dalgona Coffee Recipe
Keep up with the newest caffine trend by making your own whipped coffee, commonly referred to as, Dalgona Coffee. This drink will not only keep you energized and ready to take on the day, it's also social media worthy!
Equipment
A mixing bowl

A whisk, hand mixer, or frother

Spatula, spoon, or ice cream scoop
Ingredients  
2

tablespoons

of instant coffee

2

tablespoons

of sugar

2

tablespoons

of hot water

16

ounces

of milk
Instructions 
Combine instant coffee, sugar, and hot water into your mixing bowl.

Use whisk, hand mixer, or frother and beat for 3-5 minutes.

Mixture should reach a golden brown color and thick, creamy consistency.

Pour milk into separate glass.

Add ice cubes to the milk if desired or heat milk if you prefer the beverage to be warm.

Pour mixture on top of milk using your spatula, spoon, or ice cream scoop.

Take a photo, stir, and then enjoy!
Nutrition
Calories:
374
kcal
Fat:
9
g
Protein:
14
g
Carbohydrates:
60
g
Whipped Coffee FAQ
Can I use ground coffee beans, a K-Cup, or coffee pod?
Nope, instant coffee is a must! Regardless of how finely ground your coffee beans are, ground coffee is not a substitute for instant for this whipped coffee. Instant coffee and ground coffee are not the same. Instant coffee is actually made from coffee beans that are roasted, ground, brewed, and dried. The frothiness shown in the visually satisfying photos of Dalgona Coffee is partially a result of the emulsifiers that are added to the instant coffee during the dehydration stage. Not that you came here today for a science lesson but now you can understand why instant coffee is the only way to create this delightful whipped coffee. Failing to use instant coffee or a similar ingredient has been the biggest downfall for inconsistencies in consistency! Make sure you have the correct type of coffee or substitute before diving into creatng a Dalgona Coffee.
Can I use instant espresso?
Yes, instant espresso works too! Just like hot chocolate, which is also an alternative, the powder form will allow for the same results. Keep in mind that espresso typically has a higher amount of caffine in it. Consider finding a recipe with alternative measurements if you are using instant espresso unless a heavier jolt of caffine is what you are after! Matcha is another alternative but just the matcha alone with the sugar and hot water will not whip successfully. For whipped matcha, you will either need to whip an egg white or 2 tablespoons of aquafaba which is the liquid that can be found in a can of chickpeas until it reaches a frothy texture. Once that frothy texture is achieved, then you would add the sugar, which you would continue to beat, then you would add the matcha powder. The consistency of this topping will not be the exact one you would get with the instant coffee, espresso, or hot chocolate but it can be used as an alternative if preferred.
Is sugar a must?
For this recipe, sugar is a big component! If you are looking to achieve the thick and fluffy topper to this drink, sugar must be used. That being said, you CAN reduce the amount of sugar a tad or use a substitute. Using less than half of the recommended amount is not suggested. Brown sugar, coconut sugar, and artificial sugars are substitutes that have been proven to work almost just as well as white sugar. Brown sugar and coconut sugar are typically heavier than others so your mixture may not be quite as fluffy and airy as the standard one but they are definitely good options. You will see similar results with artificial sugars; while they are viable alternatives, the consistency will not be the same as if you were to use white sugar.
How long can I store my mixture?
Any leftover whipped coffee can be stored in the refrigerator for up to 5 days. You will likely have to re-whip the mixture to top any future Dalgona Coffees or just gve it a quick stir and add to some milk if you aren't worried about having your beverage look picture perfect the second time around! For the best results, transfer the mixture to an airtight container. A mason jar is a great option for keeping your whipped coffee as fresh as possible for as long as possible.
Why is my mixture not as fluffy, airy, and thick as those I have seen?
First, make sure you are using instant coffee. A thorough explanation as to why only an instant mix versus ground coffee will work was given in the response to a previous question. So you are using instant coffee and you still are not getting the consistency you expected? Try increasing the temperature of the hot water you are using. Very hot water will ensure proper consistency. Instead of using hot tap water or even microwaving some water for a few seconds, use freshly boiled water and see if that makes a difference. Last, double check that you are using the correct portions of ingredients. Equal parts are key. While it may be tempting to reduce the amount of sugar used or substitute a different type, white sugar and the full amount will result in the desireable, fluffy texture you will be expecting.
How can I avoid making a mess from the mixing process?
It's all fun and games until you have a big mess to clean up after enjoying your delicious coffee creation. There has been a ton of feedback about splatters all around the kitchen or work area from all of the mixing. To avoid this, make sure you are using a large enough mixing bowl to avoid over-spray but small enough to contain all of the ingredients for your whipped coffee actually get whipped together. It has been concluded by others that a whisk or hand mixer creates much less of a mess than a milk frother so consider one of those mixing methods.
SERVING SUGGESTIONS
Where to begin! A sweet treat is the first thing that comes to mind when deciding what to serve with a Dalgona Coffee. This drink can stand on its own as a mid-day treat or after dinner delight but some favorite sides to pair include:
Scones
Cinnamon coffee cake
Ice cream
Chocolate chip banana bread
Warm cookies
Seasonal muffins
Treats with spiced flavors such as cinnamon or pumpkin are very complimentary to this drink. A Dalgona Coffee will also be a good match with a breakfast dish. Try it out with waffles, pancakes, even eggs and ham!
TIPS FOR A PHOTO WORTHY WHIPPED COFFEE
A Dalgona Coffee is meant to be consumed and enjoyed but due to the popularity on social media platforms, you may find it imperative to post a photo of your creation. To make sure your drink is photo worthy, first, ensure you are using the recommended ingredients and recommended portions of them. As mentioned before, this is a key way to achieve the fluffy, airy, topping! Next, pair your coffee with a treat of your choice or one from the suggested list above. The coffee will look fantastic on its own but it's never frowned upon to add to the photo, especially when you include a tasty dessert in your showcase. Last, top your whipped coffee. Cinnamon, powdered sugar, or a sprinkle of hot chocolate powder would do the trick. You can also use an item such as a peppermint or cinnamon stick to amplify the image. Using a unique glass to serve or drink your beverage out of can also make your photo stand out. A clear glass is best to get the full effect of this fun beverage. Place your coffee in a well-lit area with no clutter and use the portrait mode feature on your phone or camera to capture an ideal image of your Dalgona Coffee. Challenges have even started to pop up on social media centered around this drink so if you choose to get creative and yours may be something original, post to inspire others to give this beverage a try. Don't forget to capture your coffee quick! The topping will soon start to flow into the milk after poured which can look appealing but your timing needs to be fast if you want to capture the separation of ingredients!
This at-home brew opens the door for innovation and creativity. Some have used alternative recipies including peanut butter and some have made their Dalgona Coffee with a pumpkin spice flavor! Depending on the consistency you are looking to achieve, there are countless ingredients and flavors that can be incorporated into your drink to make it your own and fit the flavor you are craving.