Pancakes is not only a snack, but you can eat it for dinner or breakfast too. Even though most people love and often crave for them, they find it challenging to prepare. This is because they miss basic steps that make the pancakes sweet and attractive. But you can learn that and make the best mouthwatering pancakes.
There are several types of pancakes, which you can prepare using various ingredients. You can choose your best and eat it always. But if you've got a family, make them their favorite homemade pancakes, which they can't resist. You can cook either plain pancakes that are rich in vitamins and minerals. Or whole wheat pancakes are also a good source of nutrients like iron, calcium, riboflavin, and phosphorus. Read on and learn how to make your pancakes soft and yummy using our recipe.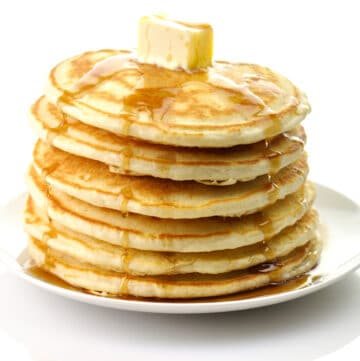 Easy Homemade Pancakes
Easy recipe for homemade pancakes, which brings joy at the breakfast table.
Ingredients  
1½

cups

all-purpose flour

3½

teaspoons

baking powder

1

teaspoon

salt

1

tablespoon 

sugar

1¼

cups

milk

1

large

egg

3

tablespoons 

melted butter
Instructions 
Mix flour, sugar, baking powder and salt together, in a large bowl.

Add milk, eggs and melted butter and mix well until smooth.

Heat a frying pan well and add a small teaspoon of butter and let it melt.

Pour ¼ cup of batter onto the pan and spread out gently into a round shape with the back of your ladle or measuring cup.

Brown on both sides and serve hot.
Notes
*Calories is per serving.
You don't have to prepare your homemade pancakes only during the weekends since it's an easy process that doesn't take time. But if you'll be having a busy week, use this pancake recipe to make more pancakes and store them in the freezer. So, you'll only need to microwave them before serving. Use airtight containers to keep them in the fridge for not more than five days.
Nutrition
Secrets to Make Your Pancakes Soft and Fluffy
To make your pancakes soft and fluffy, ensure the batter is not too thick or thin. If you make a thick batter, it will come out bluggy while the inside won't cook well. A thin and runny batter will make your pancakes crunchy, thin and it won't fluff up.
To know if your batter is of the right thickness, use a spoon to test it. Scoop some batter using the spoon and allow it to flow back on the bowl. If it runs gently from the spoon, then you're good to go. But if it doesn't, add some scoops of flour to make it a bit thicker. Make sure the batter has few lumps afterward by whisking it gently for some time.
Tips on How to Cook Better Pancakes
You can succeed in making the batter perfect but cooking it can mess everything. To get the best results, ensure you pre-heat your pan on medium heat until it's hot. If you don't heat the pan well, your first pancakes will come out bad without the golden-brown color.
After heating the pan, reduce the heat to low-medium heat and wait for around two minutes before putting the batter. Then grease the pan with a small amount of butter and remove excess butter using a paper towel.
To get even size pancakes, use the ¼ cup or spoon to scoop the batter. Pour the batter in the middle before spreading it slowly to the edges in a circular motion. Doing this will also make your pancakes round and attractive.
Give your pancakes time to cook so that you don't get half-baked pancakes. Don't use high heat while cooking, and avoid flipping them too early. Let each side cook until they turn golden brown and bubbles before flipping.
Avoid making your pancakes lopsided while flipping; use a plastic spatula and slide it under the pancake. Then use your wrist and not your arm while flipping them.
Basic to Use While Preparing Pancakes
It's not a must to buy all the ingredients as your pantry can sort you out, especially if you've got leftover flour. Using the leftover ingredients will help you save on time and money as you'll not buy anything.
You can avoid using several bowls by mixing all the ingredients in one big bowl. Combine the dry ingredients and then add the wet ones on top to reduce workload while doing utensils.
Give the batter time to rest after mixing all the ingredients. Doing this will help it hydrate, plus the baking powder will get the chance to activate.
While cooking your pancakes, use cast iron as it helps make them golden-brown and with less butter. It also heats properly, ensuring equal distribution of heat. But the non-stick pan also works perfectly well.
Delicious Pancake Toppings
You can serve pancakes with your favorite toppings like fresh fruit or whipped cream. But maple syrup, butter, liquid cinnamon roll syrup, jams, or chocolate syrup are also perfect choices.
You can also serve pancakes with drinks such as hot beverages, wine, juice, or a cold soda. However, the drink choice depends largely on the kind of pancake you did prepare.
Pancake Variations
You can make your homemade pancakes using different ingredients. The other ingredients can replace milk, or you can use them together, depending on your preference.
They include;
Plain fat yogurt. But you can also add some milk while using it.
Buttermilk; if you use it, don't add milk while preparing the batter.
Whole grain and yogurt; you can make your pancake using the two. Replace all-purpose flour with ½ cup of wheat flour, wheat germ, and cornmeal. And use ½ a cup of baking soda instead of 3 ½ teaspoons. Then in step two, where you're supposed to add milk, reduce the milk to 1/3 cup and add 2/3 cup of yogurt.
You should also try the following recipe for Crepes
Pancakes FAQ
Can I make pancakes using buttermilk?
You can use buttermilk to make pancakes. All you need to do is replace it with milk but use the same procedure to make your pancakes.
Can I add chocolate chips to these pancakes?
You can fold chocolate chips on the pancake batter before cooking. Or put them after placing the batter on the pan to make patterns. Use not more than ½ cup of chocolate chips on this pancake recipe.
How will I tell when the pancakes are ready for flipping?
After placing the batter on the pan, give it some minutes to cook. After that, you'll notice some bubbles forming on the upper surface of the pancake. That's a sign that you can now flip it. But ensure it's golden brown on both sides.
Must I use all-purpose flour on this recipe?
No. you can also use whole wheat flour to make your pancakes. But note that it will make your pancakes much thicker. To avoid that, mix it with all-purpose flour.