If you enjoy eating banana bread; then it is high time you try making it at home. The best part is that making the banana bread recipe is easy. If you learn how to make the bread, you will no longer have to worry about what you will do with old bananas since they are the main ingredient used to make banana bread.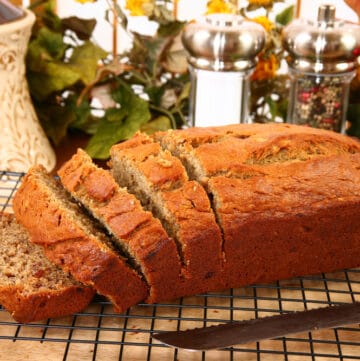 Banana Bread Recipe
Moist and delicious banana bread recipe - Easy to make.
Equipment
1.8×5-inch Loaf pan

Parchment paper

Medium and large bowls

Spatula

Whisk/fork/hand mixer/stand mixer
Ingredients  
4

ripe

bananas

1½

cups

all-purpose flour

1

cup

sugar

1

egg

1/4

cup

melted butter

1

teaspoon

baking soda

1/4

teaspoon 

salt
Instructions 
Start by heating the oven at 350F.

As the oven is heating, take a parchment paper and line in the loaf pan and allow the excess paper to dangle over. Spray the paper using cooking spray to ensure the bread does not stick.

Take a medium bowl and mix the flour, salt, baking soda and set it aside. Then take a large bowl and cream in the eggs and sugar, mix until they are well mixed to form a cream. When it is creamed, stir in mashed bananas. Then take the bowl with the flour and add the mixture in the large bowl bit by bit. Mix all the ingredients until they are all properly combined.

Pour in the mixture in the loaf pan and ensure that it is evenly distributed. You can use the spatula to help you smooth the batter on the top. Place the pan on the oven on the middle rack.

Let the banana loaf bake for about one hour. But after 50 minutes, you should start checking into ensuring it is ready. You can check by using a tester and inserting it in the middle part of the loaf. If the banana is ready, the loaf will come out clean. The top should be brown with a yellow interior.

Cool the banana bread for ten minutes. You can cool it by setting on the rack without removing it from the loaf pan. The bread needs to cool and solidify before removing it from the pan to avoid crumbling. Once it is cool, you can remove it from the pan by grasping the paper sling and lifting the loaf out. After that, allow it to cool on the rack for another ten minutes before slicing it.
Six Ways to Serve Banana Bread
You can slice them up and serve with a bacon sandwich and scrambled eggs.
You can serve the banana bread is by using shredded cheddar, omelets, and diced ham.
You can serve the thick slices with corn on the cob and grilled ham steak.
You can serve the bread with fresh juice, yoghurt, or white coffee.
When looking for a spread to use, consider using peanut butter. Banana bread and peanut butter complement each other. You can also try using Nutella of Vanilla Custard. In case you have peanut allergies, you can try spreading cream cheese.
In case you are serving it as a meal, then getting a good steak will help complete the meal.
More about Banana Bread Recipe
In case you do not like using vanilla extract you might be wondering if you can substitute it. You can replace it using the banana extract. However, that will mean that you will end up with more of an artificial banana test.
I do not recommend using almond extract because the ingredients used in making the banana bread do not seem to pair well with almond. Almond flavor might outdo that of the banana, and that will lead to you losing the banana taste.
FAQ About Banana Bread
How Do You Store Banana Bread?
You need to know how to store the banana loaf to ensure that it remains fresh and moist for several days. Store the unused loaf by wrapping it with a plastic wrap. If properly covered, you can store it under room temperature for several days.
Can You Freeze Banana Bread?
Yes, you can freeze the bread to maintain its freshness for a long time. Freezing the bread will keep it fresh up to three months. The best way to freeze the bread is in slices since they will thaw fast. To freeze the banana bread, you need to wrap the bread in aluminum foil and freeze it.
What Other Ingredients Can I Add To My Banana Bread?
In case you are looking for a way to spice up the bread, you can add some blueberries, dried fruits, or pecans. Add any of these components with a touch of flour before you add the batter. This will help to keep it evenly distributed.
Can I Use Slightly Ripe Bananas?
No. When it comes to banana loaf, the best bananas to use are those which are ripe. But, if you have slightly ripe or unripe bananas, you can speed up the ripping process by baking at 300F for about 15 minutes. Once you have ripened the bananas, you need to allow them to cool before using them.
Why Is My Banana Bread Too Dense?
The best banana bread is the one which is soft and fluffy. In case your bread is dense, there could only be two explanations. Either you have added extra bananas, or you have over mixed. When making banana bread, avoid using more than required bananas, and at the same time, you should not over stir. You only need to mix until the ingredients are incorporated.
Why Is My Banana Bread Dry?
Moisture makes the banana bread delicious, and the proportion of banana to the wheat flour can make the whole difference. Having more flour than needed will result in your bread being dry. Failing to use enough will leave our bread being too wet. You need to balance the two so that you end up with perfect bread.
How Do You Keep The Banana Bread Moist?
Most people enjoy banana loaf because it is moist and for that reason, you need to ensure you keep the bread moist. If you are not cautious, you might end up with dry bread. The suitable way to ensure you have moist bread even after days is by wrapping it tightly. This should be done when the bread is completely cool. It would help if you stored it in a large freezer bag of a plastic container with a tight-fitting lid when you cover it. You can store it like this on the counter, and it will be fresh up to three days, or you can have it wrapped in a refrigerator, and it will stay fresh for 6 days.