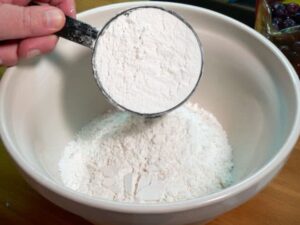 If you, like me, love finding new recipes on the internet, it happens from time to time that you come across other measurement methods than you are used to.
Therefore, I have made a small chart that can help you convert grams to ounces and cups, and vice versa.
1 ounce is equal to 28.35 grams, whereas 1 cup cannot be converted based on a formula, as the different ingredients weigh differently. Which means that 100 grams of flour and 100 grams of sugar are not the same in cups. However, I have made some different charts of the most used ingredients.
Flour:
| | | |
| --- | --- | --- |
| Cups | Ounces (oz) | Gram |
| 1 cup | 4,5 oz. | 128 gram |
| 3/4 cup | 3,8 oz. | 96 gram |
| 1/2 cup | 2,25 oz. | 64 gram |
| 1/4 cup | 1,125 oz. | 32 gram |
Sugar:
| | | |
| --- | --- | --- |
| Cups | Ounces (oz) | Gram |
| 1 cup | 7,1 oz. | 201 gram |
| 3/4 cup | 5,3 oz. | 150 gram |
| 1/2 cup | 3,55 oz. | 100 gram |
| 1/4 cup | 1,78 oz. | 50 gram |
Oatmeal:
| | | |
| --- | --- | --- |
| Cups | Ounces (oz) | Gram |
| 1 cup | 3 oz. | 85 gram |
| 3/4 cup | 2,25 oz. | 64 gram |
| 1/2 cup | 1,5 oz. | 43 gram |
| 1/4 cup | 0,75 oz. | 22 gram |
Brown sugar:
| | | |
| --- | --- | --- |
| Cups | Ounces (oz) | Gram |
| 1 cup | 7,75 oz. | 220 gram |
| 3/4 cup | 5,78 oz. | 165 gram |
| 1/2 cup | 3,88 oz. | 110 gram |
| 1/4 cup | 1,9 oz. | 55 gram |
Cocoa powder:
| | | |
| --- | --- | --- |
| Cups | Ounces (oz) | Gram |
| 1 cup | 4,5 oz. | 128 gram |
| 3/4 cup | 3,8 oz. | 96 gram |
| 1/2 cup | 2,25 oz. | 64 gram |
| 1/4 cup | 1,125 oz. | 32 gram |
Honey and syrup:
| | | |
| --- | --- | --- |
| Cups | Ounces (oz) | Gram |
| 1 cup | 12 oz. | 340 gram |
| 3/4 cup | 9 oz. | 255 gram |
| 1/2 cup | 6 oz. | 170 gram |
| 1/4 cup | 3 oz. | 85 gram |
Butter:
| | | |
| --- | --- | --- |
| Cups | Ounces (oz) | Gram |
| 1 cup | 8 oz. | 227 gram |
| 3/4 cup | 6 oz. | 170 gram |
| 1/2 cup | 4 oz. | 113 gram |
| 1/4 cup | 2 oz. | 57 gram |
Milk and water:
| | | |
| --- | --- | --- |
| Cups | Ounces (oz) | Gram |
| 1 cup | 8,11 oz. | 230 gram |
| 3/4 cup | 6,09 oz. | 173 gram |
| 1/2 cup | 4,06 oz. | 115 gram |
| 1/4 cup | 2,03 oz. | 58 gram |