Most people love having crepe for breakfast, although they find it hard to make the perfect ones. You'll find that if you manage to get the right size, it might come out to be chewy and not tender as it should be. However, there's a secret to achieving the right size, tender crepes that everyone in your family will love. But then don't confuse crepe for pancakes since there's a difference.
If you don't love your crepe plain, do dress it up with savory toppings or tasty fillings.
Follow the below tips and enjoy your breakfast.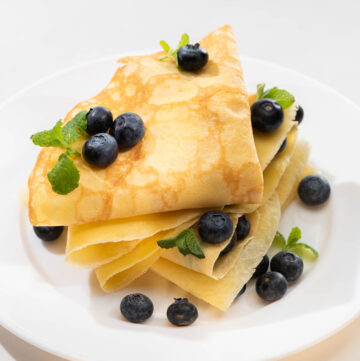 Crepe Recipe
Most people love having crepe for breakfast, although they find it hard to make the perfect ones.
Ingredients  
1½

cup

milk

2

large

eggs

1

cup

all-purpose flour

1

teaspoon

vanilla

1

tablespoon

sugar

3

tablespoons

butter, unsalted

⅛

teaspoon

salt

butter for the pan
Instructions 
Melt the three tablespoons of butter using the microwave, then give it five minutes to cool. The rest of the butter you'll use on the pan.

In a blender, combine all of the ingredients and mix until batter is smooth. Don't use high speed while blending to get a silky-smooth mixture. You should then cover the mixture in the blender tightly for about 30 minutes, although you can stay overnight.

Then cook your crepes. Using the remaining butter, grease the skillet and on top of the crepe. Use medium heat that will not burn the crepes. After letting the pan heat for some time, pour three tablespoons of batter at the center. But ensure you tilt the pan to allow the batter to stretch to the edges. Remember to get the right texture, make a thin crepe. Cook for around two minutes and then turn to the other side after you get the desired color. However, if you let them overstay on fire, they'll become rubbery. After the other side is ready, take it out of the fire into a plate. Do this with the remaining batter until you're done, but don't forget to butter the pan and separate the crepe from each other so that they don't stick.

You can then serve them immediately or wait until they cool and add your favorite fillings and enjoy your breakfast, dinner, or lunch.
Notes
How to Mix Using A Whisk
• Put the milk and eggs in a mixing bowl, then whisk. (make 2 cups of the liquid)
• Then add butter and continue whisking.
• After that, add flour, sugar, and salt to a bigger bowl.
• Using the liquid containing milk and eggs, mix them to make a smooth paste. Be cautious not to overdo it. (Use only one cup of the liquid mixture).
• With the rest of the liquid, make a thin batter.
• Finally, cover the batter tightly and give it time to hydrate for about 20 minutes.
Nutrition
History of Crepe
Crepe's origin is in Brittany, France, and it's been there from the 13th century. The familiar story revolving around creating crepes is that a housewife accidentally poured some porridge on a hot pan. And since she wasn't ready to throw it, she ate it, and that's how it came to be. There's a day for crepes celebration on 2nd February although it's also a day for commemorating the Catholics feast of Candlemas. The day was set aside for celebrating the return of spring, and it was also for receiving Virgin Mary's blessings. If you're celebrating the day of crepes, don't roll them while adding the filling, but rather fold them neatly.
The Fillings You Can Use for Crepes
You can go for any fillings as long as you like it. But given that there are two types of crepes go for the filling to work best with the kind you cook. For example, you make using all-purpose flour and sweeteners for sweet crepes; you can serve it with Nutella, ice cream syrup, whipped cream, or sugar. A combination of lemon curd, powdered sugar, and blueberries can also work for you. If not, try a maple, buttermilk, or cinnamon pancake syrup.
Others include:
Bananas, Nutella, and peanut butter
Chopped strawberries and cheese cream.
Chocolate sauce marshmallow fluff and crushed graham crackers.
Lemon curd, powdered sugar, and blueberries.
Ricotta and fresh berries.
In case it's savory crepes you make using buckwheat that has no gluten, use any fillings or toppings of your choice. You can serve it for dinner, breakfast, or lunch. Fill them with ham, peaches, and cream. Also, eggs, vegetables, and cheese can do. But if you love meat or herbs, don't shy of filling them in your crepes. You can also do a fillings combination like sausages and apples or scrambled eggs and bacon.
Use others like:
Spinach, parmesan with mushroom.
Chicken, mozzarella, and pesto.
Sauteed vegetables with eggs.
However, if you want to make a pure dessert crepe filling, do go for it. You can use either a combination of different fillings or do pick on any of your favorite using the below fillings:
Peanut butter, caramel, pastry cream, and chocolate as spreads.
Fresh berries and sprinkle sugar.
You can also use bananas, whipped cream, and some caramel.
But also, chocolate mousse and whipped cream will do.
How to Fold Your Crepes?
There are several ways you can use to fold crepes after or even before adding toppings or fillings. The first option you can use is the fold into half, which is easy and suitable for first-timers. All you need to do is fold it into half just in the manner you'd do to an omelet.
You can also fold it into a triangle and have a presentable crepe. First, fold it into half, then another half. Pile them on a plate as you wait to serve.
Rolling the crepes is also another option which is a great way to add additional filings. Before you roll, ensure the fillings are even and leave some spaces about a quarter inch from the edges. After that, fold it to the center. Please do the same to the other side but let it meet with the part you have in the middle to form a burrito shape. You can add more fillings after rolling.
How to make the perfect Crepe
First, allow the batter to hydrate for at least 30 minutes. But if you can, let it stay in the fridge overnight. Doing this will make your crepe tasteful and give it texture.
Grease each crepe in the pan. But ensure you make thin crepes that are soft and crispy at the edges. Do add more grease before putting new batter.
Tilt the pan immediately after pouring the batter to make it stretch. Be careful while doing this so that the hot batter doesn't spill on your body. Twirling will give you thin crepes which have the best texture.
Don't overheat to allow you to cook in peace and get the right color of crepe.
After that, stack them until ready for serving, where you can add fillings. You can add fillings of your choice and then enjoy them to your fill.
How to Keep Your Crepe Warm and Where to Store Them?
To ensure your crepe stays warm after cooking, put them in a baking sheet, then place them in an oven with a temperature of 175 degrees and remove them only when you want to serve.
If you are wondering what to do with the leftovers, here's a tip. Use a zip-top bag to store them in your fridge. But ensure you put a layer of parchment so that they don't stick on each other. You can eat the crepe anytime you feel like it, though.
Making Crepes for Future Use
You can decide to make your work easier by preparing crepes that will be served in the future. To achieve this, mix all the ingredients in the blender, then let it stay there until the next day. But ensure the blender's cover is tight. Then the next day you can cook them and enjoy your treat. However, you can also keep them in the fridge for around two days as long as you reheat when you want to serve. When reheating, cover them using aluminum foil and let them warm at a temperature of 135 degrees for about ten minutes.
How to Make Crepes Using Sugar and Lemon?
If you want to get that sweet French crepes, do spread sugar on top of the crepe halfway, fold it into quarters. After that top, it with slices of lemon whipped cream, and add more sugar then. Use several lemons which you're comfortable with.
Crepes FAQ
Can I freeze crepes?
Yes, you can use this trick to store your crepes for more than a month and have them fresh.
Can i reheat my crepes?
You can reheat using a microwave or pan to the desired temperature, although there's no harm if you like it cold.
How to Make Soft Crepes?
Getting extra soft crepes is a big challenge to most people. To make yours soft, ensure its surface is ready for use and doesn't have dry spots before cooking. After placing it on the pan, carefully turn it on the other side for a few seconds. When you use this method, the crepe will be light brown.
What You Can Drink with Crepe
You can use various drinks with your home-made crepe. If you're into wines, go for dry white wine and fresh crepes and love the feeling. Suppose you're eating crepes with fillings; sweet white wine isn't a bad choice to go by. You can also drink tea with crepes as your breakfast. But if you don't feel like taking any serious things, drink water since the wheat will often dry your throat.
Must I use eggs to make crepe?
Without eggs, it will be hard for you to get the perfect shape and layers. But you can't replace it using a smashed banana. What can work for you is a commercial liquid egg replacer.
How can I ensure that my crepe batter has no lumps?
Usually, it would help if you made thin crepe meaning the batter has to have more milk than flour. However, if you want it to be without lumps, ensure you blend it perfectly so that it comes out thin. But if you're using a whisk, do the whisking until you see all the lumps are over.
What's the difference between pancake and crepe batter?
Even though the two have almost the same ingredients, the pancake has either baking powder or any leavener that crepe doesn't have. This is what makes pancakes thicker than crepes which turn out to be delicate. Another difference is that pancake batter is thick while that of crepe is runny.
What can I use to make my crepe sweeter?
All you need to do is add more sugar. Depending on the size of batter you're making, you can add one or even two tablespoons.
Can I add toppings to the crepe?
Yes. You can add anything as long as you're comfortable with it. But if you don't have your favorite fresh fruits or butter, crème can do.
Why shouldn't I use self-raising flour to make crepes?
You can use self-raising flour to make flour. However, you'll get thick crepe which shouldn't be the case. The flour contains a baking powder which will make the crepe swell and give you the size of pancakes.
Nutritional Value
You'll get 216 calories, 9.2 grams of fat for every serving, 7.4g of protein, and cholesterol of 110.7mg. Also, there are 25.5g of carbohydrates and sodium 235.3mg.
Notes
Given that the crepe recipe is not hard to don't allow your family members have a boring breakfast while you can do this in less than an hour.
Suppose you're watching your weight use whole milk and liquid eggs since they don't have fat and cholesterol.
You can also use buckwheat instead of white flour to make your crepe. Gluten-free crepe is good for your health. Don't use excess butter since it will be hard to eat more than one crepe.
To enjoy your crepe, do add fillings or toppings you like.