There's nothing quite like a homemade beef stew. On a cold day, beef stew can be the perfect meal to warm you up and give you comfort. Most good stews cook slowly in a crockpot throughout the day. However, with the instant pot, you can get that all-day cooked tenderness in less time. In fact, this pressure cooker can become your go-to appliance in the kitchen to make mealtime a breeze.
There's no doubt that the instant pot makes many chef's and mom's lives easier. Now, we can make a stew or soup in a fraction of the time it used to take. While using a pressure cooker, the food retains all of the moisture. Many cooks are updating classic slow cooker meals to make in the instant pot. The instant pot continues to grow in popularity for busy moms.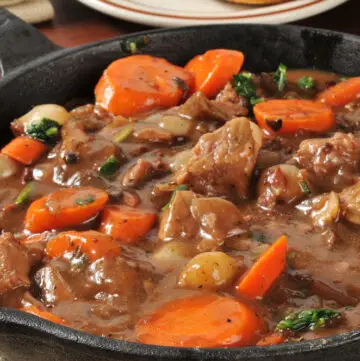 Instant Pot Beef Stew Recipe
There's nothing quite like a homemade beef stew. On a cold day, beef stew can be the perfect meal to warm you up and give you comfort.
Ingredients  
2

lbs

Chuck Roast(Cut Into Bite-sized Pieces)

1

tablespoon

Olive Oil

1

teaspoon

Salt

1

teaspoon

Pepper

1

teaspoon

Italian Seasoning

2

tablespoons

Worcestershire Sauce

3

cloves

Garlic (Minced)

1

Large Onion (Chopped)

16

ounces

Bag Baby Carrots (Cut Into Slices)

1

lbs

Potatoes (Cubed)

2½

cups

Beef Broth

10

ounces

Can Tomato Sauce

2

tablespoons

Cornstarch

2

tablespoons

Water
Instructions 
Add the olive oil into the instant pot and turn on the saute function. After the oil starts to sizzle add the meat and season with salt, pepper, and Italian seasoning.

Cook the meat until browned on all sides.

Add the beef broth into the instant pot and scrape/deglaze the bottom of the pan with a wooden or plastic spoon.

Add Worcestershire sauce, garlic, onion, carrots, potatoes, and tomato sauce.

Close the lid and the steam valve on the instant pot.

Cook on high pressure for 35 minutes, then allow the pressure to release naturally for 10 minutes before doing a quick release.

Mix together the cornstarch and cold water in a small bowl and stir into the stew until thickened.
This beef stew recipe is a splendid and easy all-in-one meal because you can add as many vegetables as you like! Additionally, you can change the starch portion to your preference too. Some people prefer to add simple egg noodles at the end, while others enjoy cubed potatoes in their stew. I personally like this recipe with potatoes the best!
Great Tips to Get the Best Flavor in This Classic Meal
Over time, I have picked up many methods of cooking certain foods. These are my best tips to really bring out the best flavor and make things much easier in the kitchen.
Use Chuck Roast for Your Beef
I specified this in the ingredients, but I wanted to mention it again because it's less expensive and has the texture for stew. You can use any cut of beef if you prefer. Though, you may need to adjust the cooking time for leaner cuts. This Instant Pot Beef Stew is a very affordable meal to make for many people. Sometimes you may feel like you're feeding an army (especially if you have boys).
Sear Your Meat
Don't skip this first step, it will make a difference. Taking the extra time to sear the meat gives it more flavor than just throwing it all into the instant pot to cook together. You also don't have to worry about the meat drying out.
After Searing Your Meat Scrape or Deglaze the Bottom of the Pot
This step gives your stew a richer flavor, and it helps to avoid burning food at the bottom. Win-Win for a chef!
Use Red Wine If You Like
I personally prefer beef broth, but red wine is acceptable too! Beef broth is less expensive and just easier, in my opinion.
Do Your Own Thing!
The great part about cooking is that you can change anything in a meal to suit your or your family's tastes! Customize the recipe to how you like your food to taste. You can load the stew with many veggies for a healthier meal. Add or remove anything you like or don't like. For the best flavor, you'll want to stick to the seasonings listed, but you can play around with it. You can always try something else in the stew next time!
Instant Pot Beef Stew FAQ's
Does Beef Stew Become More Tender the Longer it Cooks?
The cut of meat you purchase determines how tender it will be when it's pressure-cooked or slow-cooked. While leaner cuts of meat become tough and chewy with this cooking method, tougher cuts break down and become really tender. Tougher cuts of meat are usually less expensive, so they are ideal for this recipe. The Instant Pot generally gives the same result to the meat as a slow-cooker would. Because pressure-cookers seal before cooking, it retains the moisture. This unique feature of a pressure cooker makes it more convenient than other cooking methods. If using the default setting, you'll achieve a moderate tenderness with 35 minutes of high-pressure cooking. About 20 minutes of high-pressure cooking will result in a slight tenderness texture. Conversely, a longer cooking time, about 45 minutes, gives the fall-off-the-bone-texture. Many chefs strive to achieve this fall-off-the-bone texture but are unable to with traditional cooking methods. The Instant Pot is a blessing for most home cooks and busy parents looking to satisfy! This level of tenderness and flavor is now attainable in a fraction of the time it used to take!
Can I Use the Meat/Stew Setting on the Instant Pot?
Yes, as I mentioned earlier, the default setting is for 35 minutes, which will result in moderate tenderness. After cooking, the Natural Release or NR is about 10 minutes.
Is It Necessary to Brown the Meat Before Cooking the Stew?
Yes, as I mentioned before, it's recommended to season and brown the meat before cooking it in the stew. Some people recommend not to use the Saute function on the Instant Pot for this. I have browned my meat using this function before without any issues.
How Do I Make the Stew Thicker?
For a thicker stew, add more cornstarch. Be mindful not to add too much cornstarch since it could burn if it's too thick. On the other hand, more water will counteract that. Although with too much water, you'll lose flavor.
How Do I Prevent The Stew From Burning?
Ensure that there is a sufficient amount of liquid in the Instant Pot but not too much. With too much water, you could lose flavor. There's also a possibility that there will not be enough pressure inside the appliance. Not enough water and the food may burn. If the bottom of the pot gets too hot, you'll receive a Food Burn error message.
Why Instant Pot Beef Stew?
Healthy. With balanced portions of the key parts: protein, vegetables, and starch, you can't go wrong.
Affordable. Because the cut of meat is not the most desirable, it is also less expensive. You can prepare this meal for your family without breaking the bank.
Scalability. This recipe yields multiple servings, so you'll have enough to feed everyone. You can also add or remove ingredients to appease your family's appetite and tastes.
Versatility of Ingredients. All of the ingredients in this recipe can pair well with each other. They are also interchangeable. You can please picky-eaters at your dinner table. They all pair well with each other and fit in a stew. Finding these ingredients at the grocery store is not a daunting task either.
Easy Dish to Prepare. This recipe is not complicated, so almost anyone can make it!
History of Beef Stew
Beef has been a staple choice of meat in most cultures around the world for centuries, and even millennia. The meal varies across cultures, but you'll find a basic beef stew in most cultures all over the world.
The oldest records of beef stew being made as a meal date back to centuries before Christ. Historians believed that the cow's or steer's flesh would be put into an animal sack, mixed with water, and cooked over a fire.
Most busy moms (especially those with full-time jobs) turn to an instant pot to save themselves valuable time without sacrificing flavor. Once slow-cooker classics like this one are being adapted into instant pot favorites! If you haven't purchased the instant pot yet, I would definitely recommend getting one and making your mealtime so much easier! It's much faster to cook many different dishes. This Instant Pot Beef Stew is full of flavor, and it'll quickly become a family favorite!