Risotto is a creamy dish cooked in a broth that comes from Northern Italy. The broth that is used can be derived from meat, vegetables, or fish. Most types of risotto that are made contain bitter, white wine, onion, and parmesan cheese. This is the way rice is commonly cooked in Italy.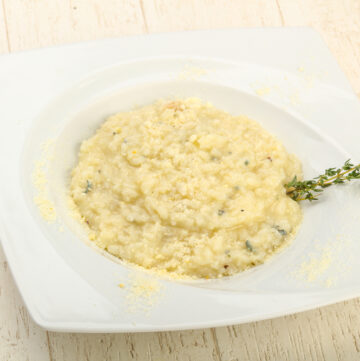 Basic Risotto Recipe
Risotto is a creamy dish cooked in a broth that comes from Northern Italy. The broth that is used can be derived from meat, vegetables, or fish.
Ingredients  
7

cups

of homemade chicken stock (find the recipe below)

2

tablespoons

of olive oil

1

large

finely chopped shallot (around ¼ cup)

2

cloves

of garlic, minced

2

bay leaves

5

tablespoons

of unsalted butter

2

cups

of arborio rice

1

cup

of dry white wine

¾

cup

of freshly grated parmesan

salt and pepper, to taste
Instructions 
Warm chicken stock in medium saucepan on medium-low heat. Cover and warm while making risotto.

Heat olive oil in new medium saucepan on medium heat until shimmering.

Add shallot, salt, garlic, and pepper. Stir occasionally until vegetables are softened (3-4 minutes).

Add bay leaves and 3 tablespoons unsalted butter. Stir until butter is melted (1 minute).

Add rice. Toast until smells nutty and turns light golden brown, stir only once (3-4 minutes).

Pour in wine. Simmer until evaporated, stirring occasionally (2-3 minutes).

Add 1 cup warm stock into rice. Cook until rice has absorbed liquid, stirring softly continuously (2-3 minutes).

Repeat until rice is al dente (17-19 minutes).

Remove bay leaves and throw them away.

Stir in parmesan, butter, salt, and pepper.
Homemade chicken stock is a preferred broth by many professionals. If you are using a store-bought broth, then a low-sodium chicken broth is the best choice. Arborio rice is grown in Italy to be used in Risotto, so it is a popular choice.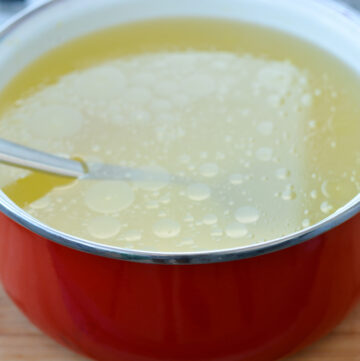 Chicken Broth Recipe
Ingredients  
5

lbs

of chicken carcasses (including backs and necks)

1

large

quartered onion

4

carrots, peeled and cut in half

4

cut in half ribs of celery

1

cut in half white part of leek

10

sprigs

of fresh thyme

10

sprigs

of fresh parsley (with stems)

2

bay leaves

10

peppercorns

2

cloves

of garlic, peeled whole

2

gallons

of cold water
Instructions 
Place chicken, hebs, spices, and vegetables into 12 quart stockpot.

Set steamer basket, opened, on ingredients and pour in water.

Cook on high until bubbles break through liquid's surface.

Turn heat down, medium-low, and simmer. Add hot water as needed so everything remains submerged.

Skim scum from stock using spook or mesh strainer every 10-15 minutes for 1 hour. Skim every half hour for 2 hours afterwards.

Simmer for 6-8 hours, uncovered.

Strain stock through fine mesh strainer into new large stockpot (or heat proof container).

Cool in large cooler with ice (or in sink of ice).

Remove fat that has solidified on surface and store in lidded container.
Notes
It will remain good in the refrigerator for 2-3 days but can be put into the freezer for 3 months. Always boil for 2 minutes before using.
Risotto is Commonly Served With
seared scallops
spinach pesto with feta and almonds
sauteed mushrooms
green salad with vinaigrette of lemon
garlic parmesan roasted green beans
fresh mint and pea soup
poached eggs and asparagus
caprese salad
roasted green veggies
kneaded kale salad
sausage patties, homemade
marinated olives
spicy sauteed spinach
Risotto FAQ
What can I do with leftover risotto?
A truest will always say that risotto can not have leftovers. In other words, if there is anything left, it should be thrown away. This is not always true though. A person can use their leftover risotto to create riso al salto, which is another northern Italian dish. This dish involves stir-fried rice, which the risotto can be used for, and it is made into a pancake for lack of better words.
Can you make risotto without broth?
A purist will say that risotto cannot be made at all without using a broth or stock. That is not completely true though as there have been recipes where water was used. As long as there are plenty of other high-quality ingredients used to add flavor, it is safe to use water. The broth and stock just allow for a stronger and richer flavor. As long as the rice is allowed to cook at the right speed and for the right amount of time, the risotto will work out just fine as long as the rice remains covered in liquid.
What is the best pot to cook risotto?
The simple answer is that any type of pot can be used as long as it heats evenly. To follow the tradition of making risotto, a person should use a copper pot, but an aluminum or steel pot works just as well. The shape of the pot should never be a high-sided, narrow pan because it will cause the risotto to not cook evenly. It is common for a two-handed pot to be used due to the height of it, but a one-handled pot can be used as long as it is about 6 centimeters.
Do you need to wash risotto rice?
Rice should never be washed or soaked before it is used no matter the recipe. When rice is exposed to a liquid of any kind, it will release its starch, which is needed for the risotto to come out creamy.
What kind of rice is best for risotto?
The type of rice that is used can play a large role as the risotto's creaminess is affected by the starch that is released from the rice. This is why the right can of rice being used is so important. Now, three different options are commonly used and five to avoid using.
The first and most recommended rice to use is arborio. This rice is grown to be used in risotto, so it releases the perfect amount of starch to make the recipe creamy. The second one is carnaroli, which is often called the risotto rice king. This is the rice that is commonly used as it is so widely available. The last one is vialone nano, which is flat rice that usually leaves the risotto without any liquid left in it.
The five to avoid using are Jasmine, wild, Basmati, sticky, and red; in other words, any rice that is long grain. A lot of people will say that long-grain rice cannot be used, but this is not true. The truth is that it is just harder to make risotto with this kind of rice. This is because it is harder to get the rice to release the starch inside it. To use this kind, all that someone has to do is stir a lot more and a lot harder.
You may also like Cauliflower Rice and Fried Rice.
History of Risotto
Risotto's history is of course tied to the very history of rice that is found in Italy. There are some conflicting opinions, but it is said that rice was introduced to Italy by the Arabs in the Middle Ages. It was quickly realized that short-grain rice grew great in the Mediterranean's humidity. That led Venice, Genoa, and other such areas in Italy to start gaining great profits from selling rice.
Milan is where rice was first used to make risotto. This area was ruled by Spain at the time, and rice was a staple. It was also very popular to slow-cook foods. People figured out how to slow cook the rice and developed the recipe for risotto. It was flavored at this time using rich flavors and spices, such as saffron.