Fried rice is becoming a common dish across the world. It is a fan-favorite. Many people are resulting in eating it as it is very easy to prepare and the good part is that you can add all the vegetables you like. You can use bacon, beef, chicken, and mutton while preparing it.
If you cook this dish by yourself, you will not order take-outs anymore as the taste and flavor are on another level. I have cooked the dish several times for my family and friends and everyone enjoyed it and kept asking for the recipe.
Fried rice is a mixture of long-grained rice, peas, carrots, and scrambled eggs mixed up all together. This fried rice can be served by itself or as a side dish. For you to get that authentic Chinese taste you need to add sesame oil at the end.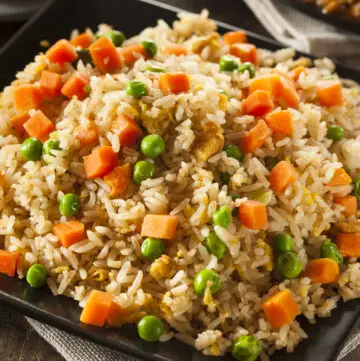 Fried Rice Recipe
Fried rice is a mixture of long-grained rice, peas, carrots, and scrambled eggs mixed up all together. This fried rice can be served by itself or as a side dish.
Ingredients  
3

cups

of rice

2

eggs, whisked

2

cloves

of garlic

3

tablespoon

of soy sauce

3

tablespoon

of butter

½

tablespoon

of sesame oil

2

tablespoon

of oyster sauce

2

carrots, peeled and diced

½

cup

frozen peas

1

small

white onion, diced
Instructions 
Put a small amount of butter on the cooking pan. Wait till it's hot, scramble two eggs until they are in small pieces. After you are done put the scrambled eggs on a separate plate.

Cook veggies. You can use the same pan you used to scramble the eggs or use a new pan. Take a small amount of butter in a pan, when it is hot add your onions. Cook the onions until golden brown. Add your garlic and be on the look-out as garlic sticks on the pan thus burning the onions. When the onions and garlic are all cooked up add your carrots and peas.

Fry the rice. Take the remaining butter, push your veggies on one side. Melt the butter under high heat, add your chilled rice, oyster sauce, and soy sauce. Keep stirring until you combine the veggies with the rice. Stir until you notice your rice and veggies are starting to turn brownish.

Remove pan from heat. Add the scrambled eggs and sesame oil, and mix them well.

When you finish adding the eggs, taste your rice to see if there is anything else you need to add. Season your rice with either pepper, corriander or extra soy sauce if need be
Here are some of the tricks to use to get delicious fried rice
In the course of my cooking, I have come across some tricks that do work for me when cooking Chinese fried rice.
Use chilled rice.
If you want your rice to come out looking good, you need to use chilled rice preferably refrigerated. When you use a fresh batch of rice, your fried rice will not come out looking great as it will be soggy, and it will stick on the pan. If you are in a hurry to cook your favorite fried rice then you can do the following. Boil the rice, after it has cooked, spread it on a baking sheet and keep it in the fridge to chill. If not to chill, put it in the freezer for 10 minutes to chill.
Use butter
When you want to get the brown color on your fried rice, using butter is what you need. It is not forbidden to use other kinds of oil when cooking fried rice but butter tops the list. Japanese restaurants use butter when preparing almost everything. If you don't have butter, you can use sesame oil for delicious foods.
Use lots of veggies
When cooking fried rice, you are not limited to the number of veggies you can use. Veggies not only add color to the rice, but it also has some health benefits. Veggies that are rich in fiber reduce constipation. When you order takes out, the number of vegetables in your dish is small compared to when you cook for yourself. You can add peas, carrots, broccoli among others.
Add oyster sauce
If you are not a lover of seafood, you can leave out the oyster sauce but if you are a lover then a little oyster oil goes a long way. Instead of using Oyster sauce, you can use sesame oil that is used as finishing oil. By finishing oil I mean, you add the oil when your pan is off the stove. You cannot replace butter with sesame oil because they perform different roles.
Brown the rice at the bottom
If you love crispy rice, you might consider leaving the rice in between stirs for it to get that crunchy feeling. It is preferable if you use the non-stick pans while cooking your fried rice so it doesn't burn.
High heat
If you need your vegetables and rice to fry well, you need to use high heat. While at it make sure you don't overdo it and burn your food.
Add soy sauce
If you like the taste of soy sauce in your food, adding soy sauce at the end is one way of cooking delicious fried rice. Not everyone likes salt in their dishes but if you and sodium are friends then soy sauce will do the trick. Add to taste.
Different Types of Fried Rice
There are many options you have when it comes to cooking fried rice. The fried rice we have cooked above is the vegetable rice. Here are some options you may want to try later on.
• Pork fried rice. In this option, the diced boneless pork to replace the vegetables.
• Chicken fried rice. You only need to dice your chicken into the rice and then stir to mix them.
• Shrimp fried rice. You need to cook the shrimps in a separate pan and after you are done, you mix the rice with the shrimps. Sounds yummy.
• Beef fried rice. You first need to cook your beef until soft and tender. Dice the beef and mix it with your fried rice.
• Pineapple fried rice. You need a fresh pineapple. Chop the pineapple to the desired size. Mix the pineapples with your rice and it is very delicious.
What to Serve With Your Delicious Fried Rice
After you are done cooking, it is now serving time and you are probably wondering what you will serve with your rice. No need to worry.
You can serve your fried rice with the following.
• Hot or sour soup. This is a staple in Chinese restaurants and it involves lightly seasoned chicken broth. The broth could also be vegetable broth. The broth is filled with egg ribbons that are attained when raw eggs are whisked.
• Black pepper chicken. This dish is made up of chicken, bell pepper, red onions, and celery. They are cooked together till they are tender. When presenting the food, one half of your plate should be filled with the fried rice and the other half with the black pepper chicken.
• Sesame noodles. The noodles are cooked and drained then sesame oil is added at the end. You can add broccoli and almonds for that perfect taste. You can add broccoli to one side of your place. The presentation of sesame noodles and broccoli together with fried rice makes you feel hungry.
• Chicken and broccoli. You dice your chicken breast into the perfect size. Add broccoli and mix. As the two are cooking, you could be making the sauce of your choice. This dish tastes well when served alongside fried rice. the green color of broccoli makes the appearance of the food look great.
• Beef and broccoli. Cut the beef into small square pieces and start cooking. put your broccoli in so that they can cook together. Mix them through till they cook. Serve on one side of the plate and on the other side put your fried rice.
• Pork. You can serve your fried rice with well-diced pork. The pork has to be marinated with pepper, sesame oil, oyster sauce, soy sauce, and salt. As the pork marinates, you should be cooking your scrambled eggs. Cook your pork under medium heat till tender and add in your eggs. This is a good combination when served with fried rice.
These are some of the food you can serve fried rice with. There are other options but this are the famous one used in China. With the above guidelines, you can make your delicious fried rice and the good thing is that you are not limited to the vegetables you need. The outcome should be tasteful and full of flavor.
Fried rice FAQ
When preparing your fried rice, many questions come to mind. Here are some of them and the answers to each question.
Can you eat leftover fried rice?
Yes, you can. This can only be possible if you store your leftover fried rice in the fridge while covered. If you eat non-refrigerated leftover rice, you are likely to get "fried rice syndrome". This is because of the eggs you used while cooking.
Can I eat fried rice while expectant?
Fried rice is not restricted to anyone, especially pregnant women. The rice has all the doctor advises you to take. Has protein from the eggs, carbohydrates from the rice, fats, and oils, and vitamins from the vegetables. For expectant mothers, it is forbidden to eat uncooked leftover rice or rice straight from the fridge.
Which onions do I use for fried rice?
You are not restricted on which onion you can use to cook your rice. you may like the red onions while another likes the white onions. When it comes to onions, it's all about preference.
Do I have to use eggs?
This fried recipe is a traditional Chinese dish and eggs were the main ingredient as they were readily available as the dish first originated in the village . It is good to add eggs as they are rich in proteins and good for your health.
Why is my fried rice soggy?
The only reason why your rice is soggy is that you used freshly made rice without chilling it first. For you to have that one-grain rice, you need to use leftover rice that has chilled in the fridge or freshly cooked rice that has chilled in the freezer for 10 minutes.
Is fried rice white?
Fried rice is originally white but because of the soy sauce added during cooking, it turns brown. If you don't like white rice, you can still use brown rice. Using long or short grain rice is up to you.
Why Homemade Fried Rice?
Healthy. The fried rice is a healthy meal to have as all the ingredients are in good proportions. You should not fear eating more calories than required.
Nutritious. Taking fried rice ensures that you get all the nutrients required for proper body growth. You get fats, vitamins, proteins, and starch in one dish.
Makes use of leftovers. This delicious dish is made of leftover rice. this ensures that no food is wasted.
Easy cooking. Cooking fried rice is very simple and takes about 15 minutes. It's a good dish as you can cook for guests.
Practice cooking. If you are not a good cook, this is a go-to dish. It is easy to prepare and does not require any chef's expertise.
History of Fried Rice
Fried rice first came to life during the dynasty of Sui in China. Meaning all fried dishes can be traced back to China. Fried rice is popular in Asian countries and is a staple food in Indonesia and Malaysia. Still, in Asia, the food is served on the street food as many vendors and hawkers sell the rice frequently.
Fried rice is believed to have come in place as a way of reusing leftover foods as in China it is taboo to throw away food.
What's the Use of Meal Planning?
Meal planning is where you take the days of the week and allocate each day with the meal for that day.
There are advantages of meal planning.
You eat healthily. With planning an everyday meal the week before, you are guaranteed that you will include all the healthy kinds of stuff. You will cater to all types of food your family loves.
The flexibility of your family. When you make a meal plan, you can add or remove recipes as per the liking of your family. Some families plan to try new recipes this week and next week they choose which ones worked for them and which ones did not.
Saves time. When you have all your meals planned, you are likely to save time as you won't be thinking of what your family is going to eat that evening or the next day.
This is the simplest fried rice recipe you will get out there. When you get in your kitchen, you should try out new recipes. This will not only make you love cooking but it's also a way of trying new things. Technology is evolving and Youtube has come to help you out. There are many tutorials on how to cook different recipes. For a beginner you can try the simple ones and as you advance on your cooking skills you can try out the technical recipes. Good luck as you enjoy cooking.