What can be said about an enchilada that hasn't been said before? Actually lots! The enchilada is the workhorse recipe of the modern kitchen.
So many cooks miss out on just how good enchiladas can be by making it a fast dinner of all pre-packed items. There are shortcuts that are good like; premade tortillas or already shredded cheese. When it comes to sauce and filling, fresh is always better and just as easy to make.
This enchilada recipe gives the humble chicken enchilada a turn as the glamorous, gourmet star of a fresh recipe idea. Pair it with a mint watermelon agua fresca for a perfect dinner.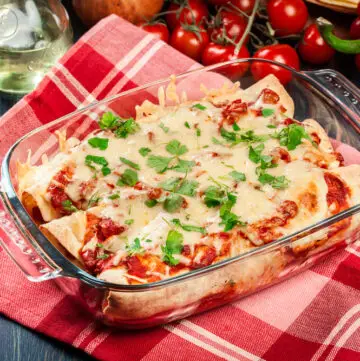 Chicken Enchilada Recipe
What can be said about an enchilada that hasn't been said before? Actually lots! The enchilada is the workhorse recipe of the modern kitchen.
Ingredients  
Enchilada Sauce
12

oz.

favorite beer (dark recommended)

12

oz.

vegetable stock

6

oz

tomato paste (1 can)

3

oz

chili powder

1

oz

oregano

1

oz

sea salt

1

oz

pepper

2

packets

of your favorite hot cocoa mix. (preferably dark and without marshmallows)

4

oz

tomato (which is approximately one large roma tomato)

4

oz

onion (about a half of a large onion)

2

oz

jalapeno pepper or pepper of your choosing

2

oz

cilantro

1

clove

of garlic

1

lime (juice only)
Chicken Enchilada
10

oz

chicken

1

can

of pinto beans

1

can

corn

8

flour

tortillas

8

oz

shredded cheese (your choice)

1

small container sour cream

sazon or adobo

2

limes

½

cabbage shredded

1

head

lettuce

1

large tomato
Instructions 
Enchilada Sauce
Combine the vegetable stock, beer, tomato paste, and chili powder; stirring until the tomato paste is dissolved. Let it come to a boil, then turn it off.

Add two packets of your favorite hot cocoa mix (preferably dark and without marshmallows).If you don't have a cocoa mix, cocoa powder and sugar will work. Stir this until the cocoa mix has dissolved in your previously boiling mixture.

In a blender or food processor make a paste of the following; tomato, onion, jalapeno pepper cilantro, one clove of garlic, and the juice of one lime. Add the paste to your wet mix. Stir until it comes together and taste test it. If the chili powder is a little present in the mix, add a dash of honey and stir again.

Separate into two portions. One portion is for baking, the other for serving.
Chicken Enchilada
Cube and saute the chicken with your favorite Adobo or Sazon. (If using leftover chicken, sprinkle the Adobo or Sazon after you fill the tortilla shell before rolling it up).

Once the chicken is cooked add your can of pinto beans and can of corn. Make sure the mixture is evenly combined.

Place a few spoonfuls onto each tortilla shell and roll them up.

Cover the bottom of a 9 inch by 13-inch baking pan with a ladle or so of sauce. Add the tortillas.

Cover the tortillas in the shredded cheese and add the rest of the sauce.

Place in a 350-degree (175 degree celcius) oven for 20-25 minutes or until the cheese is melted and golden.

Plate up! Serve with a salad, lime wedges, and sliced cabbage. Garnish with sour cream and fresh cilantro. On the side or in a small cup provide extra Anything Goes Enchilada Sauce. The dish can feed four people.
Types of Enchiladas:
Enchiladas originated in Mexico as street food. Although there are accounts of fish being rolled into tortilla shells as far back as the Aztecs. The introduction of meat into the enchilada is attributed to the Spanish conquistadors.
There are many ways to prepare enchiladas. These ways can vary by region and can feature the tortilla shell rolled or flat.
Enchiladas con chile Rojo, this simply means the enchilada is going to have red chili sauce and a tomato base. Usually, the filling will be meat.
Enchiladas Verdes uses green chilis and tomatillos for its sauce. Usually, the protein used is boiled chicken and it is topped with queso fresco. Enchilada purists recommend white corn tortillas for this type of enchilada.
Enchiladas con mole uses the sauce the name implies, mole sauce. The sauce is usually made of over 30 different ingredients and dark in color. Although there are variations that include red or green mole. It is a sauce that practically every Mexican grandmother has their own special family recipe that they use.
Enchiladas Suizas are topped with cheese or bechamel sauce. They were adapted in this way by Swiss immigrants in Mexico who brought their dairy farming traditions with them.
Enchiladas placera uses meat and vegetables as its filling. It is commonly referred to as the market enchilada.
Enchiladas montadas were originated in New Mexico. They are prepared with a flat, fried tortilla. Once fried the tortilla gets stacked with layers of sauce, either red or green, and cheese. Meat can be added and it is most often served on a bed of lettuce.
Enchiladas poblano is an enchilada filled with chicken and chili poblano (pepper). It is most often topped with Oaxaca cheese.
Enfrijoladas is an enchilada that uses refried beans as its topping instead of the traditional red or green chili sauce.
FAQ about Chicken Enchilada Recipe
Can this be made with corn tortillas?
Yes, it is actually more traditional. In fact, the most traditional way would be to mix up corn masa flour and use a tortilla press. Fresh tortillas would certainly be a welcome addition to this recipe. However, most folks prefer flour tortillas. Not to mention flour tortillas are very convenient.
Is beer necessary?
The recipe can be modified to use all vegetable stock, for a total of 24 ounces. Instead of using 12oz beer and 12oz vegetable stock. Likewise, two cans of beer can be used instead of vegetable stock. The sauce will taste fine. It is the reason it is boiled before the cocoa is added. It removes the alcohol and intensifies the flavor. It is recommended that you use a favorite beer, it will add the best flavor to the dish. As a recommendation, a Mexican dark beer would be a great choice.
Can a different pepper be used?
First of all, jalapeno peppers can be unpredictable in their heat level. The one used in the sauce was a grocery store variety that comes in a bag. Those are not usually surprising in their heat levels. Also, in the sauce, no seeds were used. The overall heat level of the sauce between a 1 of 2 on a ten-point scale. The recipe could easily be made at zero heat if bell peppers are used, or exchanged for hotter peppers for folks who like heat.
Can this recipe be used with other proteins?
Yes, yes, and yes! A great twist on this chicken enchilada would be to use a "meatless" chicken product. There are a lot of great ones readily available in the grocery store. Nothing about the recipe would need to change. The same goes for using beef or pork instead of chicken. It could even be taken a step further. The filling could be with a different cheese than the topping cheese. Still use the pinto beans, corn, and season with Sazon or Adobo. This would make a filling vegetarian meal.
Which is better, Sazon or Adobo?
A recommendation for the first time user of these spice blends is to use Sazon Complete. Not that other flavors of Sazon or other flavors of Adobo aren't tasty. However, some of the other blends have specific purposes. Sazon Complete is good on everything.
What wine goes with chicken enchiladas?
In general, for a chicken enchilada, a Syrah Rosé is a great pairing, especially chilled. The spicier enchilada and the sweeter the wine should be. Also, standard conventions of wine pairing as, red wine for meat and white wine for chicken also apply to wine choices for enchilada dinner. This recipe used chicken but also tomato paste in the sauce. Hence the recommendation of the Syrah Rosé.