Flan is a fascinating dessert. It is so simple, yet yields such a wonderful and crowd pleasing result. In most cases, you can count the ingredients going into the flan with one hand's fingers. There are different views on what flan is. Some call it a cake while others include it in the pudding family of desserts. Whatever your view on this great concoction, it sure will put a smile on everyone's face at the table.
Flan is actually very simple to make, if you have the basic kitchen skills. With that, let's move on to the flan recipe.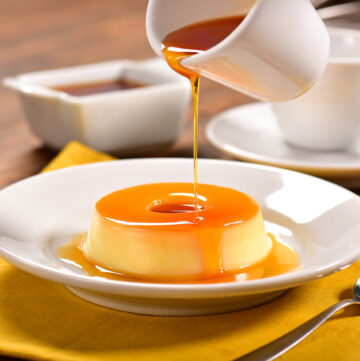 Flan Recipe
Flan is by far the most cherished national dessert of Mexican people.
Equipment
A 7 to 9 inch wide, round cake pan

An oven safe baking dish with high edges which can accomodate the cake pan

A whisk

A large bowl

A non stick pan

A silicon or wooden spatula

Aluminum foil
Ingredients  
4

large

eggs

1

can

of sweetened condensed milk (14 Oz.)

1

can

of evaporated (unsweetened) milk (12 Oz.)

1

tablespoon

vanilla extract

¾

cub

granulated sugar
Instructions 
HOW TO PREPARE THE FLAN?
We will start with the caramel to cover the bottom of our cake pan.

Put your non-stick pan on medium heat and pour the sugar in it. Start stirring slowly. As the sugar heats, it will magically start to turn into an amber colored thick liquid.

When you see all the sugar transformed into liquid form, carefully and quickly remove it from the heat and pour it into your cake pan, making sure the bottom of the cake pan is fully covered with the caramel sauce, by rotating and tilting the cake pan as necessary to make the caramel sauce flow into uncovered parts of the pan bottom.

Since both the non-stick pan and the cake pan will get hot, it is advisable to use oven gloves to hold and handle both pans.

After you spread the caramel to the bottom of the cake pan, leave it aside to cool down.

To make the custard, crack the eggs into the large bowl and beat them well. Pour condensed and sweetened milk, evaporated milk and vanilla extract into the bowl and beat them with the whisk, until the mixture is smooth. Then pour this picture into the cooled down cake pan. Cover tightly with aluminum foil.
HOW TO BAKE THE FLAN?
Some of you may know the "Bain-Marie" baking method already, but for those who don't, here is a quick run-down.

Preheat your oven to 350 degrees Fahrenheit. (or 175 degrees Celsius)

Place the cake pan covered with aluminum foil, into the larger baking dish with high edges.

Pour room temperature water into the larger baking dish until the cake pan is submerged into water about half way. Refrain from using hot water to save time. Hot water hitting the sides of the cake pan will cause the egg in the custard mixture start to cook too fast causing the loss of creamy texture of the end product.

Put the whole thing into the oven and bake for 1 hour and 15 minutes.

Take the whole thing out of the oven and remove the cake pan from the hot water bath.

Remove, but don't discard the aluminum foil on top.

Set it aside for at least 2-3 hours, until it slowly and naturally cools down to room temperature.

Once the flan is at the room temperature, cover it with the same aluminum foil tightly and place it in the fridge for at last 4 hours, or preferably overnight.

When you are ready to serve the flan, run a dull but flexible knife around the edge of the cake pan slowly to release the custard from the walls of the cake pan. An icing knife, which is normally used for spreading frosting on cakes, works perfectly for this purpose.

Cover the cake pan with a slightly larger serving plate. In one swift move, flip it upside down and leave on the countertop for a few minutes, so that the gravity can work its magic and the flan pops onto the serving dish on its own, with the rich caramel colored top.

Alternatively, you can make individual flans in small ceramic or porcelain ramekins which are oven safe. If this is what you prefer, you can dispense your caramel in small amounts into each ramekin's bottom. Let them cool down a bit while you mix your custard ingredients. Then pour custard mix into each ramekin and bake them the same way, covered with aluminum foil, submerged more than halfway in water.
ORIGINS OF FLAN
Flan originates from Europe. The original name was "flaon" in French, which in turn, is believed to be coming from German roots, "flado", a flat cake, due to its shape. Spain being the next door neighbor to France, inherited this dessert from the French and they brought it to Mexico, during the Spanish conquest. Flan today, is by far the most cherished national dessert of Mexican people.
There also exist modified versions of this dessert. One such flan recipe is called leche flan, from the Filipino cuisine, which uses only the yolks of the eggs and instead of baking it in a Bain-Marie method, it gets steamed in a steaming pot. Another variation of flan, originates from the Andalusia region of southern Spain and called Tocino De Cielo, or rough;y translated to English language as bacon of heavens. Here, the word bacon is referring to the flan's high fat content. Otherwise, it contains none of its namesake meat variety. This recipe is lower in sugars and higher in egg content. Therefore it could be a better alternative to regular flan for sufferers of diabetes mellitus.
Flan is a very versatile dessert. It is a perfect ending to a parade of Mexican or other dishes all by itself. A small slice of flan can be the perfect companion to a freshly brewed rich and dark coffee. If you are pairing flan with a wine, the swirl of vanilla, caramel and milk of the flan superbly pairs with the caramel and raisin like undertones of a Tawny port.
For a twist on the flavor, you can modify your flan recipe, by adding powdered instant espresso to your custard, for a rich coffee flavor. Or, you can zest the skin of an orange or sweet lemon into the custard mix to make a citrusy flan. Flan is a crowd pleaser on its own. These little variations will keep your dinner guests guessing what you will come up with the next time.
If you are not a fan of caramel flavor, you may skip the caramel bottom part of the recipe above and go with plain custard. Then at the time of serving, you can top your flan with Nutella or chocolate sauce. For those who are craving fresh ingredients, fresh berries in syrup complimented with crushed nuts or sweetened coconut shavings is another way you can go. There are no "wrong"s here. Possibilities are only limited by your imagination.
Flan is also known as Creamy Caramel Flan.
FREQUENTLY ASKED QUESTIONS about Flan
WHY DIDN'T MY FLAN GET FIRM ?
There are several things to consider while answering this question. First and foremost, your oven temperature might not be what your display was showing you. In which case, you may have kept the mixture in the oven longer. Also, a large egg is a relative concept and changes in every region. So does the concentration of condensed milk of the evaporated milk, which effectively throws the custard mixture off balance, ending up with a soupy flan. Next time, maybe you should consider adding an extra egg or leaving some of the milk out, in order to balance the mixture.
SHOULD I THROW AWAY MY SOUPY FLAN?
Well, you can but in some cultures, wasting food is considered a sin. Instead, if you are preparing for a Mexican themed fiesta, you can put the no-so-firm flan of yours with some ice into the blender with some rum (or Rumchata if you prefer) or anejo tequila and give it a whirl. Sprinkle with cinnamon dust and decorate with a cinnamon stick. Perfect party drink.
I DON'T HAVE / CAN'T FIND CONDENSED OR EVAPORATED MILK CAN I SUBSTITUTE THEM WITH REGULAR MILK OR SOMETHING ELSE?
The answer is both "yes" and "no". Digging a bit into the "yes" answer, evaporated milk is nothing other than whole milk with about 60% of its water content removed. And condensed milk is basically equal to evaporated milk with added sugar. So, technically, you can put 2 cups of milk in a pan and bring it to a boil slowly, mixing it gently throughout the process to prevent it from sticking to the bottom of the pan and burning. You need to do this long enough that the milk in the pan is reduced to a little less than half of its initial volume. If you are after condensed and sweetened milk, add a cup of granulated sugar, while the evaporated milk is hot and stir until it gets dissolved. Coming back to the "No" part of the answer, the commercial process to make evaporated milk is under very strict temperature control and the milk gets to be heated uniformly, which is impossible to attain with a pan over the stove or hotplate. There is a high probability that milk will form a burnt crust at the bottom of the pan and the flavor of the burnt milk will give a strange flavor to your evaporated milk. Alternatively, you can enrich your regular milk with the addition of whipping cream in the ratio of 3 parts whole milk into 1 part of whipping cream by volume. Alternatively, you can substitute evaporated milk with half-and-half directly in a pinch.
CAN I KEEP FLAN UNREFRIGERATED OVERNIGHT?
No, you should not. Milk and eggs are very prone to spoiling if not kept refrigerated. If you forgot the uneaten part of your flan on the countertop, it is best if you dispose it off into trash, to prevent food poisoning.
HOW LONG CAN I STORE FLAN IN THE FRIDGE? SHOULD I COVER IT?
If you can place your leftover flan in an air-tight container, you can store it in the fridge for up to 5 days. After that time, the texture and the taste starts to break down and it no longer tastes that creamy and rich flavor. Sooner you eat it more will enjoy the flan to be perfectly honest. And yes you should cover it before storing in the fridge. Milk is highly prone to other scents in the fridge, especially the nasty ones. If you happen to have something like a piece of blue cheese, a partially eaten can of fish or even a piece of fruit or vegetable gone rotten somewhere in the fridge, the milk in your flan will gladly absorb the smells emitted by these items and will become inedible. Hence the need for an airtight container to store it.