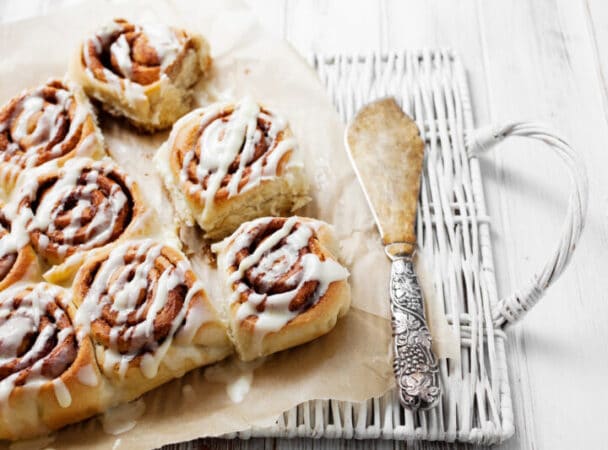 Do you know how to make huge, fluffy, soft, and delicious cinnamon rolls? You can get all these combinations to form a straightforward cinnamon recipe. When you try the recipe in this article, you will fall in love and stay addicted to it forever. Learn great tips on making the perfect rolls.
Cinnamon rolls are top-rated breakfast meals worldwide. Most people, however, don't prepare the rolls nicely. Prepare rolls with brown sugar filling, vanilla cream, and cheese. It is the most delicious recipe for preparing rolls acknowledged by the most chef in top hotels and restaurants.
Your choice of bread flour determines how your rolls will feel. Rolls differ with the type of flour you use, and making them soft and fluffy requires you to choose the best flour for the task. Invest in your flour before you embark on the cooking process.
The cinnamon recipe is the most widespread recipe for making rolls. However, the following recipe presented to you can effectively compete to give you the best results for rolls. It is the recipe to use when you want the most remarkable and memorable rolls. When you find how much it satisfies, ensure you share with others for them to experience this fantastic meal.
The result of such preparation is perfection. The rolls pop up amazingly as they rise to become huge and fluffy. You will also need a vanilla cream cheese icing to make your breakfast complete and ready. It is mouthwatering and stunning to view. Everyone is attracted to the fluffy and sweet scent of cinnamon rolls.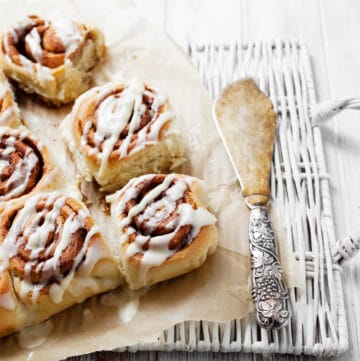 Cinnamon Rolls Recipe
Homemade cinnamon rolls taste insanely good. Here you get the best recipe for huge, fluffy, soft, and delicious cinnamon rolls
Ingredients  
Cinnamon Rolls
¾

cup

warm milk (105-115 degrees F)

2¼

teaspoon

yeast

¾

teaspoon

salt

3

cups

flour

¼

cup

melted butter

1

egg

1

egg yolk

¼

cup

granulated sugar
For the filling
2/3

cup

dark brown sugar

3

tablespoons

unsalted butter, softened

1 ½

tablespoon

ground cinnamon
For the frosting
4

oz

cream cheese, softened

3

tablespoons

unsalted butter, softened

¾

cup

powdered sugar

½

teaspoon 

vanilla extract
Instructions 
Ensure the milk is around 110 degrees F. put the milk on an electric mixer, then add the yeast on top by sprinkling. Put in sugar, egg yolk, egg, and butter. Using the electric mixer, mix them thoroughly until they are fully combined. You can then put in flour & salt and stir with a wooden spoon. Stir until the dough forms on the bowl.

Knead the dough for approximately 8 minutes so that they are sticky and form a nice ball. Avoid making it too rigid or too sticky. You can knead using your hand without even an electric mixer. Put the dough on an oiled bowl and cover the surface. You can use plastic to cover it, then place a warm towel. Now you can let the dough rise for around 1 hour.

After the dough rises as required, take it out and roll it on a clean, smooth surface. Roll it into a rectangle. Mix other ingredients in a bowl - cinnamon, and sugar, then spread it on top of the rectangle. Then rub brown sugar into the butter.

Roll the dough tightly, starting from the edges. Cut off any hanging edge making the rolls as perfect as they can be. Be very keen on the rolling to make the shape and size of your rolls similar. You can then cut them using your serrated knife to get small pieces around 9 for this type of mixture.

Put the rolls on a baking pan and cover them with plastic and a warm towel again. Let the dough rise again for another 30-40 minutes.

Preheat the oven to 350 degrees F. Remove plastic wrap and towel and bake cinnamon rolls for 20-25 minutes, until the edges turn golden slightly. Under bake them to let the middle stay soft. The changing color should be very slight.

After baking them, let them cool for around 10 minutes before you start frosting. Mix the butter, cream cheese, vanilla, and powdered sugar. Spread over the rolls for the most delicious meal.
Ingredients for Making Cinnamon Rolls Recipe
Fortunately, to make cinnamon rolls, you don't require a lot of ingredients. However, you will need to make time for the process of preparation. The process needs some time, patience, and dedication to whatever you will be doing to make your final product most effective. Ensure you make your rolls as original as possible.
There is a reason to be as original as possible. The final rolls are sweet as a result of following keenly the procedure provided. Firstly, here are the ingredients you need to get for your recipe:
Milk
Any rolls should be made with whole milk or select from any 2% milk available in your locality. Almond milk also perfectly works when it is available. You will use your milk effectively by ensuring it has the right temperature before you begin mixing your ingredients.
Granulated sugar
Sugars are also essential to activate yeast bacteria to enhance your rolls, becoming more prominent and fluffy.
Brown sugar
Do you want to give your cinnamon rolls a dark robust sweet flavor with a tint of molasses? Brown, dark sugar works best for a sweet taste in your rolls.
Cinnamon
Select the softest ground cinnamon. Natural cinnamon with no additives is a plus for the recipe.
Icing ingredient
They make your rolls look elegant and stunning. The best icing will satisfy anyone once they set their eyes on it. Some ideas for icing include butter, vanilla, powdered sugar, and cream cheese.
Salt
Any rolls must have salt to avoid a plain taste that can easily irritate after a few bites.
Butter
Although it is covered as part of the icing, the butter must be part of your ingredient. Choose between unsalted or salted butter for the best results and amazing rolls. Furthermore, butter is used in three stages: making dough, during filling, and on the icing, as mentioned above.
Egg
The ratio for the egg to egg yolk is 1:1. If you want to make your dough consistent, consider making your egg with this ratio.
Flour
You are hoping to get soft, huge, and fluffy cinnamon rolls. The best way is to use bread flour with high proteins to lighten the texture of the rolls. Your bread flour choice is essential to how your rolls will look, form appearance, rise, and the final flavor. Bread flour has very high amounts of protein to enhance gluten. Gluten helps your rolls to be soft and chewy.
You can prepare these ingredients beforehand or get them from the market in the evening you wish to start your preparation. Ensure you use this as a checklist and don't leave any ingredients out. The recipe is one step and special for the perfect rolls.
How to Choose Yeast
Many people don't know how to check for activated yeast. You will get overwhelmed more when you are not a baker and rarely use baking products at home. The process can be overwhelming when you have no idea what to choose. However, yeast is an essential ingredient for all baking, and it would be best to know how to choose activated yeast for the cinnamon rolls recipe.
Two types of yeasts are used: dry yeast and quick rise yeast. You cannot use dry yeast without a liquid. You will dissolve it first in any liquid such as milk. The process of dissolving the yeast in a liquid is referred to as proofing. After the yeast is proofed, now you can go ahead to mix it with your dough.
The quick rise yeast is the most common type of yeast among bakers. It is fast and convenient to use for anyone. For this recipe, use quick-rise yeast to maximize your rolls' beauty and fluffiness.
There is no need for any proofing to use the quick-rise yeast. It is added directly to the dough, and it will be effective. However, there is no harm in using a little liquid such as milk to help it react.
Add sugar to the mixture to increase its effectiveness.
Tools for Making the Cinnamon Rolls
For any venture in cooking, tools are an essential part. Here are the primary tools you require when you want to prepare your rolls. They can be customized to suit your needs, but ensure you will have something to act as the following:
Wooden spoon
You better use a spoon to mix your dough. A wooden spoon is essential since it is not sticky and light to make it easier to mix your dough.
Stand mixer
A stand mixer helps you to do a perfect job while mixing your dough. You don't need to hassle when it is not available since your hand can still do an excellent job. When using your hand, knead the dough thoroughly to form a uniform mixture.
Serrated knife
You will need to cut the rolls after you finish with your dough. It would be best to cut them uniformly and quickly using a serrated knife. A floss also does a perfect cutting job.
Rolling pin
Rolling out the dough is a very crucial process. It would help if you made the rolls beautiful with a smooth rolling pin. If you are a less baker and lack a rolling pin, consider using a wine bottle. The results are equally the same.
Frying pan
Look for a 9×9 inch frying pan to fry your rolls. The large pan enables your fries to fit perfectly without touching the sides. Also, you can bake easily and turn your rolls quickly.
Simple Tips for Making Cinnamon Rolls
It would help if you used some tips when making your rolls to ensure they are useful and delicious. The process is not all about kneading and rolling. These tips are:
Check the temperature of your milk before you use it.
You are using yeast in the mixture, and hot temperature will kill the yeast resulting in no reaction. High temperatures of milk will make the flour heat up and form a wet mixture. When yeast dies, the cinnamon rolls will not rise, and they will be very ineffective. You can know the temperature of your milk by dipping your finger into it. Temperatures of about 105-115 degrees F are perfect for mixing.
Also, icy milk will make the yeast to be inactive. The yeast needs a conducive environment and temperature to make it useful. Always cool your milk to the desired temperature before you start mixing.
Use egg at room temperature for the dough.
Cold eggs will deactivate the yeast and coagulate with melted butter. Your rolls must be ready to rise when you fry them, so you must virtually eliminate any effect on yeast. You can warm your eggs to room temperature by placing them in a warm bowl of water before you use them.
Use butter at room temperature.
It is not a good recommendation to use melted butter as your filling. Melted butter will leak before you even start baking, so you need to let it be at room temperature to avoid losing it.
Rub brown sugar on the butter
Rubbing the brown sugar on the softened butter is efficient to make the mixture combine well. The rubbing should be useful and soft to ensure you do great work.
Flour your work surface and rolling pin
Rolling is no different from making other baking. Your rolling pin and the rolling surface should be rough enough not to make the rolls stick on either of them. You also need to make the perfect shapes for your rolls.
Use a bread flour
Are you looking for fluffy, perfect, and soft cinnamon rolls? Ensure you use bread flour to make your work effective. Bread flours are available in all grocery stores near you. It makes a huge difference to make the most delicious rolls.
Making Overnight Rolls
Sometimes you may want to make your rolls during the night and bake them in the morning. You can do this for various reasons, such as to avoid the morning hustle of kneading the dough that consumes time. It is also useful since it gives the yeast a maximum time to react and ensure your rolls will rise effectively.
Make your dough well and cut them as you will see in the instructions. Next, arrange side by side without touching on a pan. To avoid them coming into contact, line with parchment paper.
On the pan, cover them entirely with a plastic wrap, which you will place in a fridge overnight.
Before you start baking in the morning, ensure you warm your rolls to room temperature. When you put your rolls in the fridge, the cold temperatures deactivate the yeast. You need to activate them again by bringing your rolls to a conducive temperature. After that, leave them for about 45 minutes for self-raising before you start baking.
Freezing Cinnamon Rolls
Most people don't know how to freeze their rolls before and after cooking. Effective freezing keeps your rolls quality in check with no compromise or losing taste. The two scenarios are explained as follows:
Freezing rolls before baking
First, you have to leave the dough rise before you freeze it. Roll it up and cut it before placing it on a pan. Cover the pan well with a plastic wrapper and put it in a freezer overnight. When you want to start baking, ensure you bring the rolls to room temperature, and give them another45 minutes for the second rise. Some warm spots may require you to provide it with time up to 1 hour. After the second rise, you can now bake your rolls.
Freezing rolls after baking
After baking, leave your rolls to cool down to room temperatures. Wrap them tightly on the pan or place them in an airtight container before putting them in a freezer. Anytime you need to eat the rolls, you can defrost them in a microwave. It would be best to freeze them before icing for the perfect look and taste.
Cinnamon Rolls FAQ
What is the correct temperature of milk for preparing cinnamon rolls?
The range is from 105-155 degrees F. At this temperature, the yeast is active to make your dough rise effectively.
Can I use a bare hand for mixing?
Yes, you can use your hand to knead. Knead the dough softly for about 8 minutes.
When do I rub the brown sugar on my cinnamon rolls?
Roll the dough into a rectangle on an even surface. Rub the brown sugar on top of it before cutting.
What do I use to cut the dough to make rolls?
You can use a serrated knife or floss to make your cuts. Follow a similar pattern to ensure the rolls are the same.
Do I need to let the dough rise again?
Yes, after the first rise, let the rolls rise again for about 40 minutes before baking.
How do I bake the rolls?
The rolls should be under baked. Ensure the edges have a slight change to golden color and leave the middle part to be soft.
Conclusion
The fantastic look of the rolls earns them the right to be cooked on special occasions. Do you want to surprise your date, or is it a holiday you want to celebrate effectively? Try cinnamon rolls to start your day in style. Once you start using this recipe, everyone who eats your rolls will always come for more.