Tzatziki is a traditional Greek sauce made with Greek yogurt, cucumber, garlic, some herbs and spices (black pepper, mint, or dill), lemon and sea salt, and. It is correctly pronounced as tsah-tsee-key.
It is also known as Greek yogurt and cucumber-based dip or salad and a very flavorful and savory sauce. Greek families usually make tzatziki from strained sheep or goat yogurt as the traditional authentic way.
The sauce is simple and easy to make, very nutritious and healthy as well. It requires a few minutes of preparation. The dish is full of freshness of herb and spices ideal for homemade Mediterranean dishes, sandwich topping, pita dip and your favorite vegetable.
It is a prevalent dish in Greek and is served with souvlaki, Hiro, and kebab sandwich.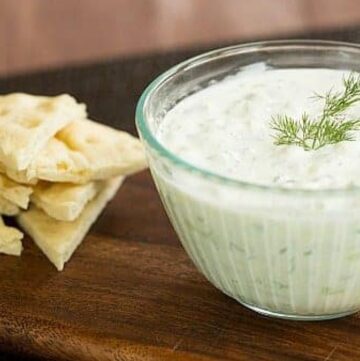 Tzatziki Recipe
Tzatziki is a traditional Greek sauce made with Greek yogurt, cucumber, garlic, some herbs and spices (black pepper, mint, or dill), lemon and sea salt, and. It is correctly pronounced as tsah-tsee-key.
Equipment
A mixing bowl

A chopping board

A handheld grater

A cheesecloth

A strainer

A garlic press
Ingredients  
2

cups

of plain white greek yogurt

1

cup

cucumber with peel, grated

1

clove

garlic, minced or pressed

1

tablespoon

of free lemon juice

2

tablespoons

of fresh chopped dill or mint

2

tablespoons

of Za'atar, optional

salt and pepper, to taste

Extra virgin olive oil
Instructions 
Place the strained plain yogurt in a bowl, add freshly minced or pressed garlic on top, add one small lemon juice and drizzle of extra virgin olive oil, and then mix. Let it sit for 15 minutes to allow the garlic time to break down. You can leave the mixture of ingredients overnight except the cucumber and dill or leave it overnight in the fridge for better results.

Place grated cucumber in a strainer over a bowl and sprinkle a generous pinch of salt over. Let it sit for 15 minutes, and then using a paper towel or cloth, gently pat the extra salt and water out. The excess liquid would ruin the creamy texture of the tzatziki sauce.

Add the drained cucumber into the yogurt mixture.

Stir into a mixture, then add the black pepper and adjust the salt according to your taste.

Add the two tablespoons of za'atar optional and stir everything again.

Finally, add some freshly chopped dill, and lastly few drizzles of extra virgin olive oil, and the sauce is ready.
Notes
You can serve yoy homemade tzatziki sauce in a crudité platter of veggies that are in season mixed in Mediterranian meatballs, beef kebabs, pita chips, warm pita bread, zucchini fritters.
Basic Tips When Making Tzatziki
Greek yogurt. The recipe calls for plain white yogurt full fat ( put it in a strainer with cheesecloth for a few hours in the fridge to drain out the excess liquid) till you get a lighter, fluffy texture. You can use low-fat yogurt with low carbs if you prefer.
Cucumber: Pilled or whole. Secrets of the dish? Grate the cucumber using the cheese grater's large blades to get longer pieces, toss with a pinch of salt. Let it rest for 15 minutes, then gently pat dry with a paper towel.
Garlic: mince or press fresh garlic and leave it to rest in the yogurt as you prepare the ingredients. Give it time triggers enzyme reaction that boosts the healthy compounds in garlic and reduce the sharpness. Remember to use fresh, not powder garlic.
Herbs and spices: Each ingredient's quality is superior to give you a tasty sauce of tzatziki, and the number of herbs helps awaken the sauce like dill, and you can also try Za'atar. A combination of healthy herbs and spices elevates the sauce even more, but it is optional.
Ensure your get the right balance of garlic and the herbs to not affect the sauce tastes and overall taste quality. It would be best to keep it moderate, not so aggressive that one element overpowers the whole sauce.
History of Tzatziki Sauce
It is found in the cuisines of Southeast Europe and the Middle East in Turkey and Greece in particular. Although its name comes from the Greek language, its true origin lies in Turkey from the word "crack'' the Ottoman version of the Tzatziki sauce.
Tzatziki means a Greek dip that consists of strained yogurt, garlic, cucumber, olive oil, and other mix-ins depending on the cook and level of Greekness. The tzatziki sauce in Greece is usually eaten with bread, and it is famously associated with famous souvlaki wrapped in pita, the kebab/gyros, and fries served in traditional restaurants.
Traditional Greece's tzatziki dip uses goat and sheep yogurt. We substitute it with plain milk yogurt with low fat and non-fat. You can substitute greek yogurt with sour cashew cream and a splash of water for a fully vegan and dairy-free recipe till you get the right consistency.
The use of lemon cuts through the savory richness and elevates the dish. You can also use white vinegar, or red wine vinegar also works well in this type of sauce.
Additional flavours such as Za'atar boost the flavours with a Middle Eastern kick with a blend of thyme, oregano, marjoram, sumac and roasted sesame seeds that give the sauce a nutty, rich flavour.
FAQ About Tzatziki Sauce
What goes well with Tzatziki Sauce?
The saurce is excellent, grilled meat and goes well with chicken, fish, pork, and lamb. Popularly used in greek and other places in gyros (Turkish doner kebabs), souvlaki wrapped in pita, veggie dip, chips dip on cracks or snacks, dehydrated tomatoes, and zucchini chips. Also, an accompaniment to dishes such as salads, wraps, potatoes, and other foods go well on an acidic and savory note.
How long does homemade tzatziki last?
Frozen tzatziki can last about four days before it goes bad.
How do I thicken the tzatziki sauce?
Homemade tzatziki is simple to go on, strained yogurt and cucumber, garlic, and your favorite herbs. If your sauce is ready-made and runny, you can thicken it by adding drained or dried cucumbers and letting it sit in the fridge for a few minutes till serving.
Is tzatziki healthy?
Homemade tzatziki has about 35 calories in two tablespoons serving. The Greek yogurt is thicker and healthier than the regular one because it has been drained to remove excess liquid that prevents early spoilage. Still, straining also reduces lactose content and makes it higher in protein, a virtual nutrient that reduces appetite, regulates hunger hormones, and increases metabolism, which generally helps in weight loss.
What can I do with leftover tzatziki sauce?
You have some leftovers, but you do not what it to go bad or wondering what to do with the sauce? A few ideas come to mind: you can use them in daily foods such as vegetable topping or dips like baby carrots, bell peppers, or broccoli, and as a flavor, additive topping to your protein bowl or salads.