Chicken Marsala is a classic Italian-American-inspired dish that's easy to make and delicious. Made with tender chicken cutlets seared to golden perfection and savory mushrooms served in a rich silky Marsala sauce. Chicken Marsala has been a restaurant favorite for years, but it's so easy to make at home with just a few simple ingredients and a bottle of Marsala wine. This quick recipe can be made in one pan in under 30 minutes. Chicken Marsala is perfect for busy weeknights, serving to company, or a celebration dinner.
What is Marsala Wine?
Marsala wine is a golden-brown-colored fortified wine from the city of Marsala in Sicily, Italy. Fortified wines have additional distilled spirits added to them, increasing the alcohol content of the wine. Marsala wine is fortified with Brandy, making it a great wine to cook with. Cooking with alcohol can enhance the flavors and aromas of a dish. Alcohol evaporates when cooked, leaving only flavor behind.
Marsala wine can be easily found at most local grocery stores. There is a drinking and cooking version that both come in sweet or dry. Cooking wines tend to be cheaper, but have more preservatives in them. Drinking wines have a better quality flavor. Dry wines are usually used for savory dishes and sweet wines are usually used for dessert dishes. However, all of these will work great for this recipe.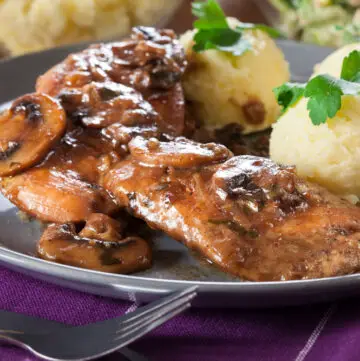 Chicken Marsala Recipe
Chicken Marsala is a classic Italian-American-inspired dish that's easy to make and delicious. Made with tender chicken cutlets seared to golden perfection and savory mushrooms served in a rich silky Marsala sauce.
Ingredients  
4

skinless chicken breast halves, boneless

⅓

cup

all-purpose flour

½

teaspoon

salt

¼

teaspoon

pepper

½

teaspoon

dried oregano

2

tablespoons

olive oil

4

tablespoons

butter, divided

1

cup

sliced mushrooms

¼

cup

diced onions

2

cloves

of garlic

½

cup

marsala wine

½

cup

chicken stock

chopped parsley (optional)
Instructions 
Cover chicken breast halves with a piece of plastic wrap and pound thin and flat with a meat mallet until chicken cutlets are about ¼" thick.

In a large pan, melt 1 tablespoon of butter and 2 tablespoons of olive oil over medium heat until nice and hot.

Meanwhile, mix together flour, salt, pepper, and dried oregano in a shallow dish.Dredge both sides of the chicken cutlets in the seasoned flour. Lightly coat and shake off excess.

Place the floured chicken cutlets in the hot pan and sear on both sides until golden brown. Remove cooked chicken from pan and set aside on a plate in a single layer.

In the same pan, melt 2 tablespoons of butter. Add onions and garlic to the pan and cook until onions are translucent and garlic is fragrant.

Wash and slice mushrooms, removing the stems. Add sliced mushrooms to the pan and saute until they are a deep brown color and moisture is gone.

Pour in marsala wine and chicken broth. Boil for a few minutes to reduce the sauce by half. Reduce heat and stir in the remaining tablespoon of butter.

Put chicken cutlets back into the pan and warm through on both sides.

Top with chopped parsley (optional)
Creamy Chicken Marsala
Add ½ cup of heavy cream to the sauce when you add the chicken broth. Do not use half and half or light cream because the acidity in the wine might make it curdle.
Another option is to make a slurry by mixing 1 tablespoon of flour or cornstarch with 1 cup of the simmering broth then add it to the pan.
If you want a thick sauce, but not a creamy sauce, you can thicken it by adding 2-3 teaspoons of unflavored gelatin powder to the cold chicken stock before adding it to the sauce.
Marsala Wine Variations
Chicken Marsala is best when made with the wine it's named for, but here are a few alternative options that would work well for this recipe.
Madeira wine is very similar to Marsala wine in color and taste.
Port wine, dry herry wine, vermouth, or any other fortified wine.
Additional chicken stock can be added in place of Marsala wine for a non-alcoholic option.
Mushroom Variations
Almost any sturdy mushroom will work great for this recipe. You want to choose a mushroom that will hold its shape and soak up the sauce after being cooked. Try one of these options or a combination of different mushrooms.
Button mushrooms
Baby Bella mushrooms
Oyster mushrooms
Crimini mushrooms
Chopped portabella mushrooms
Shitake mushrooms
White mushrooms
Meat Variations
Swap out the boneless skinless chicken breasts for another protein choice.
Boneless skinless chicken thighs
Pork Loin chops
Veal cutlets
Tofu or tempeh
Extra vegetables
Flavor Variations
Smokey – add some prosciutto or bacon for a saltier, smokier flavor
Tangy – add a splash of lemon juice or red wine vinegar for a little tangy punch of flavor
Spicy – add a pinch of cayenne pepper or red pepper flakes for a little heat
What to serve with Chicken Marsala
Pasta – cooked fettuccine, linguine, and angel hair.
Potatoes – mashed or roasted
Rice or orzo
Polenta
Zoodles
Crusty bread to soak up the delicious sauce
Roasted vegetable of choice
Side Salad
Chicken Marsala FAQ
SHOULD I USE DRY OR SWEET MARSALA WINE?
Both sweet and dry Marsala wines are good for this recipe. Typically dry Marsala wine is used in savory dishes and sweet Marsala wine is used in dessert dishes. Marsala is a naturally sweet wine, but the sweet has a higher sugar content than the dry. The higher sugar content in the sweet wine will help to add a glazing effect to this dish. Add a tablespoon of red wine vinegar or lemon juice to the dish to help balance out the sweetness.
CAN I MAKE CHICKEN MARSALA WITHOUT MUSHROOMS?
Yes. Although Chicken Marsala would not be the same without the earthy flavor of the mushrooms, this dish would still be delicious without them. Follow the same recipe, skipping the step where the mushrooms are added. You can also replace the mushrooms with a different vegetable of choice. Just keep in mind that this will change the flavor a little. Some good replacement choices are chopped zucchini, chopped eggplant, whole cherry tomatoes, or garbanzo beans.
CAN I MAKE THIS VEGAN-FRIENDLY?
You can make Chicken Marsala a vegan-friendly dish by swapping out the chicken breast with tofu, tempeh, beans, or additional vegetables. If using tofu, follow the recipe the same, dredging it in flour and searing it on both sides. If you are substituting with extra vegetables, skip the meat steps and proceed to the vegetable steps. Some great vegetable options for this dish are zucchini, eggplant, whole cherry tomatoes, or additional mushrooms. You will also need to swap out the chicken stock for vegetable stock.
CAN I MAKE CHICKEN MARSALA AHEAD OF TIME?
Chicken Marsala is quick and easy to make in around 30 minutes using only one pan. For the best quality and flavor, this recipe is best when made right before eating. However, it is fine to make ahead of time. It can be stored in an airtight container in the fridge for up to four days. To save on prep time, you can prepare the chicken and mushrooms ahead of time. For best reheating results, place Chicken Marsala and a little butter in a skillet then cook on low heat until chicken and mushrooms are warmed through. If the sauce seems too thick, add a splash of chicken stock.
CAN I DOUBLE THIS RECIPE?
Yes, you can double or triple the recipe by adjusting the amounts of the ingredients listed. Just make sure to cook the chicken in batches so as not to overcrowd the pan. The chicken needs enough room to properly cook through and get a good sear on both sides. In addition, when setting the cooked chicken aside, make sure to place it in a single layer on a baking sheet or large platter. Tent the chicken with a sheet of tin foil to keep it warm.
Other delicious Chicken recipes
Instead of chicken Marsala, you could try one of theese chicken recipes: