When it comes to breakfast, you want something fast and easy that won't have you up and sweating in the kitchen at 6 A.M. When it comes to fast, French toast is one of those dishes that can be made in 20 minutes. The best part is that it is quite easy to make a delicious French toast that can wow your friends and family using ingredients found in any pantry.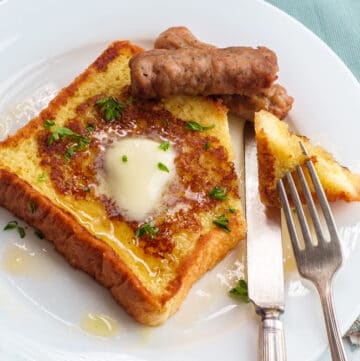 French Toast Recipe
French Toast is an easy, but very delicious breakfast recipe. Serve hot with butter and syrup.
Ingredients  
8

slices

of thickly sliced stale bread

3

eggs

2/3

cups

whole milk

1

teaspoon

of ground cinnamon.

Optional

1

teaspoon

of ground nutmeg.

Optional

1

teaspoon

vanilla extract.

Optional

1/4

teaspoons

of salt

Unsalted butter
Instructions 
In a bowl, crack in the eggs with the milk, cinnamon, nutmeg, vanilla, and salt. Thoroughly whisk them together until blended and transfer to a wide bowl that is large enough to fit the bread slices.

Add some butter to your frying pan and heat on medium heat until melted and bubbling.

Add the bread slices, one at a time, to the milk and eggs mixture and allow the bread slices to soak up the mixture before placing it on the pan. Shallow fry the bread in the butter until lightly browned on both sides.

Serve warm with some butter and powdered sugar or maple syrup if available.
This recipe, in particular, can be eaten and enjoyed by itself. Or one can decide to accompany it with a tall glass of cold milk, or better yet with a steaming hot cup of tea, or my personal favorite, a freshly brewed cup of coffee.
French toast is one of the easiest dishes one can make in the kitchen. The taste can be elevated simply by topping the toast with all your favorite things.
French Toast FAQ
What type of bread should I use?
French bread works best and is the most authentic, but any bread will work well for this. The key is to use stale bread as it absorbs more of the egg mixture to give a softer interior to your French toast.
How long should I soak the bread in the milk mixture?
This depends on a lot of things. For one, what type of bread are you using? How stale is it? Generally, a quick dip for 2 to 3 seconds works well as it allows enough of the milk mixture to penetrate the bread and make it soft. Avoid soaking the bread for too long, as this tends to make it fall apart when trying to lift it out of the mixture.
What substitutions can I make to make the recipe my own?
There are tons of things that can be substituted in this recipe. For example, using olive oil to fry the toast. Or even adding ginger and orange zest to the milk mixture for a more tropical taste. There are no limits on what can be added to your French toast to make the recipe unique to your taste and liking.
What other toppings can I use?
The only limit is your imagination. You can use butter and maple syrup for a more classic French toast. Whipped cream and strawberries can be used for a creamy and fresh option or plain honey for a more natural alternative.