Cosmopolitan is a very popular cocktail, which is known from the tv-serie "Sex And The City". The cocktail is super easy to make and requires no special tools. A shaker is of course the easiest, but you can easily make it without.
Cosmopolitan is a very sour drink, so if you are into the sugary cocktails, this is probably not the right choice for you.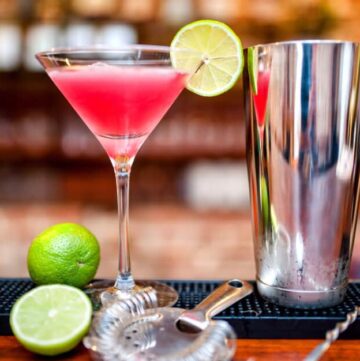 Cosmopolitan Recipe
Cosmopolitan is a very popular cocktail, known from the TV serie "Sex and the City"
Ingredients  
½

fluid ounce 

cointreau

1

fluid ounce 

vodka

1

fluid ounce 

cranberry juice

½

fluid ounce 

lime juice

ice
Instructions 
Pour all the ingredients, incl. ice cubes, in a shaker (or glass) and shake so it gets mixed well together.

Pour your Cosmopolitan, without ice, into a martini glass.

Garnish with a lime wedge and serve.

If you do not want the completely traditional drink because it is too sour, you can add 10 ml. sugar syrup.
Non-alcoholic Cosmopolitan
If you want to serve a non-alcoholic Cosmopolitan for the kids, you can omit the vodka and replace the contreau with freshly squeezed orange juice. It tastes super nice, but is probably too sour for the youngest audience. Here it is a good idea to mix a little sugar syrup in the drink.