Long Island Iced Tea originates, as the name suggests, from Long Island, New York. During the Prohibition era, when the manufacture, transportation, and sale of alcoholic beverages were banned throughout the United States, there were many different kinds of smuggled liquor that bartenders mixed together and colored with cola so it looked like an innocent iced tea. Hence the name Long Island Iced Tea. Since then, the drink has been adjusted a bit, and to this day is served based on a fixed basic recipe, which you will find below.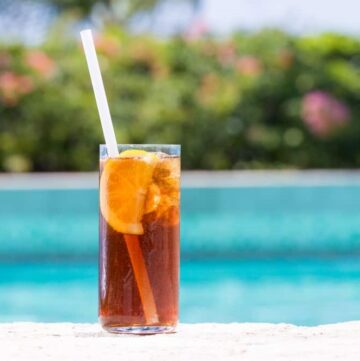 Long Island Iced Tea Recipe
Long Island Iced Tea is a classic cocktail that can be made in many ways. But there is only one right way to do it!
Ingredients  
½

fluid ounce 

rum

½

fluid ounce 

gin

½

fluid ounce 

tequila

½

fluid ounce 

vodka

½

fluid ounce 

triple sec or cointreau

½

fluid ounce 

lemon juice

1

fluid ounce 

sugar syrup

1

fluid ounce 

cola

ice

1

lemon slice
Instructions 
Take a Collins glass and fill it with ice cubes.

Add the vodka, rum, tequila, gin, triple sec, simple syrup and lemon juice.

Top with splash of cola for color. Garnish with a lemon slice.
Non-alcoholic Long Island Iced Tea Recipe
This cocktail is not really suitable as non-alcoholic as it mainly consists of spirits. So it will really just be cola and lime mixed together.