Light, fluffy, chocolatey breads of goodness – these healthy flourless chocolate protein waffles deliver tons of nutrients to get your day started right! Yes, that's right: chocolate waffles…that are good for you. You have to eat it to believe it.
When I think of waffles, I'm immediately brought back to 8:00am mornings in elementary school. All four of us kids would race down the stairs at full speed as our frozen waffles jumped out of the toaster like frogs.
While my brother preferred the blueberry flavored variety, my sisters and I were totally team chocolate chip.
Because Chocolate + Waffles = Yum.
Did you think that was all we'd have – just plain waffles? Ha, you must be confusing us for some other family, because for us the waffle itself was simply just a canvas for the real star of the show: toppings.
And we didn't go easy on those bad boys. I honestly can't describe or even remember what my siblings covered their waffles in, mostly because my mind was far too focused on concocting a perfect waffle masterpiece of my own. First, I'd use a knife to slather butter in the center of as many tiny honeycomb squares as I could. Then, I'd pour a beautiful smiley face from a bottle of artificial maple syrup right over the top. Because – well, health.
Today my preferences for chocolate waffles with yummy toppings are no different, but my views on nutrition have definitely changed for the better.
With that, I bring you these incredible healthy flourless chocolate protein waffles! Don't worry, the word "protein" doesn't mean I dumped a giant scoop of protein powder into the batter, but it's actually natural protein from chickpea flour! Yes, you read that right: chickpea flour – my new best friend in the kitchen.
There really shouldn't be anything holding you back from making these phenomenal healthy flourless chocolate protein waffles. They require just 4 simple ingredients, are super quick and easy to put together, and they're vegan, sugar free, gluten free, paleo, and whole 30! Who said chocolate waffles weren't meant to be eaten every morning? Guys, come on over to my house and we can eat these all day everyday.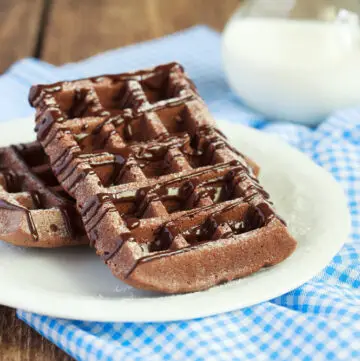 Healthy Flourless Chocolate Protein Waffles
This healthy flourless chocolate protein waffle recipe is incredible! Super easy to make, it only requires 4 ingredients. These waffles are vegan, sugar free, gluten free, paleo, and whole 30 - sure to keep you coming back for seconds!
Ingredients  
1 1/4

cup

chickpea flour

1

cup

water

1

tbsp.

olive oil

2 1/2

tsp.

cacao powder

1

tsp.

cinnamon
Instructions 
Preheat your waffle iron.

In a medium bowl, whisk together the chickpea flour and water. Once combined, whisk in the oil, cacao powder, and cinnamon.

Pour half of the batter (about 1/2 - 3/4 cup) into your preheated waffle iron and cook according to your waffle iron's instructions. Repeat with remaining batter.

Top waffles with almond butter, sliced banana, pecans, cinnamon, and cacao nibs if you chose, and enjoy!
Nutrition
Serving:
1
pcs
Sodium:
6
mg
Sugar:
1.5
g
Fiber:
3.5
g
Calories:
126
kcal
Saturated Fat:
1
g
Fat:
8.2
g
Protein:
3.5
g
Carbohydrates:
11.2
g