Looking for an easy, quick and impressionable breakfast morning meal to incorporate into your weekday or even weekend menu? Look no further than Chilaquiles. Whether you decide to dress up this meal as Chilaquiles Verdes or Chilaquiles Rojos, it is sure to be a game changer! The fun thing about this meal is that it is completely customizable to fit your diet plans or simple cravings for chips, salsa.. and of course we can't forget the CHEESE.
History of Chilaquiles
Chilaquiles is an authentic breakfast that has also helped aid in being a hangover fix. The importance purely relies on the given fact that this dish is something that can be thrown together with leftover tortilla chips and remaining items in ones fridge. When food started becoming scarce or low, with the need to extend meals, this dish was able to feed families quite generously. To describe this dish, one would consider this to be a bed of corn tortilla strips ( chips ) with red or green salsa, topped with optional toppings that fit ones taste. Adding meat to this dish is completely optional, depending on the route wanting to be taken. Chilaquiles is actually a different form of enchiladas, just without the folding of a tortilla and also, of course with less prep and cooking time.
The name of this dish actually is derived from the Nahuatl, an ancient Aztec language which formally means 'Chilis and greens'. Although a more broken down version of the word itself consists of said terms, "chilis", "atl" which means water, and "quilitl" which means edible erb. This traditional dish circulated around all Mexico regions, however it is believed that Chilaquiles was not founded or was actually associated with anyone in particular; it sort of just became a fitting dish for any leftovers in the fridge that were spruced up. Chilaquiles found it's way to the USA in 1898 by being featured in The Spanish Cookbook by Encarnacion Pinedo. This recipe provides for a serving of four, with the ability to have leftovers stored in the refrigerator for at least a day. Chilaquiles is also an inexpensive meal, so it is always considered a great option for when the budget is low. Being that Chilaquiles is an easy and quick meal, leftovers are rarely ever a thing.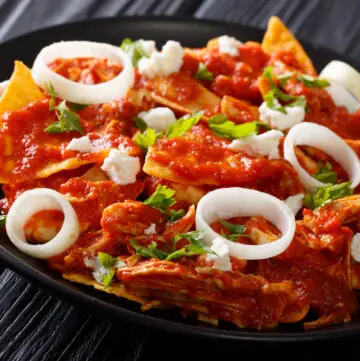 Chilaquiles Recipe
Looking for an easy, quick and impressionable breakfast morning meal to incorporate into your weekday or even weekend menu? Look no further than Chilaquiles. Whether you decide to dress up this meal as Chilaquiles Verdes or Chilaquiles Rojos, it is sure to be a game changer!
Equipment
Large Skillet

Baking Sheet

Blender, and/or Food Processor

Medium sized pot
Ingredients  
For the Chips
¼

cup

of vegetable oil

12

corn tortillas ( preferably dry or stale), cut these into 8 wedges each

kosher salt
For Salsa Rojos
4

roma

tomatoes, chopped

½

large

yellow onion, chopped

1

medium

jalapeno, sliced

2

cloves

of garlic

1¼

cup

of low sodium chicken, or vegetable broth is optional

2

teaspoons

of vegetable oil

kosher salt
For Salsa Verde
8

medium

tomatillos, husked and rinsed

1

serrano or jalapeno chile, stemmed

½

white onion, halved again

2

cloves

of garlic

½

bay leaf

1

pinch

of dried oregano

1

pinch

of dried thyme

½

teaspoon

of salt

¼

cup

of low-sodium chicken broth
Instructions 
Salsa Rojos
If you choose Salsa Rojos for your dish, start off by placing the tomatoes, onions, jalapenos, and garlic into a blender. It is optional to use a food processor, as long as you have the exact fitted blade attachment.

Blend together these ingredients after pouring in 1 cup of your chosen broth, until you obtain a smooth consistency.

After blending these ingredients, you want to cook the salsa. Heat two teaspoons of oil in a fry skillet until it begins to simmer. Once the oil is ready, add in the salsa and allow this mixture to cook and slightly thicken. This thickening process should take about 5-10 minutes. It is also optional to add additional broth to thin out the the salsa, if solely desired.
Salsa Verde
If you choose Salsa Verde for your dish, the technique is just about the same as Salsa rojos. However starting off, put the tomatilles, chile, onions, and garlic into a medium sized pot and proceed to add water until all veggies are covered.

Bring this pot to a boil over high heat. Once a nice boil is achieved, reduce the heat to medium-low and simmer until the veggies are soft and the tomatilles have turned a pale green. This process alone should take at least 15-20 minutes.

Once softness is achieved, remove from the heat and let veggies cool slightly.

Then transfer the boiled veggies, along with the water they cooked in, into the blender. Just alike the salsa rojos, the key is to achieve the same smooth texture. Halfway through blending these vegetables, add 1/2 bay leaf, a pinch of dried oregano, a pinch of dried thyme, 1/2 teaspoon of salt and your desired 1/4 cup of broth.

Be sure to aim for a smooth salsa to coat the tortilla chips in. Once desired salsa is created, cover and set this aside on a low burner to keep warm while prepping the chips.
Tortillas
Starting off with the dry or stale tortilla wedges that were cut in the beginning, heat about a 1/4 cup of oil in a large skillet over medium-high heat until it's simmering. Using dry or stale tortillas is also preferred, due to an easier frying process.

If it happens to be that the tortillas are fresh, cut them first and then proceed to place them in the oven to dry them out a little bit. Once they are dried out a bit, it is safe to proceed with the frying step.

Once the oil is ready to go, add about a quarter of the tortilla wedges and allow these to cook. Flip these chips once they have achieved a crisp and light brown color. Only one flip is needed to achieve this desired look.

Once chips are light brown and floating, drain these tortilla chips on a paper towel lined baking sheet. A baking sheet will allow all chips to be seasoned evenly and drained of oil properly.

Sprinkle these chips with salt, to the desired taste. And continue to repeat this process until all tortillas are fried, add more oil if and when needed.
Chilaquiles
After all tortillas are prepped, it is now time to coat these chips with the desired salsa. The salsa pan that was set aside, add the chips to this pan and stir carefully when coating them.

Taste and seasoning with salt is a must while putting all ingredients together. Don't be shy to add salt when needed because the desired taste is absolutely relying on your own tastebuds.

Be sure to cook these chips in the salsa until the tortilla chips are coated thoroughly. This process alone should take about 3 minutes to prevent creating overly, soggy chips.

Once desired coating is given, you have yourself a serving of 4, Chilaquiles. These chips will began to get soggy the longer they set in the salsa or when given a large amount of salsa. SO choose wisely the time allowed to set after plating and the amount used when coating. Each prep of salsas should create about a quarter of salsa each.
Notes
It is optional and completely upon desire to add extra servings to give more flavorful taste such as the following:
Avocado/ Guacamole
Sour cream (crema)
Queso Fresco
Fried eggs / Scrambled eggs
Shredded Chicken
Pico de gallo
Refried Beans
Roasted veggies
Crisp radish
Nutrition
Serving:
1
serving
Sodium:
561.7
mg
Sugar:
3.1
g
Fiber:
5.7
g
Calories:
323
kcal
Saturated Fat:
1.4
g
Fat:
18.6
g
Protein:
5
g
Carbohydrates:
36.9
g
You may also like Chicken Enchilada or Green Bean Casserole
Chilaquiles FAQ
How can I make this dish Gluten-free?
First and foremost, make sure you are using a certified gluten-free tortilla. This ensures you are not cheating yourself by using a modified corn tortilla. It is also optional to make you own gluten-free corn tortillas. Also use a gluten-free all-purpose flour when making the sauce.
How can I make this dish Dairy-free?
Eliminate ALL cheese. It is also optional to use a generous amount of cashew sour cream to give off the same creamy vibes.
How can I present this as a vegan dish?
As with the dairy-free, omit all cheese. Stay far from the cheese! As eggs, fried or scrambled, are only optional, when going for a vegan vibe be sure to leave the egg alone.
Difference between Chilaquiles and Migas?
Chilaquiles can and most commonly is confused for Migas, which is another authentic Mexican dish. The difference between the two is that Migas is more of an egg forward Mexican dish rather than Chilaquiles being more of a chips and salsa dish. Migas in fact uses diced corn tortillas, which are fried until golden brown. Mixed into sautéed onions, tomatoes, serrano and lastly served with scrambled eggs.
How do I properly pronounce Chilaquiles?
Chilaquiles is pronounced as: chee-lah-KEE-lays
What can the leftover salsa be used for?
Multiple things as in:
Mix with mayo or ketchup. Use as a dip for French fries.
Stir into scrambled eggs or add into omelets
spoon into cooked grits; continue to add cheese and bacon
add to burger meat mixtures, or even top burgers with leftovers.
layer onto a grilled cheese sandwich
add to soups, stews and even chilis as a secret ingredient
combine salsa with cheese for a spicy jalapeno popper filling
top off tacos and burritos
mix equal parts of salsa with plain yogurt and sour cream; continue to mix into a baked potato or even mix into mashed potatoes
use as a base for salad dressings
mix with lemon or lime and create a ceviche marinade
for a Mexican flair, mix into meatloaf
mix with Goat cheese; use this as a dip for veggies and/or crackers
add breadcrumbs and feta cheese to salsa; stuff into eggplant halves
add to deviled eggs for a spicy flair
add to mac and cheese
stir into cooked rice, add olives and cheese
Are there any allergy in Chilaquiles?
Chilaquiles is actually in fact free of the following:
Shellfish
Fish
Alcohol
Peanut
Pork
Gluten ( when using gluten-free based ingredients)
Tree-nut
Soy
Wheat
Red-meat