This recipe isn't your traditional Alfredo sauce. It's based more on an American-style type of sauce like you'd see in an Italian restaurant or Olive Garden. It takes some origins from the traditional sauce like cheese and butter but combines more ingredients to make the recipe more complex. American-style versions typically use heavy cream, milk, and flour to make a roux. You often add different seasonings like pepper, nutmeg, and sea salt for an added flavor boost. While this style of sauce isn't the most authentic, we all can appreciate the creaminess and flavor it has.
The greatest part about this sauce is it can be made in a time crunch. It only takes 15 minutes to cook and that includes prep time! It's perfect for a quick dinner night or if you want a sauce to go with your favorite protein. This sauce has you covered! Without further ado, let's make it!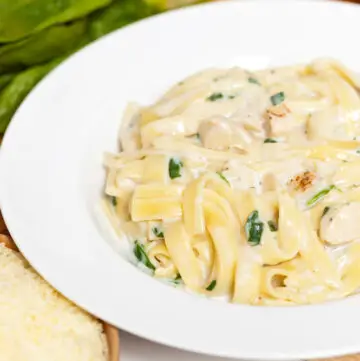 Alfredo Sauce Recipe
This is an American-style Alfredo Sauce. It takes some origins from the traditional sauce like cheese and butter but combines more ingredients to make the recipe more complex.
Ingredients  
1

tablespoon

of butter

1

cup

of milk (whole and 2% work best)

1

cup

of heavy cream

1

cup

of freshly grated Parmesan cheese

1

tablespoon

of all-purpose flour

2

cloves

garlic, finely minced or pressed

1

cup

of onions, diced or sliced (optional)

½

teaspoon

of sea salt

1

pinch

of white or black pepper

1

pinch

of nutmeg (optional)
Instructions 
Make a roux. Melt butter into a large saucepan over medium-high heat. Add garlic and onions and sauté for one minute. Remember to stir frequently to avoid burns. Mix in your flour and sauté for another minute. Keep stirring frequently. If you don't stir, the mixture will clump and burn.

Add milk and heavy cream. Whisk until combined evenly.

Cook the mixture until it reaches a simmer. Reduce the heat to medium-low and cook until thickened or one to two minutes.

Add in the salt, pepper. Nutmeg, and Parmesan cheese. Whisk until the cheese is completely melted and the sauce is creamy and smooth.

Taste to make sure there's enough salt and pepper. Add any if needed.

Serve warm over chicken or pasta.
Notes
The sauce yields enough to enjoy with one pound of pasta. To store this sauce, let cool after cooking. It should reach room temperature before you transfer it to a mason jar or storage container. Refrigerate for up to three days. It's not recommended for freezing or long-term storage.
Alfredo Sauce FAQ
How can I make the Alfredo sauce gluten-free?
You don't need to give up a thicker sauce because you're gluten-free. To make this sauce gluten-free, omit the flour. You can leave it like that which results in a much thinner sauce or you can make it thicker. To make it thicker and still gluten-free, replace the flour with cornstarch slurry. Cornstarch slurry consists of equal parts cold water and cornstarch. Just add it to the sauce when it's simmering.
Do I have to use heavy cream?
You don't! Whether you are on a diet or just can't stomach the heaviness, you can make this sauce lighter. Instead of using heavy cream, substitute with an extra cup of milk. You can use whichever type of milk you like best. So, instead of 1 cup milk and 1 cup heavy cream, it'll just become 2 cups of milk of your choice. We don't recommend skim milk or dairy-free milk for this sauce. It makes the texture too thin. We included a dairy-free option for those that prefer to consume less dairy.
Can I use more garlic?
Yes! You can add more garlic such as adding double the amount. You can change the taste to have a more garlicky flavor by skipping minced garlic. Roast an entire head of garlic and stir the cloves into the sauce to give it a more complex flavor.
I don't consume dairy. Can I make this sauce vegan?
You can! It will require some major changes. For example, your prep time will increase greatly. You will need a type of nut like cashews and soak them overnight or five to six hours. Then, you need to blend them with vegetable broth, cooked onions, cooked garlic, and nutritional yeast. Heat this for a few minutes and pour over your desired food, then serve! This recipe doesn't have any oil or dairy. You can opt to cook the onions and garlic with oil or vegan butter if that's not a major concern for you.
I need ideas! What can I use this sauce for?
The most obvious answer is pasta, fettuccine alfredo to be exact. You can use any type of pasta though. With pasta, you can combine a protein and a vegetable like chicken, shrimp, meatballs, broccoli, mushrooms, or asparagus. However, if you don't like pasta you can just combine a protein with a vegetable side and pour or use the sauce to lightly coat or dip your protein in. Some people really enjoy this sauce for their pizza. All you have to do is replace marinara or pizza sauce with the alfredo and cook like normal. This sauce can be used as a dip too! Dip breadsticks, pretzels, or raw vegetables. Believe it or not, you can use it for casseroles or even lasagna. This sauce works great for baked ziti, lasagna, and chicken and broccoli type of casseroles. Feel free to experiment with your favorite dishes!
Alfredo Sauce History
Fettuccine Alfredo was first discovered in the 15-century by Martino da Como. The dish consisted of pasta, butter, water or broth, and "good cheese." The cheese wasn't' specified during this time. In 1892, Alfredo di Lelio created the more modern version of alfredo that we know and love today. He made it with extra butter, parmesan that wasn't aged, and seasonings. He featured the dish in his family's restaurant and had it prepared and served at tableside.
As time went on, it became popularized by Americans because of travelers and immigration. From there, the recipe began to have more variations created. Some restaurants kept with the traditional ingredients, while restaurants like Olive Garden use cream and garlic in their dish and combine with a protein such as shrimp or chicken.