Pound cake is a simple, satisfying, and adaptable dessert. No unusual ingredients or complicated skills are required. It's appropriate for any holiday and any time of the year and almost everyone likes it. It can be safely stored in the refrigerator or freezer if it isn't quickly eaten up!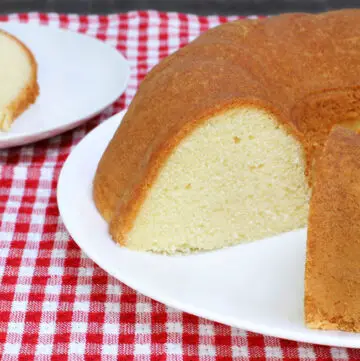 Pound Cake Recipe
Pound cake is a simple, satisfying, and adaptable dessert. No unusual ingredients or complicated skills are required.
Ingredients  
2

cups

unsalted butter (softened)

2

cups

granulated sugar

9

eggs

4¼

cups

all-purpose flour

butter or vegetable oil for greasing the pan
Instructions 
Preheat the oven to 350 degrees. Liberally grease a 10-cup bundt pan with shortening and then dust with flour.

In a large bowl, cream the butter and sugar until light and fluffy (2 minutes with a mixer's paddle attachment). Add eggs one at a time, mixing until combined. Scrape the sides of the bowl to incorporate all the batter.

Slowly add the flour (if using a mixer, turn to low speed), scraping the bowl often, until batter ingredients are evenly combined.

Add the eggs one by one, beating until the yolk is no longer visible. Overbeating will make the batter rise too high and ooze over the edge of the pan while baking, also creating a fragile crust. Alternate dry ingredients with wet, starting and ending with dry. Lightly blend after each new addition. After all ingredients have been added, combine without overmixing.

Grease the pan with vegetable shortening and dust with flour.

Spread the batter gently into the bundt pan and bake for 70-80 minutes. Cake is done when a toothpick, small knife, or cake tester comes out clean. If top is browning too quickly, cover lightly with aluminum foil.

Allow the cake to cool in the pan on a wire rack for 20 minutes, then remove it from the pan to cool further on rack.
Notes
You can use salted or unsalted butter; if you use unsalted, an optional pinch of salt will add a small boost of flavor. A concern about butter is that some store brands incorporate liquid fat in their butter, producing a heavier cake, so experienced bakers usually recommend using name brand ingredients.
Be sure to beat your wet ingredients (softened butter, vegetable shortening or cream cheese) according to directions until creamy, regardless how long it takes. Add the sugar gradually so the mixture becomes fluffy. Like whipped cream, the air is what makes the batter light. Heavy batter can't rise.
Dusting a greased baking pan with flour prevents the otherwise slippery surface from preventing the cake from rising.
Pound Cake Serving Suggestions
Beverages such as coffee, tea, and lemonade enhance the flavors. An iced all-natural sparkling drink will clean and refresh the palate.
You can put anything that sounds good on top of your cake as a garnish or part of the dessert. The possibilities are endless: whipped cream, ice cream, yogurt, jams, maple or other types of syrups, peanut butter or other nut butters. You can sprinkle each slice with powdered sugar, cinnamon, ground cloves, cocoa powder, nutmeg, even lavender or other edible flowers. Some people like to eat cake with walnuts, granola, or dried fruits. In fact, most fruits whether fresh, baked, canned, or frozen will taste delicious with pound cake.
Pound Cake Variations
If you want to learn ways to adapt pound cake to fit your dietary needs such as low-fat, low-sugar, sugar-free, gluten-free, or to accommodate food allergies including eggs and wheat, consult your healthcare provider for the best advice. It can be done!
Many people mix concentrated flavors into the batter including chocolate, vanilla, almond, coconut, and fragrant spices.
You can present pound cake in a variety of ways. Imagine French toast, bread pudding, petits fours, elegant tortes, or British trifle!
The History of Pound Cake
Pound cake was first described in Northern Europe in the early 1700s although it's probably much older. The name originated from the original recipe calling for one pound of flour, one pound of sugar, one pound of butter, and one pound of eggs. In case you're wondering, it takes about ten eggs to add up to a pound. The measurement of egg sizes has definitely changed over time so modern recipes specify the number of eggs instead of the weight.
Sometime in the 1800s, cooks began adding other leavening agents such as baking powder and baking soda to make the cake lighter. Around the same time, cooks in the new United States started adding dried corn, then called "Indian meal," because it was readily available and less expensive than flour. This replacement was also used across the pond by people in Ireland and other countries for the same reason. When butter wasn't available, cooks found that different oils could be substituted with good results. In the United States sour cream has become a common replacement for butter because it adds not only moistness but a unique tartness.
Today pound cakes are enjoyed all over the world. Some of the French-speaking islands in the Caribbean adopted the tradition of serving rum-drenched pound cake with mashed bananas. Puerto Rico and parts of South America soak the cake in syrup, wine, or rum – their dish is known as "ponque," pronounced very much like the English name. Sometimes they add fondant – a kind of homemade frosting made in sheets that are used as coverings around and over the cake.
Pound Cake FAQ
What can be used instead of butter?
The flavor and texture of pound cake will be affected by any changes in ingredients, so you'll want to bake a practice cake before springing your experiment on unsuspecting guests! That being said, unsweetened applesauce is a low-calorie substitute that adds fiber and moistness; use half the amount applesauce. Similarly, some people use buttermilk or Greek yogurt at half the recommended amount of butter. You can also use vegetable oil in the amount of ¾ cup oil to each full cup of butter. For an extra nutritious substitute, use an equal amount of pureed avocado (aguacate) or ¾ cup of pureed pumpkin or squash rather than a cup of butter.
What can be used instead of white sugar?
Brown sugar can be used instead of white, but most often both are used in combination. It adds a rich caramel or molasses flavor, but may change the texture of your pound cake. For that reason, depending on the proportions of brown to white sugar, you might need to add more flour or fewer eggs. Honey adds extra denseness to the batter, making it more prone to collapse, so you'll want to check out recipes online that offer strategies to balance the other liquid and dry ingredients and adjusting the oven temperature. Finally, what about stevia, the new rage? Because stevia is much, much sweeter than sugar, a great deal less is needed, but the resulting baked products suffer because stevia lacks the chemical properties that sugar contains to help provide structure. You'll definitely want to seek out recipes specifically composed for stevia to create cakes with the texture and crumb (number and size of the holes in the finished product) that you want. If you end up using white sugar, be aware that many chefs claim that name brands are preferable to store brands. Reportedly many stores grind their sugar more finely, resulting in more sugar per cup, thereby making it more likely that your cake will fall (too much leavening can do this as well.)
Can other kinds of flour be used?
Yes, but flours are all different and affect the lightness, density, crumb, softness, elasticity, and flavor. If you want a predictable result, follow your recipe exactly. If you want to make lots of pound cakes in the name of science, then research recipes with different kinds of flour and experiment! Hard wheat, often found mixed with store brands, will make your cake heavier. Extra flour can make your cake dry. Cake flour is lighter so it makes baked goods more airy. In the case of pound cakes, it usually doesn't make a significant difference. Whole wheat flour, on the other hand, is less finally milled so it makes baked goods dense and less able to rise. Whole wheat and graham flour both can be used in cakes but turn out the tastiest results when mixed with a larger portion of all-purpose or cake flour. For the most successful adjustments, it's important to measure these flours by weight rather than volume. Finally, what about corn meal? It's heavy and coarsely milled, so it won't rise well without help. As you might know from eating corn bread, it can be dry and crumbly. It absolutely makes an interesting ingredient to pound cake but only when it is in the right proportion with the other ingredients.
What can be used instead of eggs?
One egg is roughly equivalent to ¼ cup. Whatever you substitute needs to amount to that volume. Sour cream, thick yogurt, buttermilk, and sweetened condensed milk will all make moist and delicious pound cakes. Vegan alternatives include mashed banana, applesauce, and pureed tofu.
Does the kind of baking pan matter when baking Pound Cake?
Included in the art of baking is the choice of pans. The ideal pan transfers heat evenly through the ingredients.
Metal
The consensus is that a light-colored metal such as aluminum is the preferred material for baking batters and doughs. A well-seasoned cast iron pan can be used if it is preheated.
Glass
Glass slows the transfer of heat so often the center of the food is still cooking while the edges are dry and browning. Although being able to see what's happening is a benefit, cakes in glass usually don't rise as well.
Stoneware
Stoneware baking results are often inconsistent because the chemical makeup of the clay affects the outcome. Hand-thrown clay contains more air bubbles than liquid clay poured into molds. Clay pans allow cakes to rise higher but their absorbency produces darker crusts. If you are accustomed to using your own stone pan, then go for it.
Pan Shape
Cakes rise and bake differently depending on the shape of the pan. Pound cakes are traditionally made in loaf pans but ring-shaped pans are often used as well. Bundt pans are shallow and often decoratively fluted around the central hole. Tube pans are generally deeper, and vertical on the outside with a central cylindrical tube. Regardless of diameter, appearances can be deceiving, so before doing any baking, test the volume by counting the number of measuring cups of water your pan can hold.
We love to hear about your experiences with our recipes and what creative things you've done to make them special. You have so many choices, so let us know!