Do you love nutlla? Do you enjoy great frosting? Why not have the best of both worlds! This article will show you how to make a Nutella frosting recipe for your next pavlova! It's time to get in the kitchen and explore all your dessert options – all from the comfort of your own home. And remember, always be creative!
This is an easy and delicious recipe that can be paired with all your favorite desserts. If you're looking for a quick alternative to supermarket frosting, this recipe is perfect for you. All it takes is a little time in the kitchen and some imagination to create something new!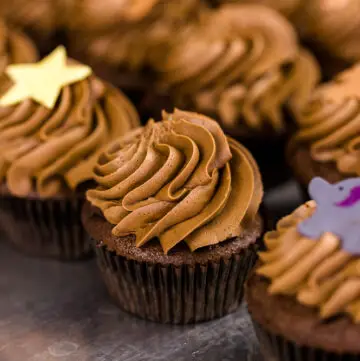 Nutella Frosting Recipe
Do you love nutlla? Do you enjoy great frosting? Why not have the best of both worlds!
Ingredients  
¾

cup

Nutella

1

teaspoon

Vanilla extract

4

cups

Powdered sugar

⅓

cup

Heavy cream or milk

Pinch of salt
Instructions 
You will need Nutella, sugar, vanilla extract and a pinch of salt. All that's left is to mix them in a bowl with a whisk or a fork until the mixture is smooth and creamy.

Remove 1 cup of the mixture and transfer it to a new mixing bowl. Then add the third cup of heavy cream or milk. The amount of heavy cream depends on how thick you want your frosting. Mix until the mixture is smooth.

Now add the cream mixture back into the other bowl with the rest of the frosting and continue mixing until smooth again.

Pour the icing mixture into a large piping bag, or a ziptop bag if you don't have one, and pipe it onto the pavlova meringue.
Nutella Frosting FAQ
What can you use Nutella frosting for?
Nutella frosting is perfect for filling cakes like brownies, cupcakes and pies; filling donuts and cupcakes; drizzling on muffins, pancakes and waffles; drizzling on ice cream; filling cake pops or ice cream cones... the list goes on and on.
What is the difference between heavy cream and milk?
Heavy cream is often used for frosting, while milk is more commonly used for other desserts. Milk contains less fat than whipped cream, so it is lighter in color and flavor. It's important to note that frosting will take a little longer to prepare if you use pasteurized, refrigerated, or frozen milk instead of room temperature milk. Whipped cream and heavy cream are both types of dairy products that are whipped to create a fluffy texture. However, they differ in the amount of fat they contain. Whipped cream has at least 30% but less than 36% fat, while heavy cream has at least 36% but less than 40% fat.
How does the recipe change if I want it thicker?
To make the frosting thicker, you simply need to add more cream or milk. If your frosting is too thin, you will need to add more sugar. If it's too thick, you can always add a little more Nutella. Keep in mind that if you add a lot of Nutella, it will eventually start to get grainy if it's too thick, so be sure to mix it well after each addition.
What does the powdered sugar do?
Powdered sugar is a dry sweetener that has been ground into a fine powder. It is made from fine sugar mixed with corn/wheat starch so that it mixes easily with the frosting. This creates a smooth, thick texture and gives the frosting its creamy flavor. If you opt for granulated sugar instead, your frosting will be grainy and thick.
What does the salt do?
The pinch of salt is only there to enhance the flavor. It just balances out the sweetness a bit. Here's a tip for you: if you've made an icing recipe that tastes too sweet, just add a pinch of salt to balance it out.
History of Nutella
If you haven't enjoyed the sweet taste of Nutella, I'm not sure you've lived! Nutella is a chocolate-hazelnut spread. It is manufactured and marketed by Ferrero, a European confectionery company. The first can of Nutella was sold in October 1946. In the United States, it became the best-selling branded food product, with sales of over $1 billion per year as of September 2016. Since then, more flavors have been introduced and Nutella has become an international brand recognized around the world.
Ferrero began producing nuts and dried fruits in the 1920s. In 1940, Ferrero's son Michele Ferrero and his wife Maria Franca Fissolo took over the company. They incorporated his mother Sara's recipe for Nutella into the product line. During the World War II chocolate was in short supply. The company had to ration it. To make use of what was available, they produced the spread, which became popular and became one of the company's best-selling products. In 1947 Ferrero opened a new factory in Breganze, Italy, where a new machine was installed to produce Nutella.
Nutella has many interesting facts
1. It was created by Sara Ferrero from a recipe for hazelnut paste she had made from hazelnuts given to her by her mother.
2. Secondly, it was created during the World War II, when there was a shortage of cocoa, so it was made with hazelnuts instead of cocoa.
3. Third, Ferrero developed and marketed Nutella in the late 1940s and early 1950s as an alternative to other foods that were in short supply due to rationing.
4. For this reason, it became an important part of the family's chocolate business.
5. In the mid-1960s, with the continued growth of Nutella, Ferrero began looking for ways to increase production. As a result of an agreement with a Greek company in 1966, large-scale production began in Greece under license to Ferrero. The first products were sent from Greece to Italy at New Year's time in January 1967 and were completely sold out within 10 days!
6. Over the next three years Nutella production continued to grow and in 1970 production was moved to Collecchio, Italy.