Chocolate chip pancakes are a long standing family favorite for a sweet, crowd pleasing breakfast (or breakfast for dinner!). They are a great way to diversify your breakfast routine from the choices of cereal, toast, or eggs. Many people use boxed pancake mix or frozen pancakes to feed their selves and their families, but making the real thing from scratch is far easier than you might think it would be.
This recipe opts for organic, healthy, fair trade, or sustainable ingredients wherever possible. If you do not have ingredients like brown eggs or organic fair trade chocolate chips, you can use their classic replacements like white eggs and standard chocolate chips. Pancakes are healthier and have less added sugar when you make them at home.
Nothing beats the smell and taste of freshly made homemade chocolate chip pancakes in the morning. This crowd pleasing breakfast favorite is also a great dish to make with young children. They can help to mix the batter. Just be sure that they do not eat any, as it does contain raw eggs.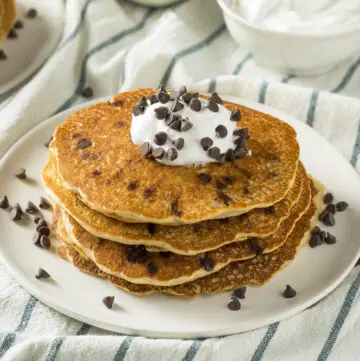 Chocolate Chip Pancake Recipe
Chocolate chip pancakes are a long standing family favorite for a sweet, crowd pleasing breakfast. They are a great way to diversify your breakfast routine from the choices of cereal, toast, or eggs.
Ingredients  
1¼

cup

all purpose white or whole wheat flour

1

tablespoon

organic sugar in the raw

¼

teaspoon

organic freshly ground cinnamon

1

tablespoon

baking powder

¼

teaspoon

pink Himalayan sea salt

2

large

fresh brown eggs (or comparable amount of egg replacement)

1

cup

milk or plant based milk (oat milk, almond milk, hemp milk, soy milk etc)

4

tablespoons

melted butter or plant based butter

¾

teaspoon

organic vanilla extract

⅓

cup

fair trade dark chocolate chips
Instructions 
Preheat your frying pan, griddle, or skillet. Be sure to use a non stick pan or use a little bit of cooking spray, butter, or cooking oil to make sure that your pancakes do not stick.

Combine your dry ingredients (flour, sugar, salt, cinnamon, and baking powder)in a bowl.

Combine your wet ingredients (eggs- carefully broken and beaten, milk or plant based milk, butter, and vanilla extract) in a separate bowl.

Mix all of the ingredients together until they are fully combined. Make sure there are no large clumps of dry ingredients in your mixing bowl but also be careful not to over mix the batter.

Gently add in the dark chocolate chips. Add more chocolate chips for chocolate lovers.

Add a large spoonful of pancake batter on to your pan. Make sure it is not too hot or too cool.

Wait for small bubbles to appear on the top of your pancake before flipping it.

Flip your chocolate chip pancake and allow to cook for another minute or so. Plate and serve.
Chocolate Chip Pancake FAQ
What should I serve for breakfast with my delicious, fresh, homemade chocolate chip pancakes?
The classic preparation for pancakes or chocolate chip pancakes is to serve them warm with butter and fresh maple syrup. There are many other ways to serve pancakes, however. For a healthier option, try serving your pancakes with a a dollop of greek yogurt and a healthy portion of some fresh fruits like strawberries, blueberries, or bananas. You can also serve pancakes with jam, flavored syrups, peanut butter, or whipped cream on top. Pancakes are great on their own or with other breakfast food items. You may want to serve your pancakes with eggs, bacon, scrapple, ham, sausage, breakfast potatoes, or grits. Turkey bacon, turkey sausage, veggie bacon, and veggie sausage all provide options for people who do not eat traditional breakfast meats. For a light option have pancakes with some yogurt and fruit only and avoid extra greasy breakfast sides. One of the benefits of making your own chocolate chip pancakes at home is that you can serve them with whatever sides and toppings you like.
What do I do if I frequently overcook or under-cook my pancakes?
Nobody likes burnt pancakes or pancakes that are raw in the middle. Fortunately, there are some easy kitchen fixes that can help you to prevent these issues. Are you pancakes burning in the pan? Turn the heat down to a lower temperature before adding your homemade chocolate chip pancake batter into the pan. Be more patient and allow them to cook more slowly and evenly. Are your pancakes turning out under-cooked? Turn the heat up a little bit so that you can cook your homemade chocolate chip pancakes thoroughly through the center and also ensure that they are perfectly golden brown on each side.
What substitutions can I make when making this homemade chocolate chip pancake recipe?
There are many different substitutions that you can make when preparing this homemade chocolate chip pancake recipe for yourself and your family. There are many gluten free flour replacements that can be purchased, but keep in mind that this will have an effect on the way that your pancakes rise. Whole wheat flour or all purpose flour generally will do the job best. Vegans and vegetarians are still able to enjoy delicious and fresh homemade chocolate chip pancakes for breakfast by making just a few substitutions. If you do not consume animal products, you can use the vegan egg replacement of your choice, as well as some plant based butter and some plant based milk. There are a wide variety of plant based milk options that you can use when making pancakes like oat milk, almond milk, hemp milk, rice milk, and soy milk. Remember that sweetened or flavored plant based milks will impact the flavor of your pancakes. You can add slightly less sugar to this recipe if you are looking to lower your sugar intake or you can use a different sweetener that you prefer better than sugar instead. Natural sweeteners that can be used to substitute sugar include stevia and monk fruit. You can add extra ingredients to this recipe like crushed peanuts, crushed almonds, crushed walnuts, chopped bananas, or blueberries. If you do not have cinnamon or vanilla extract you can omit either ingredient but keep in mind that it will have an impact on the final flavor profile of your homemade chocolate chip pancakes.
Which beverage do i serve for Chocolate Chip Pancakes?
Because chocolate chip pancakes do not contain any servings of fruits or vegetables, it is a good idea to choose a beverage to accompany them that does. Fruit and vegetable juice blends or fruit and vegetable smoothies are a great drink option to accompany pancakes. They will help to add some important micro nutrients to your meal. These beverages are also a good way to sneak hidden servings of vegetables into a child's diet. Avoid juices or smoothies with all fruit and no vegetables as these can be high in sugar. Be sure to choose a beverage that has no added sugar when choosing a juice or smoothie drink to accompany your homemade chocolate chip pancakes. If you have a blender or juicer, it is a great idea to make a homemade beverage to accompany your homemade meal.