Every summer when the raspberry bushes start producing their tangy fruit, my mind begins to wander to all the delicious desserts I am going to make with them. Raspberries are such a versatile berry, and they are easily worked into many recipes, from strudels and tarts to jams, and my personal favorite, raspberry pie. Raspberry pie always reminds me of late summer, even if I'm enjoying the pie in mid-January. Probably because when I was young that was the time of year that raspberries came into season and we would stuff ourselves on handfuls of the bright red berries while trying not to get too many thrones in our hands. Two for me, one for the bucket to take home and freeze. Even now, when I can get fresh raspberries, I always freeze them for a couple of days before using them in a dessert. While I prefer fresh berries to the bags of frozen you can purchase at your local supermarket, freezing the berries does make them better for baking, in my opinion. When you freeze berries or any fruit for that matter, it creates changes in the fruit, turning some of the starches to sugar and making them taste sweeter. So, when you see raspberries go up on sale at your local market and you buy up a bushel to make treats, have patience and toss them into the freezer for a couple of days, you will not regret it.
In addition to being just the right mix of sweet and tart, this raspberry pie is served chilled, which makes it feel light and refreshing. A perfect treat for warm summer evenings when you are craving something sweet but don't want to be weighed down with a rich, heavy dessert. Or for midwinter when you want a reminder of the warm sunny days that seem so far away. This pie's deep and luscious red color makes it especially great as a dessert for Valentine's Day dinner. If you are feeling extra romantic, you could even make heart-shaped cut-outs from the top crust to make it even more festive. The recipe is also fairly simple, and easy to make. The hardest part is waiting for the pie to chill and not eating it fresh and warm out of the oven. But trust me, it will be worth the wait.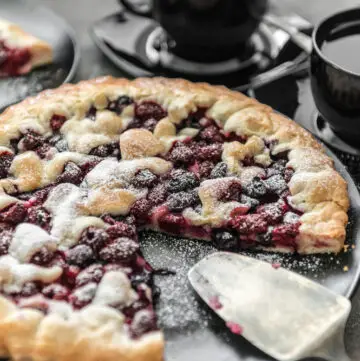 Raspberry Pie Recipe
Raspberries are such a versatile berry, and they are easily worked into many recipes, from strudels and tarts to jams, and my personal favorite, raspberry pie.
Ingredients  
5

cups

fresh red raspberries (or 3 cups of frozen)

2

tablespoons

arrowroot starch or cornstarch

2

tablespoons

instant tapioca

1⅓

cup

granulated sugar

1

tablespoon

salted butter

2

portions

of pastry for pie crust
Instructions 
Preheat your oven to 350 degrees.

In a large bowl combine your berries, tapioca, sugar, and starch. Mix these gently by hand until everything is combined but try not to pulverize your berries.

Split your pie pastry into two sections of roughly equal size.

Roll out one piece of the dough on a lightly floured surface. For best results, your dough should be larger than your pie pan by about ½ inch.

Gently transfer the rolled-out dough into a 9" deep-dish pie pan and press down into the bottom edges. Gently tug the sides up and press against the side of the pan.

Pour your raspberry mix into the pan on top of your crust.

Cut your butter into small chunks and lay them on top of the pie filling.

Roll out the other half of your pastry. If you want to make cutouts or embellishments this is the time to do it.

Lay the rolled-out dough over the top of your pie. Lay the top edges over the bottom crust edge and fold gently. Pinch together until your edge is sealed. If you are having trouble getting your crusts to seal, you can dip your fingers in water as you go. But make sure your fingers are just lightly wet, not dripping.

Bake for approximately 55 minutes, or until your crust is a light golden brown.

Let pie cool completely before slicing so it has time to get firm. This usually takes between three and six hours. I like to let it set out on the counter until it reaches room temperature and then transfer to the refrigerator to help reduce condensation from forming on the crust.
Notes
If you are using fresh berries, they tend to be more tart than frozen, and you may want to add ¼ cup sugar to sweeten up the recipe.
Raspberry Pie Serving Suggestion
There is something just utterly delightful about the combination of tart mixed with creamy. Which makes dairy a perfect compliment to this pie. Raspberry pie ala mode? Yes, please! A heaping scoop of smooth vanilla ice cream is just the thing to go with your pie. If that sounds too rich for your tastebuds, to be fair it is a lot of sugar, a large dollop of whipped cream would also do nicely. All the creaminess without the extra sweet, plus, the fluffy texture of the whipped cream is a great compliment to the thicker berry filling. Honestly, even something as simple as a large glass of cold milk would be a welcome addition to this dessert.
If you are not feeling the idea of something cold and creamy to go with your pie and instead want to highlight how refreshing it is, a cider would be a great choice. Sweet and bubbly and crisp, sparkling cider would be a great compliment to this pie. Or give cider to the kids and break open a bottle of sparkling wine for the adults. After all, one of the theories on where raspberries got their name is a sweet, rose-colored wine.
Raspberry Pie FAQs
Can I add other berries?
Yes of course, just make sure that if you are adding berries you keep the measurements the same, so you don't end up with overflow. Something else to remember when adding in a variety of berries is that most other berries are sweeter than raspberries, so if you are adding, for example, strawberries or blueberries, you will want to cut down your sugar by ¼ cup so as not to make your pie overly sweet. And don't feel confined to adding just berries. Apples go great with raspberries, and if you are feeling extra ambitious, even some sweet, juicy peaches can be thrown in.
What if I forgot to thaw my berries?
Forgetting to thaw your berries is not the end of the world or your baking ambitions. The berries can still be used. You will want to add a little bit of extra starch to help absorb some of the water that will be released as they thaw otherwise you will end up with a runny pie. It will taste fine it just won't be as easy to plate as you will have excess juice.
Why the two thickeners, can I use just one?
Lots of recipes call for either tapioca or starch, not both. And lots of raspberry pies come out runny. This is the way I was taught to make this particular recipe and it has yet to fail me, so I use two thickeners. You are of course welcome to experiment and figure out what works best for you. Some people use raspberry Jell-O to thicken their pies, but I don't particularly care for the artificial sweetness that the Jell-O adds.
Can this be eaten warm, or do I have to wait for it to cool?
Patience is a virtue. This pie really is meant to be eaten after cooling in the fridge for at least 3 hours. I know it will smell mouth-watering when it is fresh out of the oven, but it won't fully set up until cooled and you are more likely to end up with filling all over your plate if you cut into it while it is still piping hot.
What if I don't want to use a double crust? Can this be made with an open-top?
Technically any pie can be made with a single crust, but some, like traditional apple, and this one, are just better with two. If you really just do not want to do two crusts, I recommend making some type of crumble to put on top. Besides looking nice, the starch on top helps to absorb some of the juice from your cooking berries. Without it there to act as a delicious sponge, you may end up with a pie that is slightly runnier than one would like.
You may also like this Apple Pie Recipe.
Extra Raspberry Info
If you have the space or the inclination, adding a few raspberry plants to your yard is a great way to make sure you always have the berries to make this delicious pie. These hardy bushes do not require you to be a master gardener, or really have any type of green thumb at all. Put them in the ground and remember to water them occasionally, and they will happily flourish. And they will come back each year bigger and more bountiful. These prickly bushes come in a huge variety and there are raspberries that will grow from southern Texas to ones that are happy in south-central Alaska. Their delicate white and pink flowers are not only pretty, but they are also a great way to attract bumblebees and other pollinators to your yard. Watching your plants grow and waiting for the berries to ripen is such a simple thing, but it brings joy to everyone involved in the process. Especially little guys. Kids are always so excited when the berries finally start to ripen and their patience is rewarded with those first sweet berries. Just make sure they leave you a few for baking.
In addition to being delicious, raspberries have a whole host of nutritional value and medicinal uses going back centuries. Raspberries are high in Omega-3 which is a fatty acid known to help prevent heart disease, as well as potassium which has been proven to lower blood pressure. And while the berries are high in nutrients, it is actually the leaves and stems that are most helpful medically. The book "A General History of Plants" published in 1597 is one of the earliest accounts of raspberry usage for stomach troubles. The leaves, when made into a tea, are helpful in treating all kinds of stomach troubles from simple upset belly to more serious nausea from the flu. Women especially can benefit from Red-Raspberry Tea, as it has been used for centuries to treat painful period cramps and is thought to lessen the risk of miscarriage. Many women begin drinking this tea in the late stages of pregnancy to ease labor pains and help with an easy delivery.