Pico de Gallo is one of the most popular types of salsa; consisting of a wealth of fresh ingredients which make it not only delicious, but healthy. While salsa and pico have very similar ingredients, salsa is blended together into a thinner dip which can be served warm or cold. Pico de gallo is made with chunky vegetables which can be used as a dip or as a side for your meal and is generally served cold.
Pico de Gallo is an staple appetizer at just about any Mexican restaurant you go to. It's also the perfect dish to serve if you are having friends over for a party or movie night. If you want to make things interesting you can change up the recipe based on what you have on hand and what your personal preferences are. Some people like to add peppers or jalapenos to their pico to add a little extra kick to the flavor. There are several other things that you can add to your mix depending on what you're in the mood for. One of the most popular additions to pico de gallo is a little diced up avocado. For some other variations you can try adding corn, black beans, green onion, cucumber, garlic or mango for variety. Try mixing and matching to see what your favorite combinations are.
When you're picking out the produce to make your pico you will want to select a white onion, and roma tomatoes. White onions are the most mild and the best for using in recipes where you will be eating them raw. If the flavor is still a little stronger than you would like to eat, you can soak the diced pieces in water for about ten minutes and you will have an ideal, mildly tangy onion to add to your pico. Roma tomatoes are also ideal for salsas as they are meatier than other tomatoes on the market and have less water content. Roma tomatoes are also sometimes referred to as plum tomatoes in some store. If you are unable to find roma tomatoes, your next best option is a beefstaeak tomato which is also rich in meatiness. Get tomatoes that are firm, but not hard. Hard tomatoes are not ripe and will not add the best flavors to your food.
For a great pico de gallo recipe you can always start with a basic tomato and onion recipe as a base and then add other mix ins if you so desire.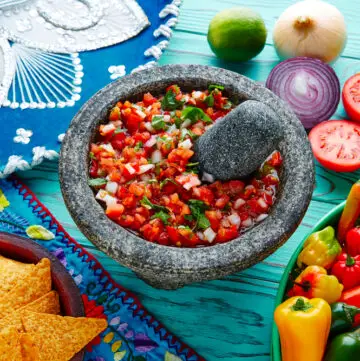 Pico de Gallo Recipe
Pico de Gallo is one of the most popular types of salsa; consisting of a wealth of fresh ingredients which make it not only delicious, but healthy.
Ingredients  
1

cup

chopped white onion

1½

lbs

ripe tomatoes (preferably roma)

1

bunch

fresh cilantro

¼

lime, juice

Salt

1

jalapeno (optional)
Instructions 
Start by assembling all of the food along with a knife, cutting board and large bowl.

Carefully dice the onions into small pieces. Put the pieces in the bowl. Sprinkle it with lime and salt; set aside.

Dice the tomatoes into bite size pieces and put them in the bowl with the onion, lime and salt.

Chop the cilantro and add it to the tomato/onion mixture.

Let your pico sit for a few minutes and then test it out to see if it needs any additional salt or lime. Keep in mind the flavors will become stronger the longer it sits so be careful not to over salt.
Once you have everything mixed up and seasoned to taste, let the mixture sit for about 15 minutes to let the flavors really saturate the vegetables. If you let it sit overnight then the flavors will really saturate the mix for an even more delicious flavor.
If you are making pico de gallo for a gathering or party you may be wondering what to serve with your pico. Scoop tortilla chips are ideal due to the bowl shape of the chip. Pita chips or tostadas are also tasty alternatives to add to the snack table alongside the tortillas.
You may want to make pico just to eat at home; in which case you can also sit down and eat it with a spoon– it's so delicious that you may end up doing just that. If you find yourself with leftovers, it is fairly easy to find recipes and options to use up the last of the pico. Tacos, nachos, enchiladas, burritos and burrito bowls are ideal dishes to top off with a little pico. You can also cook up some meat and peppers to make fajitas and top it with the leftover pica de gallo.
Why is there so much liquid in my pico de gallo?
Pico de gallo will have a lot of juice once it's complete due to the water content in the tomatoes. Using the roma tomatoes will help to minimize some of the liquid. These juices are also what help the flavor seep throughout the entire dish, so a little bit in the bowl isn't a bad thing. If there is too much moisture you can carefully strain some of it out. You may also want to use a fork or slotted spoon to dish up the pico into individual dishes for serving.
How long will pico de gallo stay good?
If you keep your pico in a sealed container in the refrigerator it should stay good for up to a week. Mixing the pico with a spoon will help it taste fresh longer. What size do I need to cut the vegetables to? Pico is fairly flexible with regards to how large or small you cut your vegetables. You do want to cut the pieces small enough to be able to easily scoop on a chip and eat in a bite.
Can I use canned tomatoes instead of fresh?
While you can use canned tomatoes in place of some of your fresh ones, you will still want the bulk of your tomatoes to be fresh for better texture and flavor. Fresh tomatoes will also stay better longer in the refrigerator than canned tomatoes will They also have a better texture than the canned will. If you do end up adding a can of tomatoes to your pico be sure to drain the tomatoes before adding them to your mixture.
Should I squeeze fresh limes or used bottled lime juice?
Either option works well. If you use a fresh lime you can try grating a little bit of lime zest over your bowl for a little added zing to the flavor. An average lime produces roughly 2 tablespoons of juice; so if you are planning on making a large batch you may want to use a bottle from the grocery store.