You may be asking yourself what is chimchurri? Chimichurri is a much-loved South American dish that can be used as a sauce or marinade that is ideal for grilled meat. It is a delightful combination of parsley, garlic, vinegar, and oil.
Often confused with salmoriglio sauce or pesto, standard chimichurri has different ingredients and different uses than the other two dishes. Pesto is usually used with pasta and salmoriglio sauce is used almost exclusively with seafood dishes. Chimichurri is a sauce that can look similar to pesto and salmoriglio in color and texture but is its' own dish that is used more as a marinade than anything else. Although it can also be used as a sauce you can set out at your next gathering for your guests to enjoy or use as a topping to your meat dishes.
Especially during the summer months, many of us look forward to getting the grill out and doing some barbequing and taking advantage of the beautiful outdoor weather. As an added advantage, cooking outdoors helps keep kitchen temperatures down during the summer months. There are many types of marinades you can use to prepare your meat for grilling, and chimichurri is a great tangy one to try out.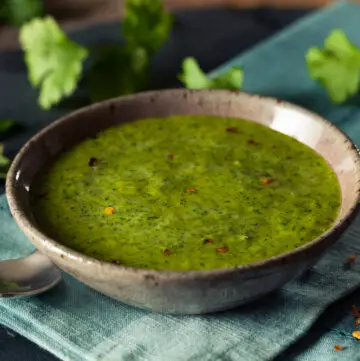 Chimichurri Recipe
Chimichurri is a much-loved South American dish that can be used as a sauce or marinade that is ideal for grilled meat. It is a delightful combination of parsley, garlic, vinegar, and oil.
Ingredients  
1

cup

firmly packed fresh flat-leaf parsley, trimmed of thick stems

3

cloves

garlic

2

tablespoons

fresh oregano leaves (can substitute 2 teaspoons dried oregano)

⅓

cup

extra virgin olive oil

2

tablespoons

red or white wine vinegar

½

teaspoon

salt

⅛

teaspoon

ground black pepper

¼

pcs

red pepper in flakes
Instructions 
Dice the parsley, be sure to remove the long stems as the stems don't blend as well.

Add the parsley, garlic, and oregano in a food processor or high-powered blender and blend into a fine mixture.

Mix in the olive oil, salt, pepper, and pepper flakes. Blend together until mixture is fairly smooth.

Salt and pepper to taste. Serve at room temperature if using as a dip.
Once you have everything blended your chimichurri is ready to go! Set it up for your next party or as a topping with your next meal, let your meat marinade in it for added delicious flavor for those hot summer days, or just sit down and enjoy it yourself as you relax on your day off.
If you are using your chimichurri as a marinade for meat, be sure to marinade the meat in the refrigerator as meat will go bad if left out for several. Put your meat in a non-reactive bowl and cover it tightly with a lid or clear wrap. Non-reactive containers are important due to the acidity of the chimichurri and include plastic, or stainless steel. Do not use aluminum containers. You can also put the marinade and meat in a gallon size Ziplock bag and place it on a plate to marinade. If you are using the marinade for vegetables you only need to let it soak for about half an hour.
For seafood such as shellfish or regular fish, you only need to let it sit for half an hour. For pork you will want to let it soak anywhere from three to twelve hours. For chicken you want to sit not much more than three hours as acidic based marinades –such as chimichurri because it contains vinegar—can actually toughen the meat if it's left too long. Beef and lamb can be left overnight to soak for best flavor. If you don't have time to let it sit overnight you can soak it for up to three hours before you're ready to cook the meat.
Keep in mind that letting your meat marinade for several hours can help it cook a little faster, so keep a close eye on your grill as your cooking up your delicious meal.
One of the best things about Chimichurri is how easy it is to make and how versatile the recipe is. It is easy to add different ingredients like mushrooms, cilantro, lemon slices, avocado, or onion. You can also add more oil to the recipe to make the Chimichurri more liquid or add more parsley if you want to use it as a dip for your meal or gathering. Chimichurri can be used it as a marinade for meats such as, beef, pork or fish. You can also use it as a sauce to top meat, bread or falafel. You can also use it as a dipping sauce for things like chips or bread.
Chimichurri FAQ
Can I use regular vinegar if I don't have wine vinegar?
The short answer is no. White and red wine vinegars are more diluted and have lower acidity content than regular white vinegar and can change the flavor of the Chimichurri.
Can I use dried herbs instead of fresh?
Oregano can be used as a dried herb instead of fresh but you will want to use fresh parsley as it contributes to the saucy consistency of the chimichurri.
How long will chimichurri stay good for?
If stored in a tight container in the refrigerator your chimichurri should keep for up two weeks.
Will it make a difference if I use minced garlic or garlic cloves?
Minced garlic is a good substitution if you do not have fresh garlic cloves on hand. Use ½ tsp of minced for every garlic clove the recipe calls for.
I don't have olive oil, can I just use vegetable or canola oil?
No. Olive oil is ideal for bringing out the flavor of the herbs and has a thicker conistency than vegetable or canola oils do. Using other oils can make the marinade or sauce too oily without the rich flavor that olive oil will bring to the mixture.