Lasagna, which originated in Greece before it made its way to Italy and then America, is a staple dish in most homes and it is no wonder why. Lasagna is the ultimate pasta dish, bringing together noodles, cheese, herbs, and a delicious meat sauce. As with most popular dishes, a homemade lasagna is the best way to go and the frozen store bought varieties do not start to come close to the taste and quality. This recipe is one that every cook should have in their rotation. There are quite a few steps when making lasagna from scratch, but the dish itself is overall easy and the additional effort is always worth it in the end!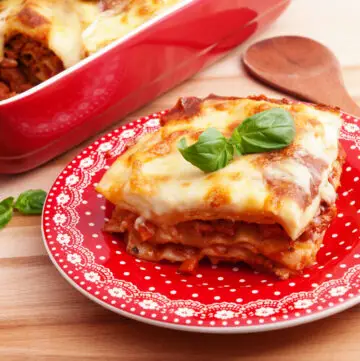 Lasagna Recipe
Lasagna, which originated in Greece before it made its way to Italy and then America, is a staple dish in most homes and it is no wonder why.
Equipment
9 x 13 baking pan (preferably lasagna pan)

Large pot

Large mixing bowl

Aluminum foil

Mixing utensils

Measuring spoons
Ingredients  
1

lbs

sweet Italian sausage

1

lbs

lean ground beef

5

cloves

minced garlic

1

large

white onion, diced

1

can

of crushed tomatoes (28 ounces)

2

cans

tomato paste (6 ounces)

2

cans

tomato sauce (6,5 ounces)

2

tablespoons

white sugar

½

cup

white wine (This can be substituted with red wine, chicken broth, or beef broth)

1

teaspoon

fennel seeds

1

teaspoon

ground oregano

½

cup

chopped basil

¼

cup

chopped parsley

¼

teaspoon

ground black pepper

½

teaspoon

salt

⅛

teaspoon

ground nutmeg

2

tablespoons

chopped fresh parsley

1

lbs

lasagna noodles

30

ounces

ricotta cheese

1

large

egg

1

lbs

thinly sliced mozzarella cheese (Around 24 slices)

1

cup

grated parmesan cheese
Instructions 
Over medium heat on the stove, add ground sausage and ground beef to a large pot. Add in the minced garlic and chopped onion and cook together until the meat is well browned. Stir in the basil, fennel, oregano, sugar, salt, pepper, and ¼ cup of the chopped parsley. Mix all ingredients together. Then you will pour in the tomato sauce, tomato paste, crushed tomatoes, and white wine (or wine substitution). Bring to a simmer while stirring frequently. Once simmering, change to a low heat and continue to simmer for one to four hours, stirring occasionally.

While sauce is simmering, place the lasagna noodles into the 9x13 baking pan. Pour hot water over the noodles making sure they are completely covered. Let them sit for 30 minutes, then drain the water.

In a large bowl, combine the ricotta cheese and egg with the remaining 2 tablespoons of parsley, ½ teaspoon of salt, and nutmeg. After all ingredients are thoroughly mixed together, put the mixture into the refrigerator for use later.

Lightly grease a deep 9x13 baking pan (Can be the same pan used previously for the lasagna noodles. Make sure to drain water and remove noodles from pan before moving onto next step). Pre-heat the oven to 375 degrees.

Now it's time to assemble the lasagna! Spread 1 cup of the meat sauce on the bottom of the pan. Put four of the lasagna noodles on top. Spread about 1/3 of the ricotta cheese mixture on top of the noodles. Then top that with ¼ of the mozzarella cheese slices. Spoon another 1 ½ cup of the meat sauce over the cheese and then sprinkle ¼ cup parmesan on top. Repeat the steps above, layering two more time to create three layers total.

To complete the assembly, place a final layer of the lasagna noodles on top. Top that with one more cup of the meat sauce and with the remaining mozzarella and parmesan cheese. Cover loosely with foil.

Place the assembled lasagna in the preheated over for twenty-five minutes. After the first twenty-five minutes remove the foil and bake for an additional twenty-five minutes, allowing the cheese to brown.
Lasagna FAQ
Do I have to put fennel seeds in the lasagna?
If you want that authentic Italian flavor, than you will want to add the fennel seeds. The fresh herbs are all combined together to help produce the best flavor possible.
Do I need to use so much tomato paste?
Using two cans of tomato paste can seem excessive, but tomato paste has a very concentrated tomato flavor. By using two cans we are able to get that nice, strong tomato flavor the lasagna needs without using too much liquid in the sauce. The flavor of tomatoes is a must have when creating any Italian dish.
Do I have to use the types of cheese listed in the recipe, or can I substitute with different kinds?
This recipe calls for the three most commonly used cheeses in lasagna. Ricotta cheese is one of the most well-known ingredients in lasagna, and most Italian dishes. The mozzarella and parmesan are used to add to the authentic Italian flavor everyone is searching for in a lasagna. Most lasagna recipes will call for these three types of cheese to be used, however if you have a strong preference against them or for a different type of cheese they can be substituted out.
Can I substitute the sugar in the sauce for something else?
The sugar in the sauce is used to balance the acidity of the tomatoes. However, you can use finely chopped carrots as a substitution. Carrots are naturally sweet, and they will add another healthy vegetable to your dinner. You will want to use about a cup of finely chopped carrots in place of the sugar.
The recipe says to simmer the sauce for 1 to 4 hours, why is this such a long period of time?
The length of simmering time varies greatly on how much time you have to prepare the lasagna, and how much flavor you are wanting. As the sauce simmers it develops flavor. The longer it sits, the most flavorful your lasagna will be. You will want to simmer for a minimum of one hour to obtain the flavor we are creating in this lasagna. But if you have the time, and want the maximum flavor results, you can simmer for up to four hours. Another option for simmering the sauce for a longer period of time is to use a slow cooker. A slow cooker will allow you to set the sauce and go on about your day.
Will any 9x13 pan work for this recipe?
You will want to use a deep 9x13 baking pan. If you love lasagna, a great investment is a lasagna pan. Lasagna pans are typically deeper to allow for the layers in the dish. A traditional lasagna will have four layers of noodles, and most baking dishes are not deep enough for this quantity. However, if you do not have a lasagna pan then you will want to use the deepest baking dish you have.
Here are some Pro-tips to use when making the Lasagna
Tomato paste can be tricky, and messy, to get out of the can. If you open the can from both ends you can use the lids to push the paste through the other side. This is going to save you the struggle of trying to get it all out with a spoon, and save you the cleanup.
Lasagna noodles that have not been boiled tend to have an unpleasant texture and often times turn out soggy when the dish is done. But pulling out a pot and boiling the noodles on the stove is an extra step we would all love to avoid. If you want to skip the extra dishes but still have the perfect noodles then all you need to do is place the noodles in the 9×13 pan you will be baking the lasagna in. Pour hot water over them and let them soak for 30 minutes. Once done, drain the water and remove the noodles. This will allow them to be tender enough to use in the recipe, and they finish cooking right in the oven!
The best side dishes to make to accompany your lasagna
Your homemade lasagna is going to steal the show at any dinner party, office pot luck, or holiday event! But every main dish needs a delicious side dish to compliment it. So what are the best side dishes to make with lasagna?
Since lasagna can be paired with almost anything and still be delicious, there are numerous options to choose from. We have listed some of our favorites for you:
Garlic bread sticks
Broccoli-and-Arugula salad
Arancini (Italian cheesy rice balls)
Grilled garlic bread
Cherry tomato caprese salad
Pair your lasagna and side dish with a ripe juicy red wine – like Barbera from Italy or a Beaujolais – and your amazing dinner will be the talk of the town.
There are many different types of lasagna to choose from
While the most common form of lasagna is one with layers of cheese and a scrumptious meat sauce, there are variations that can be made to the recipe to accommodate almost everyone. Whether you are cooking for someone who wants the most authentic Italian flavor possible, a vegetarian who wants the delicious flavors without the meat, or simple a picky child who will only eat certain ingredients on certain days, there is a lasagna for you.
Basic meat sauce lasagna
Italian sausage lasagna – like this one
Pierogi Lasagna
Creamy Venezuelan-style lasagna
Whole wheat vegetarian spinach lasagna
Keto cauliflower lasagna
Lobster lasagna
Three cheese lasagna