Is there anything better than game night? Friends and family coming together to watch sports, or even play a game themselves? Football, Cricket, or Board Games; The event doesn't matter as much as the comradery we share with others over this exciting entertainment.
Buffalo Wings are a staple of American sports foods. Hands-on and fun, wings are seen at barbeques, stadiums, and get togethers for the big game. Delicious and messy, this traditional food is perfect for big crowds. But, how can you enjoy these delicious meaty morsels if you have recently re-committed to your diet? Or what if you have friends that don't eat meat? Maybe you're just looking for a way to eat healthier while still enjoying your favorites? Then this is the perfect recipe for you to try.
This healthy spin on the classic Buffalo Wings offers the same great kick with a more nutritious and low-carb punch by substituting cauliflower for chicken. Full of antioxidants and affordable, cauliflower has been stealing the spotlight in the healthy alternative arena in delicious ways. This recipe is easy and customizable to tantalize anyone's taste buds. A perfect combination of comfortable favorite and bold new innovation.
If you have 60 minutes and basic kitchen skills, you'll see how simple and delicious this recipe is. Let's get to it!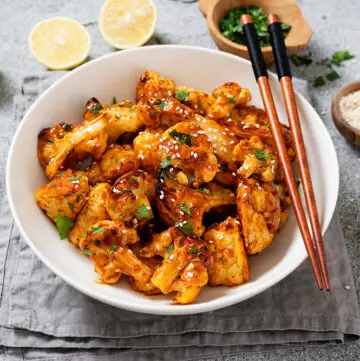 Buffalo Cauliflower Recipe
This healthy spin on the classic Buffalo Wings offers the same great kick with a more nutritious and low-carb punch by substituting cauliflower for chicken.
Equipment
Whisk

2 Bowls (one large, one small)

Baking Sheet

Parchment Paper/Cooking Spray
Ingredients  
1

head

cauliflower (large) cut into florets

½

cup

water

½

cup

all-purpose flour

2

tablespoons

garlic powder

1

tablespoon

paprika

½

tablespoon

salt

¼

tablespoon

black pepper

½

cup

hot sauce

2

tablespoons

melted butter

½

tablespoon

lemon juice
Instructions 
Preheat your oven to 450 degrees Fahrenheit. Then line a baking sheet with parchment paper. You can use cooking spray if you're out of parchment, but the parchment really helps keeps the cauliflower crisp.

In a large bowl whisk together the flour, water, garlic powder, paprika, salt and pepper until smooth. The batter will be thick, with a texture similar to paste. Add the cauliflower and toss to coat the pieces evenly.

Now you can spread the cauliflower apart on the parchment, while making sure to leave space between the pieces. Bake for 20 to 25 minutes or until lightly browned. Make sure you flip the pieces half way through the bake time.

While the cauliflower is baking combine the butter, lemon juice, and hot sauce in the small bowl until they are well blended. Brush the sauce on the florets and then finish baking them for another 15 minutes. This dish is best served hot and fresh alongside celery, carrots, and ranch dip.
Notes
Remember this is a new, healthy take on an old sports party favorite. The best way suggested to serve it is with carrots, celery, and Ranch sauce. Add some chips, dip, and your favorite game day beverage and you're ready to go!
Fun Facts:
In 1964 a local bar owner in Buffalo, New York had to make a late night snack for her hungry son and his friends. The late hour meant she was working with less than she might normally have available, but it turned out to be a delicious if desperate concoction. Taking the last of her chicken wings, she coated them in some hot sauce and baked them up. The young men liked them so much that she added them to the menu the next day, and the Buffalo Wing was born.
The woman's son went on the road with the man who sold her bar the hot sauce to push this new recipe across the nation! While it was a great bar food staple, the idea of baking or cooking fried chicken in hot sauce didn't really sweep the nation until the early 1990s. McDonald's was the first fast food chain to fully embrace the idea, rolling out their Mighty Wings in 1990. However, they were followed only a few short years later in 1994 by other big names of the industry. America's obsession with a messy, fun, and easily eaten finger food exploded.
In the early 2000s and 2010s the nation's attention was brought to the very real health crisis it faced. As a result, many people tried finding ways to bring more produce into their diets. PETA and other animal activist agencies started their 'Go Vegetarian' campaigns, which helped to push the drive for finding more creative and tasty ways to prepare produce. Looking to Indian-Chinese inspired cuisine, forerunners in the industry started realizing that cauliflower could easily be adapted to many recipes. PETA posted a Buffalo Cauliflower Wing recipe sometime in 2012 and by the time Super Bowl rolled around in 2013 the new "Cauliflower Wings" were a huge hit. They maintained their crunch through the baking process and once they were covered with a sticky, spicy sauce they became the perfect messy and fun finger food Vegans and Vegetarians were missing. What may not have been expected was the equally delighted response of people who weren't trying to stick to a specialized diet. Everyone loved them!
Cauliflower is an easy and affordable way to add some healthy choice to your plate. There are a wide variety of ways it can be prepared and it enhances flavor well. Not only does it have some benefits for weight loss, it can also help reduce the risk of certain diseases like heart disease or cancers. Cauliflower is full of nutrients and antioxidants which is why the vegetable is being cooked in so many new and exciting ways. If you find you really enjoy this recipe, don't be afraid to branch out and find other delicious ways to enjoy cauliflower.
What makes this recipe even more fun is how there are no bones. Traditional bone-in wings are popular in America, but bone-out wings aren't far behind in popularity. Cauliflower has no bones to worry about, making these Buffalo Cauliflower bites the perfect hands-on snack food. Just keep some wet-wipes on hand and most sticky situations can be avoided.
Soggy Buffalo Cauliflower?
This seems to be the most common problem and there are a few things to keep in mind:
When cutting your cauliflower, make sure to keep the florets on the large or chunky side. Remember, this recipe is a twist on chicken wings so use that to judge size.
Using parchment will give your pieces a crispness that you won't get as easily with the cooking spray or oil.
After coating your florets in the batter, use a colander to let the excess batter drip off. This helps keep the pieces evenly coated and will allow it to cook completely.
Make sure you leave enough room between pieces while they're cooking. This will allow for even and thorough cooking.
Buffalo Cauliflower FAQ
Can I save leftovers? How do I store them?
Yes. However, keep in mind while preparing to make these that they are better when eaten fresh after baking. If you store these in an airtight container they will keep for three to four days in the refrigerator. When you reheat them, be sure to use an oven or toaster-oven so they will maintain their crispness. In the microwave they tend to get mushy.
Is there a way to make this vegan? What about gluten-free?
Yes! To both. If you want to make this vegan, simply substitute the butter with vegan butter or olive oil. You can also find vegan Buffalo sauce in many stores to substitute for the one called for in this recipe. Instead, if you want to make this gluten-free you can use almond flour or corn starch. Just substitute at a 1:1 ratio. As an added bonus, the corn starch will help keep it crisp while baking.
Can this be made in an air fryer?
Yes. Just cook it at 375 degrees Fahrenheit for ten minutes. Make sure you leave space between the pieces and don't overpack the fryer. Put the sauce on the cauliflower then finish baking it for five minutes.
How do I make it a little less spicy?
If the kick is a little too bold for you try using only a 1/3 cup of hot sauce. Another option is to use a store bought Buffalo sauce that is a little more mild. Don't be afraid to experiment either. Try replacing the garlic powder and paprika with other spice combinations. This recipe really does allow for a large amount of personalization while not changing the main structure.