This classic meatloaf recipe contains immense flavor in the sauce with a tender and delicious result. It stands out as one of the more flavorful versions with many wonderful ingredients that elevate it to the next level. These seasonings are unique and intricate making for a complex flavor profile and will invigorate the taste buds with each decadent bite! This recipe is simplistic and easy to follow with expedient results for any cook's convenience. It's considered one of the best and most versatile recipes if you're considering trying meatloaf for the first time. Expect any occasion to be filled with compliments when you prepare this pristine meatloaf that comes from a family tradition. Through intensive experimentation, this meatloaf recipe came to life and is highly rated among the community of food lovers. This includes people who generally don't like meatloaf, but the flavors contained here made them believers in the amazing possibilities in a meatloaf dish like this. Here we will learn how to prepare and cook it together.
Meatloaf servings and cook time
This particular recipe will fix 12 servings so it's very suitable for feeding a family with some guests, making it the perfect meatloaf serving for holidays or special occasions. There's nothing worse than not having enough to go around, but this recipe ensures you have adequate amounts for leftovers or seconds, and rest assured that will happen once you get the craving for this scrumptious meatloaf. Preparation time is an astonishing 15 minutes so it can be a great meal to fix if there are time concerns. The ingredients are easy to assemble and prepare for cooking so it's possible to pre-assemble the dish before venturing to the oven where the magic happens. The cook time is very important for any meatloaf dish because you want to retain the succulent and juicy flavors from the dish without it going dry. This meatloaf recipe calls for a one hour and 10 minute cook time which will be ideal for a delicious result. It's important also to check the meatloaf with a temperature gauge after the time is up to make certain cooking is complete. In addition, it's important to let the meatloaf rest for a few minutes before serving and this will help establish the flavor.
Meatloaf ingredients list
Below you will find the necessary ingredients to complete this recipe, and the list is fairly hefty but it will all pay you back when you take the first bite. Each one plays a particular role towards the final flavor and the measurements are specific to this meatloaf. These delicious ingredients are easily accessible and can be purchased at a reasonable price at the market. Organic options may enhance the final result if you're looking for purity in taste and overall flavor continuity. These are the tools to making a successful meatloaf recipe that effectively stimulates the pallet like never before, and it's true to the classic version of the dish.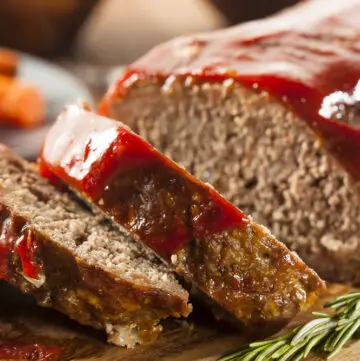 Meatloaf Recipe
This classic meatloaf recipe contains immense flavor in the sauce with a tender and delicious result. It stands out as one of the more flavorful versions with many wonderful ingredients that elevate it to the next level.
Ingredients  
1

tablespoon

butter

¼

cup

onion, minced

2

cloves

garlic, minced

1½

teaspoon

salt

1½

teaspoon

ground pepper

2

lbs

ground beef, extra lean

3

slices

bread, toasted and crumbled

7

pcs

buttery round crackers, crushed

1

egg, lightly beaten

3½

tablespoons

sour cream

1½

tablespoons

worcestershire sauce

1

can (15 ounce)

tomato sauce, divided

3

tablespoons

ketchup

¼

cup

milk (Optional)
Instructions 
Preheat oven to 350 degrees fahrenheit.

Turn the stove on to medium heat and then place a skillet to melt the butter and add onions for five minutes until tender. Remove from the heat to season evenly with salt and pepper.

Stir the onion and garlic, beef, crumbled bread, crushed crackers, egg, sour cream, Worcestershire sauce, and 1/2 can tomato sauce in an appropriate large bowl. With caution, gradually stir in the milk 1 teaspoon at a time until the mixture is moist and avoid sogginess. Move the mixture to a 5x9 inch meatloaf pan.

With it uncovered, bake in the over for 40 minutes. Then increase the temperature to 400 degrees and bake for 15 more minutes until it has an external temperature of 160 degrees.
Meatloaf Sauce
Mix the remaining tomato sauce and ketchup in a small bowl to pour over the top. Afterward, cook for another 10 minutes.
Meatloaf FAQ
Can substitutions be made for this recipe?
A few people took the recipe and added their own individual tastes in the reviews, and the recipe itself is a variation that was created through experimentation. It's encouraged to make tweaks to the recipe through substitutions, but adding too much of something is a danger to be aware of. Some people substituted the milk for maple syrup and others even implemented ingredients like horseradish sauce. All in all, the base ingredients should remain the same but if you want to use crushed pepper for spice instead of regular pepper then tweaks like this are fine.
Do I have to use a thermometer when baking meatloaf?
It's not absolutely necessary to utilize a thermometer to check the internal or external heat temperature of the meatloaf. However, it can save you a lot of stress and uncertainty during the cooking process. You will know the difference when using one, especially because you'll want to prepare this dish more than once. It's better for the long term to make a habit of checking the temperature to make sure it doesn't need cooking. In some cases, ovens can vary over time in their performance so it's better to be safe than sorry in this instance.
Will this meal satisfy a large group?
Indeed, this meal serving size is more than adequate to accommodate a large family with leftovers. It's ideally served with anticipation of a new take on the classic meatloaf dish, and with the proper sides, it will be a real winner come dinner time. You will have confidence in knowing there's enough to go around while preparing the dish.
Food and drink that pairs nicely with meatloaf
Mashed potatoes and green beans are staple classic sides that give a comforting country feel to a plate of meatloaf. These can be plain or cheesy potatoes, but an excellent option to really make things interesting is preparing twice-baked potatoes with cheese. Scalloped potatoes and cooked vegetables are also great side options to consider. As far as bread options there's something nice about a timeless biscuit, but sweet Hawaiian bread is also an excellent choice to really add a kick to the bread. Wine and beer can have some nice pairings that can alter the flavors and make for a more memorable and tasty experience with meatloaf. These pairings are reliable and proven to be effective at bringing the meal together and gives a variety of flavors. A classic dish deserves a classic dessert to accompany it, so try options such as apple pie or peach cobbler with ice cream.